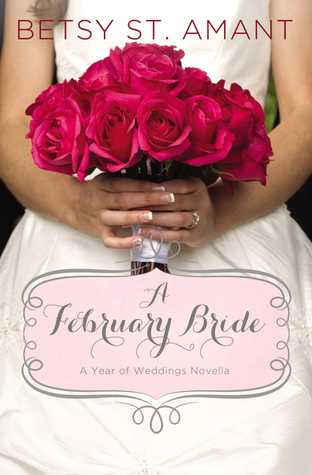 A February Bride by Betsy St. Amant
Series: A Year of Weddings #3
Published by Zondervan
Publish Date: January 28, 2014
80 Pages
Find it here: Goodreads / Amazon / B&N


A year's worth of novellas from twelve inspirational romance authors. Happily ever after guaranteed.

In A February Bride by Betsy St. Amant, history repeats itself when this bride runs out of the church on her wedding day—in the same dress that had been passed down for generations and worn by her mom, grandma and great-grandmother who also ran out of their weddings. The heroine struggles to break destructive cycles of the past. Can this bride shuck expectation and discover who SHE is as a bride and in the Bride of Christ? And if she finally walks down the aisle, what dress will she be wearing? Readers will enjoy this novel of redemption centered on a winter wedding. (from Goodreads)



A February Bride by Betsy St. Amant


My Thoughts: I am a little late on posting this review although I did read this book during the Valentine's Day/February part of the year and I LOVED IT. A February Bride by Betsy St. Amant is carrying on in the tradition of the two A Year of Weddings Series books before it, and I am finding that I am falling more and more in love with these short romantic novellas the more that I read them.


**********************************************************************
A February Bride opens as Allie is freaking out. The smalltown Southern church is packed with a crowded sanctuary, the air was stuffy and hot, and people were waving their wedding programs in anticipation of just exactly when this ceremony would begin. Allie, growing every more anxious, begins to sweat (do not sweat in the dress, Allie!) and twist her lovely rose bouquet and pace the carpet. Oh the anxiety! Married. Married? Can she do it? NO, no she can't. So Allie bolts. I mean, she runs. Allie runs in order to spare Marcus the humiliation of a divorce later. She runs now to prevent the heartache that would absolutely, certainly, no doubt come later. As she runs, she hears the popular wedding music beginning in the church behind her, the music signaling that the ceremony is now ready to begin…
Fast forward four months: Allie is having lunch with her good friend Hannah. Hannah, her Maid of Honor. Hannah, who just also happens to be Marcus' sister. Talk about awkward. The reason for the lunch: Hannah wants to let Allie know she is engaged to be married, she is thrilled about it, and she is planning a Valentine's Day wedding! Yay! And OH YEAH, and she wants Allie to be her Maid of Honor, a part of the wedding party that will without-a-doubt include Marcus. Deep breath, Allie.
Wait, what? How is this even possible? After all of the hurt she has clearly caused Hannah and Marcus and the rest of their family, how is Hannah able to look beyond that and still want her to be a part of her most special day? Because Hannah has done nothing but show Allie the unconditional love and grace that a good friend would do, even though her heart has broken for the pain her brother has felt. What a great friend.
And what an awkward request! But how can Allie say no?
Time to plan a wedding. Deep breath, Allie.
**********************************************************************
Allie is such a fun and quirky character. She comes from a hilarious line of women that are
heartbreakers
to a fault – these women all believe that
they
should break the heart of their men before they are able to have their own hearts broken.
Love 'em and leave 'em!
Their reputation for breaking hearts is stellar, and Allie fears that this is a curse she is doomed to bear. This,
this
, is the real reason she left Marcus at the altar. She loved him dearly – she still does! But she just couldn't put him through the pain of having her commit the same atrocious heartbreaking foolishness that the women in her family are well-known for.
Allie never gave a thought to the fact that she could be the one to break that cycle and be stronger than the legacy that has been set before her. She is actually nothing like her mother and the women in her family – and the entire town knows it. Marcus knows it, as does the rest of his family. So her plan of saving him? – it didn't really do anything but hurt him even more deeply.
And Marcus – what a great guy. He never stopped loving Allie. He always considered her his girl. Sure, he was hurt. Sure, he went through a period of being angry and upset and humiliated – anyone would in his position. But deep down, his feelings never changed – he just buried them and covered them up with other things. Other hobbies and friends, his work, things like that…until his sister's wedding.
It takes their Hannah and her wedding to force the two back together. And by back together, I mean they were actually forced to be in close proximity for the first time in a while. Avoidance wasn't an option. As both members of the wedding party and best friend/brother of the bride, there was no way the two could tastefully bow out of all of the pre-wedding events: parties, receptions, showers, meals. (Not here in the South, mind you!) It only takes a time or two in the same proximity for ALL of the feelings to rise back up and rear their heads, and before we-the-readers know it, we are witnessing a rebirthing of a romantic relationship all over again. Except it is sweeter this time because there is already the establishment of love and the back-history and the old flame that was there before. Don't we all just love second-chance romances? YES. YES WE DO.
Here are the issues: Should these two take the step and get back into a relationship? Allie believes she is cursed to be like the women in her family, so she is extremely reluctant, and the only women she would ever dream of confiding to about this are Marcus' family! So how will this thing all play out? Hannah is really focused on her own wedding, and so is her family – but they've all always treated Allie like their own, so will they make time to help her out or will they let her wade through this all on her own. I think the workings of this HEA will be surprising and lovely and make you want to hug this book. I REALLY DO.
I loved the way things worked out in the end. YES, there is a wedding – we know that because there is a wedding scheduled throughout the book. But the way everything comes together for Allie and Marcus gives us not only the happily-ever-after we are looking for, but in a bigger way than I expected. I kind of loved it a ton. Plus – bonus! – I loved the wedding festivities that were planned and described for Hannah, even though they weren't necessarily the main focus of the story. So much fun with humor and romance included!
**********************************************************************
Needless to say, I loved the mess out of A February Bride by Betsy St. Amant. It is a feel-good contemporary romance with a little inspiration thrown in and a wonderful HEA. I recommend it for fans of the things I just mentioned and readers that love a little novella thrown into their stacks every now and then. Plus, HELLO! have you seen that absolutely beautiful cover? So stunning. Just like with the other books I've read in this series so far, this novella can be read as a standalone but I completely recommend the entire series. They are inexpensive and they are fun, short reads and I LOVE THEM ALL SO MUCH.
(You can read my thoughts on A December Bride HERE.)
(You can read my thoughts on A January Bride HERE.)
**********************************************************************
A February Bride will appeal to fans of:


Adult Contemporary Romance/ChickLit
Holiday-Themed Stories
Romance: No Triangle. Slowly Developing Second-Chance Romance.
Novellas/Short Stories
HEA!
A February Bride by Betsy St. Amant
is currently available for purchase.


**I received a review copy from the publisher via NetGalley in exchange for an honest opinion and review. I received no compensation for my thoughts and they are my own! Thank you Zondervan!