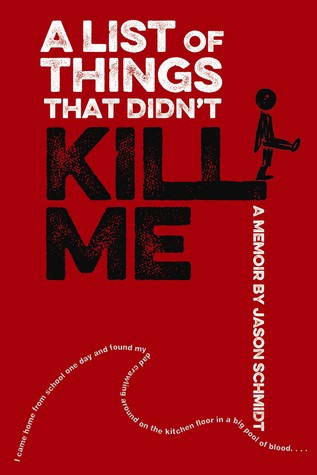 A List Of Things That Didn't Kill Me
by Jason Schmidt
Published by Farrar, Straus and Giroux BYR
Publish Date: January 6, 2015
Source: Publisher
Find it here: Goodreads / Amazon / B&N


How does a good kid overcome a bad childhood? Jason Schmidt's searing debut memoir explores that question with unflinching clarity and wit, in the tradition of Jeannette Walls' The Glass Castle.

Jason Schmidt wasn't surprised when he came home one day during his junior year of high school and found his father, Mark, crawling around in a giant pool of blood. Things like that had been happening a lot since Mark had been diagnosed with HIV, three years earlier.

Jason's life with Mark was full of secrets—about drugs, crime, and sex. If the straights—people with normal lives—ever found out any of those secrets, the police would come. Jason's home would be torn apart. So the rule, since Jason had been in preschool, was never to tell the straights anything.
A List of Things That Didn't Kill Me
is a funny, disturbing memoir full of brutal insights and unexpected wit that explores the question: How do you find your moral center in a world that doesn't seem to have one?
(Goodreads)
A List Of Things That Didn't Kill Me
by Jason Schmidt
My Thoughts: I wish I had a dollar for every time I said "Wow." while I was reading this book. I could probably pay off all of my debt.


In the Prologue of A List Of Things That Didn't Kill Me, Jason Schmidt tells of coming home from school one day to find his father crawling around on the floor in a big pool of blood. Barely conscious, Jason's father didn't even realize his own son standing before him. Jason tells of taking a deep breath and of all of the thoughts that run through his head in those moments there with his father. He takes his father to a local hospital in the back of a cab, taking care to tell the cab driver to clean his seats with bleach and make sure to wear gloves. Then he hands his father over to the hospital staff, alerting them that his father has AIDS.


When I read that Prologue, I felt this feeling down in my chest — I don't really know what it was nor how to describe it. It was astonishment, also maybe amazement. I was holding my breath because this wasn't fiction; it was a real person describing his real-life experience, and it was unlike anything I've ever been through in my own life. I knew that I was reading a book that would probably rock my socks based on the synopsis, but I had no idea what I would find in those pages. That initial feeling is the same feeling that I felt for the most part as I read the entire book.


Jason begins his story in 1975, when he is three years old. He tells of living with his divorced father, a gay man with a big drug problem. He tells of living in a time when "being sick" and also being gay was scary in a different way than it is now because HIV/AIDS didn't even have a name yet. He tells of the social stigma of being associated with a gay person and living in a time when discrimination was the norm and apparently legal and widespread. Jason deals with housing issues and basic human needs issues on a near-constant basis. He struggles to find and keep friends because his father moves him around on a very frequent basis. Jason is exposed at a very young age to the actual act of sex, albeit accidental, and as a result, grows up with a skewed view of sexuality. There is also some physical and verbal abuse. There are also other issues present in Jason's story like animal things and trouble with girls and how on earth Jason will ever get into or attend college with a sick father at home and no one to take care of him?


A List Of Things That Didn't Kill Me is not an easy read BUT it is a book that I couldn't put down. Thankfully, the short essay-type structure made it easy for me to take breaks from Jason's difficulties frequently while I read some lighter stuff on the side. YES, there is some crazy stuff in this book but Jason makes it out and there is a happy ending to it. There is someone that pours into Jason's life and helps him to overcome the obstacle after obstacle after obstacle that life just kept hurling at him.


It is interesting to me that this book is categorized as young adult. Sure, this is Jason's story from age three to the college years (aka his young adult years), but if I'm being honest: I'm not sure how I would feel about my own kid or even others grabbing this book from the library. The content is hard to handle at times and there are triggers for pretty much everything in here. However, if you look at it from the perspective that Jason's story is representative and there are likely other young people out there like him, perhaps they will wander upon this book and it could help them or give them hope. I would love to think that librarians and teachers would read this book before having it available to young people in their charge simply to know what is in these pages. This is real life for some people but it is not real life for others. And while some people read books to feel less alone, there are others that read to learn about people that are different than they are or have different life experiences.
Goodness gracious, I'm more than thrilled that Jason Schmidt made it out of the vicious cycle that this type of childhood often perpetuates. According to this book, it took a great deal, namely a person in his teenage years spending time with him, being patient with him, pouring into his life. It took someone taking a chance on him and believing in him, and not being judgmental. It would have been much easier for Jason to succumb to the pressures of the lifestyle of those around him, but he spent the better part of his childhood fighting against how he had to live. Because of this, he was able to write this memoir. I don't think this book is for everyone BUT it is certainly read-worthy to learn that not everyone has the same type of childhood and that not everyone starts out life the same way. I'm not sure about the comparison to this book — I don't know how I feel about this being a YA book — but I'm glad that I read it and if my own kids ever choose to read this one, I will be able to discuss this book with them.
***********************************************************************
A List Of Things That Didn't Kill Me will appeal to fans of:
YA Memoir
*Trigger Warnings*
A List Of Things That Didn't Kill Me
is currently available for purchase.
***********************************************************************
Have you ever read memoirs?


Do you have any recommendations for me?