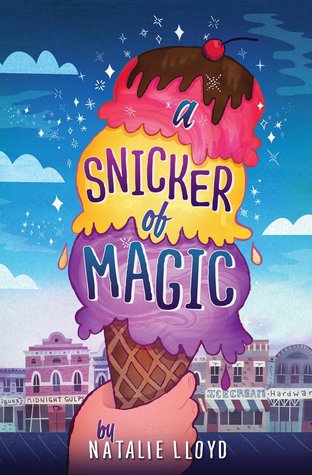 A Snicker of Magic by Natalie Lloyd
Publisher: Scholastic Press
Publish Date: February 25, 2014
320 Pages
Source: Book – Gifted from Lauren – Thank you!
Audiobook – Library
Find it here: Goodreads / Amazon / B&N

Midnight Gulch used to be a magical place, a town where people could sing up thunderstorms and dance up sunflowers. But that was long ago, before a curse drove the magic away. Twelve-year-old Felicity knows all about things like that; her nomadic mother is cursed with a wandering heart.

But when she arrives in Midnight Gulch, Felicity thinks her luck's about to change. A "word collector," Felicity sees words everywhere—shining above strangers, tucked into church eves, and tangled up her dog's floppy ears—but Midnight Gulch is the first place she's ever seen the word "home." And then there's Jonah, a mysterious, spiky-haired do-gooder who shimmers with words Felicity's never seen before, words that make Felicity's heart beat a little faster.

Felicity wants to stay in Midnight Gulch more than anything, but first, she'll need to figure out how to bring back the magic, breaking the spell that's been cast over the town . . . and her mother's broken heart. (excerpt from Goodreads)



A Snicker of Magic by Natalie Lloyd

My Thoughts: A Snicker of Magic by Natalie Lloyd was one of those feel-good stories that I enjoyed A TON.



**********************************************************************
Felicity Pickle is a word collector, and she's just come into Midnight Gulch, Tennessee with her mother and sister. They are a family that tends to move around a lot – they get comfortable somewhere, and their mother decides to up and move again because she is cursed with a wandering heart. Usually Felicity feels a little out of place wherever they live because of her ability to see and collect words – she doesn't exactly fit in. Not everyone has magic in them, you know. But something really wonderful happens when they get to Midnight Gulch: Felicity realizes that this town is special. It's special because it has magic in it. Or it used to.
Certainly if Midnight Gulch is a town that has magic in it, it's a place she is meant to be, right? The thing is, the people of Midnight Gulch think that the magic is gone from their town. Well, most of the people do – the majority of the people don't feel the magic like Felicity does, and they don't believe in it anymore. Jonah Pickett still believes, and there are a couple of others that do too. When Jonah realizes that Felicity has magic in her – that she can see words and collect them and make things out of them – he realizes that there may be hope for Midnight Gulch and if they work together, they might be able to bring the magic back and make people believe again.
**********************************************************************
Felicity Pickle is such a fun character. She BELIEVES. She sees words floating around in the air, curling around and floating above. She can grab those words and make stories or rhymes with them. She loves to hang onto them and say them and they just feel wonderful floating off of her tongue. Spindiddly. Swankified. Factofabulous. And of course there are some regular words floating around too. Sometimes the words that surround a person tell what they are thinking or feeling. Sometimes the words that float around a building give hints about what secrets that building holds or what may have happened there in times past. In Midnight Gulch, Felicity is able to use the words she sees and collects to learn so much about the people and places around her. Words mean so much more than we think they do, you see.
Felicity takes the time to dig deep in Midnight Gulch and find out the story behind WHY the town lost its magic. And then she does something about it…with the help of a few friends. Along the way, there are street dances, tons of magic ice cream, lots of stories about her aunts and uncles, and words everywhere. I loved Felicity as the main character, and the secondary characters are pretty special too.
I love how the book ends.
I read this book and listened to the audiobook at the same time. Since the book was set in Tennessee, the narrator read with a Southern accent, and it was really fun for me. The entire book had a magical tone, just like the town in which it was set, and I can't get over how great the cover is.
**********************************************************************
Audiobook Notes:
The audiobook format of A Snicker of Magic by Natalie Lloyd
is published by Scholastic Audio
and is 8 hours, 12 minutes, Unabridged. It is narrated by Cassandra Morris who DID A FANTASTIC JOB AT READING THIS BOOK. Yes, I just used allcaps to describe how much I loved hearing a narrator read a book – this is the first time that has ever happened. It was not necessarily how well Cassandra Morris read Felicity's character and the other characters — it was how well she took the town of Midnight Gulch and its magic, and added the Southern sound of a Tennessee town. It was perfection in the form of a middle grade audiobook. It was really a joy to listen to. So much fun. I highly recommend it to readers that enjoy middle grade books and readers that love FUN audiobooks. I also think reluctant readers might enjoy listening to this book because HEARING the words that the main character "collects" read in a whimsical tone really added to the overall story the author was trying to tell. High five, Cassandra Morris. Nicely done!
I recommend A Snicker of Magic by Natalie Lloyd to readers that love middle grade stories, magic and mystery, and words. I'm thinking that this book will be a big deal and I hope to see it in classrooms and libraries and on the shelves of many homes. Also, this is the author's debut? Nicely done, author! Great job.


**********************************************************************
A Snicker of Magic will appeal to fans of:


Sibling/Family Relationships
Words
A Snicker of Magic
by Natalie Lloyd
is currently available for purchase.