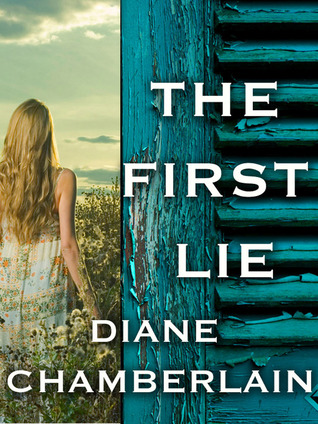 The First Lie by Diane Chamberlain
Series: Prequel to Necessary Lies
Published by St. Martin's Griffin
Publish Date: June 4, 2013
35 Pages
Source: Publisher/NetGalley
Find it here: Goodreads / Amazon / B&N


The First Lie gives readers an early glimpse into the life of thirteen-year-old Ivy Hart. It's 1958 in rural North Carolina, where Ivy lives with her grandmother and sister on a tobacco farm. As tenant farmers, Ivy and her family don't have much freedom, though she and her best friend, Henry, often sneak away in search of adventure…and their truest selves. But life on the farm takes a turn when Ivy's teenage sister gives birth—all the while maintaining her silence about the baby's father. Soon Ivy finds herself navigating the space between adolescence and adulthood as she tries to unravel a dark web of family secrets and make sense of her ever-evolving life in the segregated South. -(summary excerpt from Goodreads)



The First Lie by Diane Chamberlain


My Thoughts: You guys are going to have to color me intrigued with the upcoming Necessary Lies after taking the time to read this short prequel enovella entitled The First Lie.


First of all, I was captivated by the summary, in which it mentions a young girl living with her grandmother and older-but-still-young sister on a tobacco farm in rural North Carolina back in the late 1950's. Now, I know this state, and I know how this state was back then (read; segregated, large poor demographic, etc), so as I just simply read the story, my mind was spinning on how this story would play out – particularly with a title like The First Lie and a cover like that. It mentions that they are tenant farmers and my curiosity only increases at what this implies. But it's the mention of 13-year-old main character Ivy Hart sneaking off with her best friend Henry for adventures – that's where I was sold. I remember being thirteen and I remember how hard that was – that age, the coming-of-age, being needed for help around the house but desperately wanting to cling to childhood. I loved reading these little glimpses into Ivy and Henry and their time spent together on their adventures, even though they both knew they could get into trouble if they were caught.


But this part of this short story doesn't last very long, you see. Ivy's older sister Mary Ella is in the family way and it getting harder and harder to hide. In fact, pretty much everyone knows it and they also know that she isn't married. Shunned, basically. When Ivy comes home one night – WAY TOO LATE – from her latest adventure with Henry, she finds Mary Ella screaming and writhing in pain – and it isn't even time for the baby to come! Ivy receives instructions from her grandmother to retrieve a phone number written on a tiny slip of paper – she is to ride her bike to a neighboring house (Henry's house, coincidentally and use their phone to call the number on the paper. A social worker. Not the nurse, but a social worker? Even Ivy is wary of this and she feels like something is going on but she can't quite figure out what it is.
Ivy can't wrap her head around this. Why would they need a social worker when Mary Ella is obviously in distress, labor even? What can the social worker do to deliver the baby? But after having some words with her grandmother about this, she obeys and makes it to the house. As it is during the middle of the night, Henry's family guesses right away what the visit is for and allows her the use of the phone – as Henry's father would normally be the one to drive Mary Ella to the hospital (they don't have a car), he is currently sick and unavailable for this task. Henry is sent to a neighboring farm to request that Eli drive Mary Ella instead.


The problem with this? Eli is a person of color. AND Henry and Ivy also suspect that Eli could be the father of the baby. Things are certainly getting interesting and stressful and all Ivy knows is that her sister is in pain, in distress, and she just needs to get to the hospital AND FAST.


Eli arrives in a truck, gently and easily carries Mary Ella to the bed of the truck and places her there gently so she can lay down on the way to the hospital, and drives as gently as possible to avoid her as much trauma as possible. This entire time, Ivy's head is just working, working, working through every possibility and circumstance about Eli being the possible father, why the baby could be coming early, and why on earth the social worker is needed at the hospital instead of the nurse that has been helping them with their case all along. Ivy is very young to understand everything, to entirely the "why's" of what is going on in the 1950's rural south and even more, she resents that she feels like she isn't getting the entire truth from all of the adults involved. However, she is picking up bits and pieces of conversation between her grandmother and the social worker, and what she is hearing – well, she doesn't like one bit.



**************************************************************
Okay, so I blew through this relatively sho rt novella in no-time flat. I was very invested in this story and in how things may have occurred in this area during this time period. These are things that may have been glossed over during school, but I can't recall ever reading a fiction book that was so exciting (for lack of a better word) about this particular topic and I have to say that now my eyes are on the prize. I absolutely have to get my hands on a copy of Necessary Lies so I can follow-up on Ivy and Mary Ella and see where their story goes after Ivy receives what she considers to be The First Lie. Where do things go and grow from there? How does this impact their lives? I really want to know.
I'm very interested in the face that Mary Ella never would reveal the father of her baby, which I feel is potentially pretty telling. Or maybe not! I am also very interested in the constantly shifting family dynamics in the house with Ivy, Mary Ella, and their grandmother. Things were strained at best in regular times, but they did the best they could. Mary Ella's pregnancy made things more difficult, sure, and even more after she came home and was unable to do things around the house for a while. Added to this, with grandmother also less physically able in her old age, responsibilities picked a great deal for young Ivy.
Also, the themes that we all know are present during this time in history are certainly extremely present in this book – most notably racism and poverty/differences between socioeconomic classes. These things are so tightly woven into the story and so well-written to blend in a novella so well without being overly dramatic. I was pretty much riveted by this tale of this short section in the lives of these characters. At the end, I found myself wishing it was longer.
The First Lie is actually never outright spoken but only implied – it is a lie that we the reader have to infer as we read, but I think it is easy to figure out. And if it doesn't make you want to pick up the full-length Necessary Lies, I don't know what will. It's controversial and yet it is something that I find myself wanting to know more about, particularly as it relates to Ivy and Mary Ella and this community as a whole, and I fully intend to grab this book and see what the full story is.
This is a fantastic prequel enovella. In my opinion, although pretty short, it is an absolutely captivating read and worth the 99 cents to purchase. I recommend The First Lie by Diane Chamberlain to fans of adult fiction/women's fiction, books with a wonderful Southern setting (North Carolina for the win!), and historical fiction. I'm beyond excited to see what the next installment to this story has in store for me. I'm sure it'll be tough to read and yet brilliant at the same time. I hope I fall in love with it. And I'm already in love with the NC setting.
******************************************************************
The First Lie will appeal to fans of:
Adult Fiction/Women's Fiction
GREAT Setting: North Carolina, 1950's
Historical Fiction
Coming-of-age
Issues: Racism, Poverty, Teen Pregnancy and others (no spoilers!)
The First Lie by Diane Chamberlain
is currently available for purchase.
******************************************************************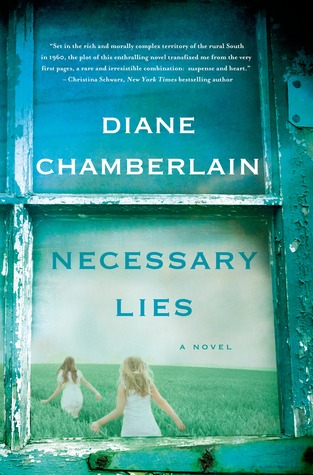 After losing her parents, fifteen-year-old Ivy Hart is left to care for her grandmother, older sister and nephew as tenants on a small tobacco farm. As she struggles with her grandmother's aging, her sister's mental illness and her own epilepsy, she realizes they might need more than she can give.
When Jane Forrester takes a position as Grace County's newest social worker, she doesn't realize just how much her help is needed. She quickly becomes emotionally invested in her clients' lives, causing tension with her boss and her new husband. But as Jane is drawn in by the Hart women, she begins to discover the secrets of the small farm—secrets much darker than she would have guessed. Soon, she must decide whether to take drastic action to help them, or risk losing the battle against everything she believes is wrong.
Set in rural Grace County, North Carolina in a time of state-mandated sterilizations and racial tension,
Necessary Lies
tells the story of these two young women, seemingly worlds apart, but both haunted by tragedy. Jane and Ivy are thrown together and must ask themselves: how can you know what you believe is right, when everyone is telling you it's wrong?
-(summary excerpt from Goodreads)
Is THE FIRST LIE or NECESSARY LIES
Has anyone ever read anything by Diane Chamberlain before?
Recommendations, please? This was my first and I loved it!