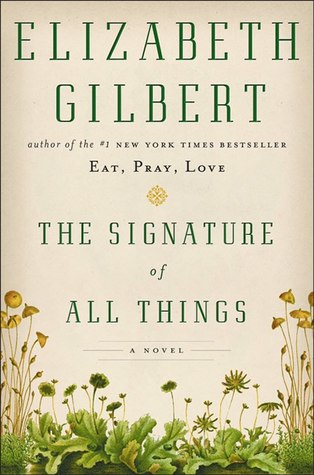 The Signature of All Things
by Elizabeth Gilbert
Published by Viking Adult
Publish Date: October 1, 2013
512 Pages
Source – Book: Bought, Audiobook: Library
Find it here: Goodreads / Amazon / B&N


Spanning much of the eighteenth and nineteenth centuries, the novel follows the fortunes of the extraordinary Whittaker family as led by the enterprising Henry Whittaker—a poor-born Englishman who makes a great fortune in the South American quinine trade, eventually becoming the richest man in Philadelphia. Born in 1800, Henry's brilliant daughter, Alma (who inherits both her father's money and his mind), ultimately becomes a botanist of considerable gifts herself. As Alma's research takes her deeper into the mysteries of evolution, she falls in love with a man named Ambrose Pike who makes incomparable paintings of orchids and who draws her in the exact opposite direction—into the realm of the spiritual, the divine, and the magical. Alma is a clear-minded scientist; Ambrose a utopian artist—but what unites this unlikely couple is a desperate need to understand the workings of this world and the mechanisms behind all life.

Exquisitely researched and told at a galloping pace, The Signature of All Things soars across the globe—from London to Peru to Philadelphia to Tahiti to Amsterdam, and beyond. Along the way, the story is peopled with unforgettable characters: missionaries, abolitionists, adventurers, astronomers, sea captains, geniuses, and the quite mad. But most memorable of all, it is the story of Alma Whittaker, who—born in the Age of Enlightenment, but living well into the Industrial Revolution—bears witness to that extraordinary moment in human history when all the old assumptions about science, religion, commerce, and class were exploding into dangerous new ideas. (summary excerpt from Goodreads)



The Signature of All Things
by Elizabeth Gilbert


My Thoughts: According to my Goodreads, I read this book during November – and by "during November" I mean that it took me the majority of the month to read it where normally I breeze through a book. To those of you that know ME and my reading habits, this is probably quite telling – of what, exactly? PLEASE PLEASE PLEASE LET ME TELL YOU.



**************************************************************
When I decided to read The Signature of All Things by Elizabeth Gilbert, I was SO EXCITED. I was not-long off of the heels of finishing Eat Pray Love by the same author and ABSOLUTELY LOVED IT, so I was thrilled when I planned to discuss Gilbert's newest novel with some great reading friends. I eagerly placed myself on the wait list in two different county library systems (hoping to get a copy as soon as possible – I'm such a dork) and I also placed myself on my library's Overdrive audiobook wait list. When I realized that my turn at the library would NEVER EVER get here before our projected let's-start-reading date of the-beginning-of-November, I decided to just buy my own copy. And you guys, when it arrived, I GASPED. This book is so beautiful – the cover, the spine, and even the inside. Such beautiful choices in font on the cover and art on the inside! I remember showing it to EVEN MY FATHER-IN-LAW, who was very gracious as he acted completely interested. Then I did what many of us do – I Instagram'd it. YES I DID.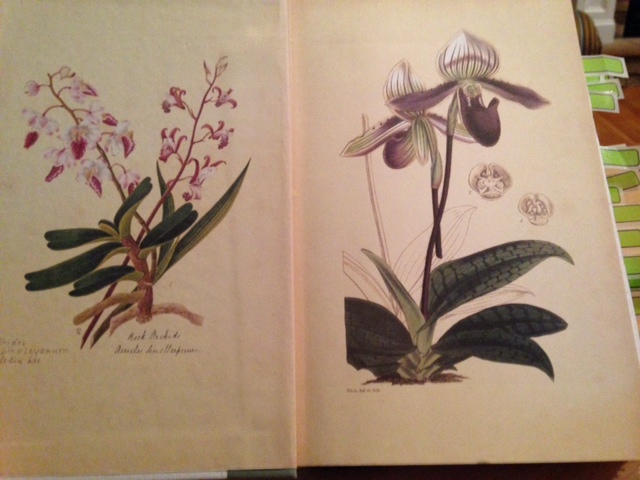 Inside the front cover of the book. SO LOVELY.
It is just as gorgeous in the back cover.
Needless to say, I had a copy and I was going to discuss a book with friends. Things were looking up!
Not long into my reading (print + audiobook, y'all know me!), I realized that the book was…a little WONKY. What I mean is that there are some things that I absolutely LOVE about it, and I will tell you about them. But there is also something that I found more than a little strange about the book, and I will tell you about that too. I think the best way for me to do this is with bullets. Not my normal blogging style, but just bear with me.
**************************************************************
What I loved:
The Leading Lady: I loved the life story of Alma Whittaker – from her childhood all the way until the point at which the book ends. I love the way the author chose to make Alma an expert in her field. I love the way that it was an unusual field for a woman during the eighteenth and nineteenth centuries, but Alma did not let this deter her. I loved many of her thoughts and even though I did not always agree with her scientific theories or discussions, I loved reading about them. Alma interested me quite a bit.
The Secondary Characters: The secondary cast in this book is FANTASTIC. Alma's family has some likable characters and some that I'm not sure are meant to be likable – but they are all interesting to read and there are a few that made me laugh and at least one that I just adored. She has sisters that challenged me because I felt like I knew them, but over the course of the book I realized that perhaps I was only judging them and my thoughts CHANGED. (I LOVE THIS.) There are colleagues and love interests – some are very likable and grabbed my heart wildly and some are…interesting and made me make faces while I read. All in all, I found a very strong secondary cast that is quite colorful and extremely discussable at the very least.
The Travels: Alma's life and career take her all over the world. Once again, this is quite unheard of for a woman during this period of time, but Alma proves to us in this book that she is not conventional in the way of normal standards for women nor is she very concerned about it. The best part of her travels is that the author describes them so vividly. I could picture every place Alma visited and lived SO CLEARLY that I could probably draw them somewhat accurately – I know from reading the author's previous work that travel is important to her so it does not shock me in the least that she allowed her main character (and others) to travel in this book, and she described the details of the travels and destinations so perfectly. Very well done. (I also want to mention that Alma's homeplace was very vividly described and stood out to me as a very lush and beautiful landscape that I enjoyed reading about – it was not only the travels.)
The Science: I will admit that I normally do not read books that delve too deeply into "enlightenment" or botany or science of any nature because I often find myself WAY over my head – I read to escape, you guys, not to become bogged down. But the author found a way to enmesh the science that Alma loved into the story in a way that was not generally overbearing. It is there and there is plenty of it, but it is interwoven into the rest of the story so that you understand that it is a part of who Alma is. Also, I had no trouble separating myself from the parts of the science that I do not really believe and the parts that I just enjoyed reading. The science of the story is just part of the story – a part of a greater whole.
What I didn't love:
Alma's obsession with her sexuality. I'm sorry, you guys, I GET that humans are sexual beings. And I get that it is a part of life. But 1) I was LISTENING to this book along while I was reading it and 2) Alma was OBSESSED with her sexual frustration. To be fair, Alma has some reasons for this and they largely have to do with her self-esteem and how she feels about her looks (I think?), which is really unfortunate – I'll leave that to you all to read for yourselves. And not everyone will have this problem with the book. But hearing the actual words chosen to represent the body parts just made me…embarrassed. YOU GUYS, IT MADE ME EMBARRASSED. Both for myself and for Alma. AND FOR MYSELF. I repeat – I was listening to the audiobook, often in the car and in my house alone, and I would get embarrassed. At word choice and how often those words were used.
@soobsessedblog ALMA, SERIOUSLY. pic.twitter.com/BrpsTcJv6L
— Asheley Tart (@BookwormAsheley) November 15, 2013
@BookwormAsheley I gotta read tonight! I slacked off the last two days!
— Hannah (@soobsessedblog) November 15, 2013
@soobsessedblog oh myyyyy
— Asheley Tart (@BookwormAsheley) November 15, 2013
@BookwormAsheley Oh no! Do I even want to know?!
— Hannah (@soobsessedblog) November 15, 2013
@soobsessedblog oh I think you know because I took a picture of my face and sent it to you!
— Asheley Tart (@BookwormAsheley) November 15, 2013
@BookwormAsheley I know. With raised eyebrows, too. Now I'm scared…
— Hannah (@soobsessedblog) November 15, 2013


Audiobook Notes: The audiobook format of The Signature of All Things by Elizabeth Gilbert is published by PenguinAudio and is 21 hours, 44 minutes, Unabridged. It is narrated by Juliet Stevenson – her voice and accent was absolute perfection for this book. It really was. (This narrator has read many classics before and I felt that classical tone/quality to her reading when I listened to this book, which I thought was really special since Elizabeth Gilbert has a really wonderful turn-of-phrase and beautiful prose.) I would not hesitate to listen to this narrator again and I would recommend this audiobook to listeners that are not easily affected or off-put by, um, unusual language. Please understand that this is no fault of the narrator and I would like to repeat that I loved the performance except for the few choice words that kept popping up. (They were not swear words.)



**************************************************************
Ultimately, The Signature of All Things by Elizabeth Gilbert is a book that I feel SO CONFLICTED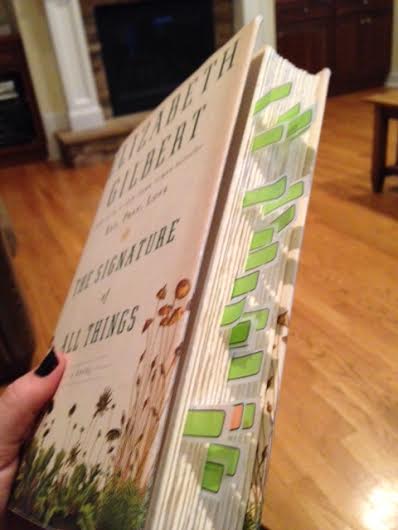 I was ready to discuss!
about that it has taken me MONTHS to finally sit down and write about it. On the one hand, the things that I loved about it – I REALLY LOVED. But the thing that I didn't love really made parts of the story difficult for me and left me with an overall average impression. This is disappointing because 1) I was enamored with the sheer physical beauty of this book 2) I never really ended up discussing the book with my friends because I'm pretty sure not all of us finished it and 3) I had high hopes for this release after loving Eat Pray Love so much. In fact, you guys, I actually stopped listening to the audiobook at around maybe the halfway point or perhaps a little before and decided that I couldn't lend my ear to the words that I found unappealing in the narrative any longer – I chose to read the remaining portion of the book in print format only.
Because of all of this and despite the things that I LOVED about the book, I would be hesitant to freely recommend this book to the general public without specifically knowing the likes and dislikes of the person to which I am recommending. I am not one to become easily offended but the sexuality in this book is, in my opinion, unnecessary and excessive and misplaced within the story AND the language used to portray Alma's frustrated emotions regarding this are strange and offensive (I literally had never even heard these words before).
I will say, though, that I would not hesitate to read more by Elizabeth Gilbert – I can quickly think of two unread books by this author currently on my to-read list – and I am eager for more fiction by this author so I can read something lovely to cover up what I consider to be a very awkward reading experience.
**************************************************************
The Signature of All Things will appeal to fans of:
Adult Fiction & Historical Fiction
Great Secondary Characters
Books including Travel/Other Cultures
Some Romance
Science
The Signature of All Things by Elizabeth Gilbert
is currently available for purchase.
**************************************************************
I feel really split on my feelings about this one!
Is it on your to-read list?
Or have you already read it?
TELL ME!