Against The Tide by Elizabeth Camden
Published by Bethany House
Publish Date: October 1, 2012
362 Pages
Source: Book – Bought, Audiobook – Bought
Find it here: Goodreads / Amazon / B&N
As a child, Lydia Pallas became all too familiar with uncertainty when it came to the future. Now, she's finally carved out a perfect life for herself–a life of stability and order with no changes, surprises, or chaos of any kind. She adores her apartment overlooking the bustling Boston Harbor, and her skill with languages has landed her a secure position as a translator for the U.S. Navy.
However, it is her talent for translation that brings her into contact with Alexander Banebridge, or "Bane," a man who equally attracts and aggravates her. When Bane hires Lydia to translate a seemingly innocuous collection of European documents, she hesitantly agrees, only to discover she is in over her head.Just as Bane's charm begins to win her over, Lydia learns he is driven by a secret campaign against some of the most dangerous criminals on the East Coast, compelled by his faith and his past. Bane forbids any involvement on Lydia's part, but when the criminals gain the upper hand, it is Lydia on whom he must depend. (Goodreads)
My Thoughts: I one-clicked this on Amazon for my Kindle one day when I saw this cover because I was absolutely captivated by how pretty it is. I added the audiobook and WOW JUST WOW, what a great decision. This story is unlike any other historical fiction that I've read in that it deals with the opium trade in the 1800's. See, this is something that I've heard about here and there throughout my life, but I'd honestly never taken the time to give it any thought at length or research it for myself as it relates to the history of the America or the world. I'm amazed at how well Author Elizabeth Camden was able to both educate me on this and also keep me entertained without info-dumping or making the story-line too weighty.
Against The Tide begins when Lydia Pallas is an immigrant child, living on a boat with her family. Her parents encourage her to go to school despite the language barrier (Lydia's family is Greek + Turkish, I believe), and so she does. One day, Lydia's father never arrives at the docks to pick Lydia up after school — her family is feared dead and Lydia is sent to an orphanage. Lydia eventually finds herself grown with an excellent job translating for the U.S. Navy. She has her own apartment and her own sense of independence. She loves to read. She is relatively happy. She's carved out a live for herself quite nicely in America. Things are going well for her.
Then she meets Alexander Banebridge — aka "Bane" — when he hires her to do some translation work for him.
Bane is well-known around the area as a drug dealer. But that was his old life, you see. Bane has cleaned himself up a bit and in doing so, he has decided that he wants to clean up the rest of the area. He is working hard (and rather dangerously) to take on the opium trade, and in doing so his path crosses some pretty crazy people at times — in particular, one gentlemen from his past that is known to do anything to get what he wants…including blackmail people and hold the people/things that they love hostage. Both Bane and Lydia join forces to take on this bad guy.
I love the way Lydia and Bane cross paths and become acquainted. It is a very easy acquaintance, and their professional relationship gives way to an easy and quiet romance. What is really wonderful is that their relationship is multi-layered; Bane realizes that Lydia has a small interest in the opium business herself, which seems to make him even more vested. This, in turn, makes Lydia even more vested in working hard to translate for Bane, to help him in whatever way she can, because she sees his cause as worthy. They want to help each other. This plot thread of the story is my favorite, I think, and I love the way it all comes to a climax toward the end because it was something that was completely unexpected for me, completely unexpected for characters in stories like this, and I just loved how it played out. So well done.

This book had the potential to be very boring or maybe very overdone. It was neither of those things, in my opinion, and instead I think it was just fascinating. Against The Tide is an exciting tale of the lengths corrupt men will go to when they want to stay in power, and the lengths that good people will go to when they want to make the world a better place. Woven in there is this really great theme that you can turn your life around no matter what it once was or currently is. There is mystery and suspense, particularly at the end of the story, with a little bit of romance and some history, and I found myself unable to put the book down.



Source: Author's Note at the end of Against The Tide;
Mrs. Winslow's Soothing Syrup plays a LARGE role in the
story, so this piece of information was fascinating
and alarming!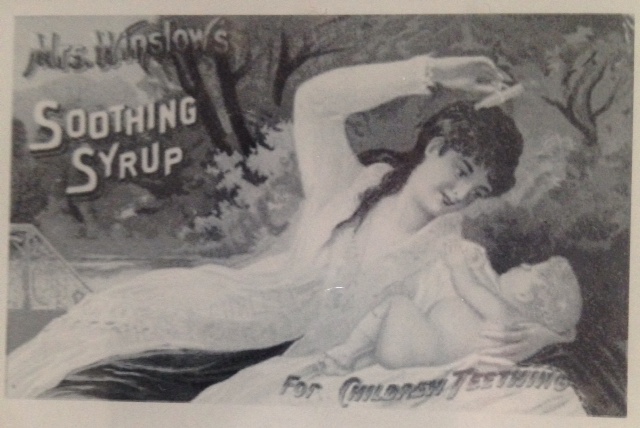 Source: This photo accompanies the Author's Note at
the end of Against The Tide – WOW, right? This is again the
same Mrs. Winslow's Soothing Syrup that plays a large role in
the story.
This was my first of Ms. Camden's books, but I will be reading more of her work. I have several friends in mind that I feel certain would enjoy this book. I recommend
Against The Tide
to readers that enjoy historical fiction and light romance stories. I think if readers are history-lovers like I am, this one is worth the read for the opium story-line alone – I found it such a super-cool premise for a story, and I will be recommending this one for a very long time.
Audiobook Notes:
The audiobook format of Against The Tide
by
Elizabeth Camden
is published by
Recorded Books
and is 11 hours and 29 minutes, Unabridged. It is narrated by Barbara Rosenblat
who was new to me as a narrator. At first, I was not sure how I would like this audiobook but to be honest, within minutes I found that Ms. Rosenblat's voice was actually quite soothing and I loved listening to her style of reading. She did not rush through the story but also did not read it too slowly. I also felt like her accents were believable. I would recommend this audiobook for first reads or rereads, and I know that I will be listening to this one again for rereads in the future.
***********************************************************************
Against The Tide will appeal to fans of:
Historical Fiction with Romance
Romance: Slowly developing. No triangle.
Setting: Late 1800's, Massachusetts
Against The Tide by Elizabeth Camden
is currently available for purchase.
***********************************************************************
WHAT DO YOU THINK OF THAT COVER?


I bought this book based on this cover. It worked out well for me.


I've never read anything that specifically target the OPIUM TRADE during the LATE 1800's before. This book fascinated me and I loved it.