Always Remember by Emma Hart
Series: Memories #2
Publish Date: May 13, 2013
Find It: Amazon US / Amazon UK / Smashwords


How long does it take for a long-distance relationship to break down? Sixteen months.

When Jen and Carl put their relationship to rest after Christmas, Jen's biggest problem is going back to London ten days earlier than planned – and her ever-present attraction to Samuel 'Bing' Edwards.

Bing has no idea why Jen left Devon so fast. All he knows is that he wants her as much as he did the first day he laid eyes on her – so spending time with her while Lexy is still in Devon isn't exactly a hardship for him. When he finds out she's single, the only thing on his mind is finishing what they started at his dad's fiftieth birthday party.

Feelings that have been a long time building between the two explode, and they both find themselves sucked into an easy yet passionate relationship, with Bing determined to prove to Jen that she's it for him. That she is The One.

But in a city like London, the odds are stacked against them, and there's always that one person ready to stir things up… And Jen doesn't know how much of that she can take – even for the guy she loves more deeply than she ever imagined, and eventually she breaks.

Bing isn't down with that. He wants Jen, and he wants her by his side for good.

Jennifer Mason must learn that Samuel Edwards doesn't do giving up. Especially not when his forever girl is involved.



– Exclusive Always Remember Teaser –
Always Remember is the second full-length novel in Emma Hart's Memories series and
it releases in just days!! How exciting! To celebrate the release, I'm teaming up with Author Emma Hart to share this teaser from the book.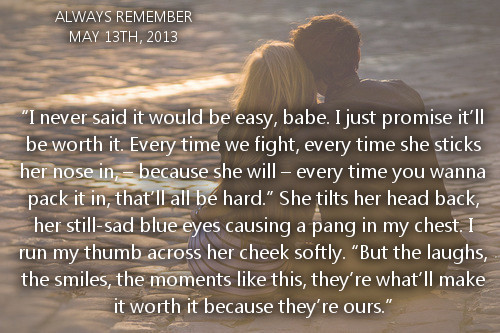 Y'all, I just finished this book yesterday and I tell you:
***************************************************************
the first book in the Memories series.
I've read and loved Never Forget!
You can read my full review HERE.
***************************************************************
By day, New York Times and USA Today bestselling New Adult author Emma Hart dons a cape and calls herself Super Mum to a terrible two year old and growing bump, due September 2013. By night, she drops the cape, pours a glass of juice and writes books. She likes to write about magic, kisses and whatever else she can fit into the story. Sarcastic, witty characters are a must. As are hot guys. Emma is currently working too many books to even count – including Playing for Keeps, the companion book to New York Times and USA Today bestselling novel, The Love Game. She likes to be busy – unless busy involves doing the dishes, but that seems to when all the ideas come to life.
***************************************************************
The Memories Series by Emma Hart:
I've read all three of these and already shared my thoughts on Never Forget.
I devoured
Holding On
and
Always Remember
, and I'm sharing my thoughts
on those super soon.