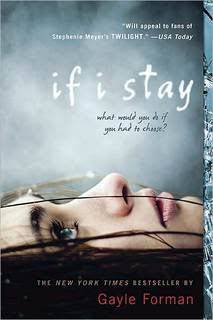 If I Stay by Gayle Forman
Published by Speak
Publish Date: April 2009
262 Pages
Source: Print – Bought, Audiobook – Library
Find It: Goodreads / Amazon / B&N


In the blink of an eye everything changes. Seventeen ­year-old Mia has no memory of the accident; she can only recall what happened afterwards, watching her own damaged body being taken from the wreck. Little by little she struggles to put together the pieces- to figure out what she has lost, what she has left, and the very difficult choice she must make. Heartwrenchingly beautiful, this will change the way you look at life, love, and family. Mia's story will stay with you for a long, long time. -(excerpt from Goodreads)



If I Stay by Gayle Forman


My Thoughts: This book is another one of the re-reads I wanted to try again because I didn't love the book so much on the first go round. The first time, I read the book in print and I thought it was okay, and that was about it. But then as I read more and more about how people were just so in love with this story and so captivated by Mia, and there was so much sobbing – again (just like with Anna and the French Kiss) I felt this huge disconnect from the world of contemporary lovers.


The story is good. But I did not cry. Also, I didn't remember tons of details. Put it this way, at the time it didn't grab me enough to make me want to immediately read Where She Went.


On the Re-Read:


I listened to the audiobook with the print copy right by my side or in my hands. It never fails that an audiobook brings more emotion to the surface for me and moves me in ways that regular print on regular paper cannot, so since I had such a hard time with the connection the first time around – I wanted to give myself every chance to connect with Mia again. As always, this was a good choice for me because while I didn't end up falling in love with Mia or her story, I did like If I Stay much better the second time.


I count that as a success, you guys. But while I feel better about If I Stay, I still don't feel like I loved it.


I think Gayle Forman's writing is nice in this book – I was easily able to follow the story and feel for what Mia was going thru. I loved the musical aspect of the story. I loved the flashbacks and getting to know the supporting cast through Mia's thoughts and memories. I loved the emotions, particularly where Mia's brother and her boyfriend were concerned. But try as I might, I just couldn't care as much as I wanted to about Mia. What I mean is that I couldn't connect with her on as deep a level as I wanted to.



It makes me feel pretty horrible,
because what Mia was experiencing was pretty horrible.
I really, really love connecting to characters
and

being emotionally involved in a book.
BUT! I gave the book a second chance and that is what is important, right? Well, that and the fact that from there, I was able to go to Where She Went. Man, I can't wait to share my thoughts on that one.


Audiobook Notes: The If I Stay audiobook is published by Penguin Audio and is 5 hours, 2 minutes long, Unabridged. The book is narrated by Kirsten Potter, who did a fine job with the story. She did a pretty good job with Mia's voice – sometimes Mia has tons of emotion and there are also times when Mia has a pretty flat affect because she feels numb or doesn't know what to feel. I think the narrator did a great job bringing these emotions to life. I would recommend this rather short audiobook to readers as a first-read or a re-read for this book. There are some musical vignettes interspersed into the story because Mia is a cellist – they didn't really add or detract from the story in my opinion, although I'm sure that most people would feel that they enhanced the audiobook.


I recommend If I Stay by Gayle Forman to fans of YA Contemporary with Issues, emotional stories, and people who enjoy stories with a musical component. After two reads – one in print and one in both audio+print, I can safely say that this one just is not going to be a favorite of mine…but I did enjoy it more on the re-read, which I will always count as a success.




********************************************************************
If I Stay will appeal to fans of:


YA Contemporary Realistic Fiction & Romance
Romance: Already established. No Triangle.
Issues: Death

If I Stay by Gayle Forman
is currently available for purchase.
********************************************************************
Here is another example of a successful re-read,
although I don't count is as successful as my
Are you disappointed that I don't love it more?
Is there anyone else that had trouble connecting with Mia?
Or am I just unusual?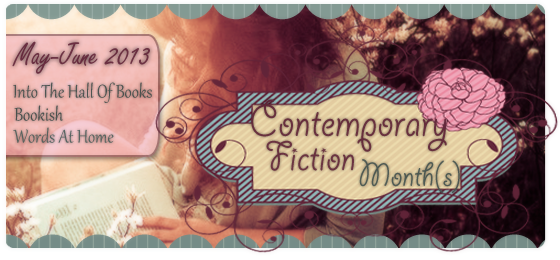 There's more Gayle Forman coming up
in this event for you guys! Stick with me!