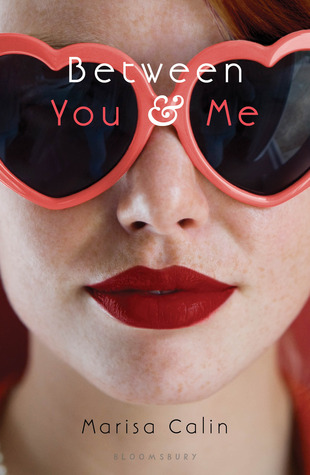 Between You & Me by Marisa Calin
Publisher: Bloomsbury USA Children's
Publish Date: August 7, 2012
Source: Ginger from GReads! – Thank you!
Find It: Goodreads / Amazon / B&N


Phyre knows there is something life-changing about her new drama teacher, Mia, from the moment they meet. As Phyre rehearses for the school play, she comes to realize that the unrequited feelings she has for Mia go deeper than she's ever experienced. Especially with a teacher. Or a woman. All the while, Phyre's best friend—addressed throughout the story in the second person, as "you"—stands by, ready to help Phyre make sense of her feelings. But just as Mia doesn't understand what Phyre feels, Phyre can't fathom the depth of her best friend's feelings . . . until it's almost too late for a happy ending. Characters come to life through the innovative screenplay format of this dazzling debut, and unanswered questions—is "you" male or female?—will have readers talking. -(from Goodreads)



Between You & Me by Marisa Calin


My Thoughts: Wow, this book is so very different from anything I've ever read before. Ever. In my life.



The first thing you need to know is this:
Main character Phyre has developed feelings for her theater teacher.
Phyre's feelings develop from a small fascination into a full-on crush that becomes one of those all-consuming life-size things that takes over her thoughts and her mind and her heart. It isn't the biggest shock in the world that a student could ever develop a crush on a teacher, right? It happens. Well, in this case, Phyre's teacher is a female and this is the first time that Phyre has ever felt these feelings for a person of the same gender.
It doesn't help that Mia, the teacher, is really pretty. And super nice. And that during theater class – during the acting exercises – Mia encourages her students, Phyre included, to really feel and express their feelings and emotions. This gives Phyre something to concentrate on while listening to the sound of Mia's voice and watching her movements and all of that. It's pretty excruciating to read this crush, or at least it was for me. (I'll tell you why in the 'second thing.')
Phyre doesn't really know what to do with these "odd" feelings she's having. She doesn't feel like she can tell anyone and she doesn't really know if she wants to. She doesn't know if Mia feels the same way she does and she sometimes acts just slightly inappropriately because of this.
The second thing you need to know is this
:
Phyre's BFF – known as "YOU" – has feelings for Phyre.
This was so obvious to me. And painful. So, so painful. YOU just adored Phyre to pieces and Phyre either acted oblivious to it or actually was oblivious to it. Isn't that always how it is when one person likes the best friend, at least for a while? Man, it was so hard to read Phyre follow Mia around over and over and talk non-stop about Mia to YOU, and poor YOU would just grin and take it – all the while stifling his/her feelings and keeping silent. Silently wanting.
Absolutely gut-wrenching, but it always is. Why do I love to read those best-friend-falls-in-love-with-other-friend books? I don't know. In this case, it wasn't my favorite. But it still broke my heart.
The third thing you need to know is this:
The book is written in script or screenplay format.
I'm not sure exactly what the terminology is.
But you can look at my nifty little picture down there to see what I mean.
Dear people of the world, I will watch theater a million times and love it, but I don't DO theater. I am not an actor. So outside of the story itself, I had a hard time following along with the book. A really hard time, actually. Now, that doesn't mean anyone else will have a hard time. In fact, I've had several reading friends that really, really enjoyed this story and the format and everything. But I found that I was constantly re-reading the little paragraphs trying to figure out who was "ME" and who was "YOU" and which parts were being actually spoken and which parts weren't.
A theater person, I am not.
BUT BUT BUT that is merely structural and has nothing to do with the actual story.
Well hello there, book that is written as a screenplay.
I am not used to books like you.
*****************************************************
Between You & Me
by Marisa Calin is a very different book – it's one that took plenty of risks and I think that is awesome. I love it when an author takes something that is outside the box, outside the norm, and runs with it. There may be other books like this one out there – if there are, I'm not familiar with them. As you can see from my picture, this book was absolutely like a script. There will be readers that will love it and there will be readers that will struggle a little bit with it. I am of the latter bunch.
The story itself was okay and also a bit different – main character Phyre develops a crush on a teacher, who happens to be a girl, and struggles with these feelings of same-gender crushing. All the while her BFF – is it a boy? is it a girl? WE NEVER KNOW. – struggles with watching Phyre crush on someone else. So we have a bit of a romance and a bit of an identity story with coming-of-age too, I think.
I think, for me personally, that the format of the book mixed with the fact that I didn't know anything about the best friend, YOU – well, it just took away from the story a little bit for me. It left me too much work to do when really what I wanted was enjoy a story. Some readers really enjoy stories that require thinking critically and I think that is fantastic. But for me, one who reads to escape, I would've loved either a narrative structure or a gender assignment to YOU to lessen the amount of work it took me to get through this book. But, again, that's just ME.
Overall, I will say that I love the risks the author took and that there is certainly an audience for a book like this. I am glad that I read this book and feel like I got a lot from it even though it was a struggle for me. I know that I can recommend it to certain reading friends that would enjoy it. Also important is that I love the way that the book resolved and rounded out and left me in a good place with the ending.
I recommend Between You & Me to fans of YA Contemporary, fans of quirky or risky books, and/or LGBT stories. You should have no trouble reading it if you can read screenplays and if you have never tried to read them, perhaps you should give it a go. Even though I struggled a little bit with this structure, I would love to see what else Marisa Calin puts out in the future because I did like the risks she took with this story and I want to see what she does next.
********************************************************
Between You & Me will appeal to fans of:

Young Adult Contemporary Romance
Structure: Screenplay/Script
LGBT
Between You & Me
by Marisa Calin
is currently available for purchase.
********************************************************
And now for the Giveaway!
I'm giving away
an ARC of
BETWEEN YOU & ME
by Marisa Calin
This contest is open worldwide
and ends Saturday June 15.