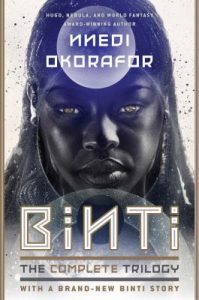 Binti: The Complete Trilogy
by
Nnedi Okorafor
Published by
Daw Books
on February 5, 2019
Pages:
368
Source:
the publisher
Buy from Amazon
|
Buy from Barnes & Noble
|
Buy from Book Depository
Goodreads
Includes a brand-new Binti story!

Collected for the first time in an omnibus edition, the Hugo- and Nebula-award-winning Binti trilogy, the story of one extraordinary girl's journey from her home to distant Oomza University.

In her Hugo- and Nebula-winning novella, Nnedi Okorafor introduced us to Binti, a young Himba girl with the chance of a lifetime: to attend the prestigious Oomza University. Despite her family's concerns, Binti's talent for mathematics and her aptitude with astrolabes make her a prime candidate to undertake this interstellar journey.

But everything changes when the jellyfish-like Medusae attack Binti's spaceship, leaving her the only survivor. Now, Binti must fend for herself, alone on a ship full of the beings who murdered her crew, with five days until she reaches her destination.

There is more to the history of the Medusae--and their war with the Khoush--than first meets the eye. If Binti is to survive this voyage and save the inhabitants of the unsuspecting planet that houses Oomza Uni, it will take all of her knowledge and talents to broker the peace.

Collected now for the first time in omnibus form, follow Binti's story in this groundbreaking sci-fi trilogy.
I received this book for free from the publisher in exchange for an honest review. This does not affect my opinion of the book or the content of my review.
Review:
Binti: The Complete Trilogy by Nnedi Okorafor is the entire collection of Binti novellas plus a brand-new story in one hardcover edition, and the book is beautiful! This is a collection of Afrofuturistic stories that has been on my radar since the first story has come out; I remember seeing the original cover for the first Binti and being interested in it but not picking it up at the time. I actually made the decision that I'd read the novellas when they were all published, so I was delighted to see that they would be published together in one book, and I was even more delighted that I would have the opportunity to read and review it for the publisher. The decision to read these stories back-to-back-to-back was the right one for me.
Binti is a very smart young woman from a small, insular African village who has her life basically mapped out for her due to the customs of her people. Unbeknownst to her parents, she has been accepted to Oozma University with high marks and the equivalent of a full scholarship, and she very much wants to go. Going would mean being ostracized or banished by her people and possibly even her own family, who really don't seem to support nor understand women in academics or higher learning. Staying home and getting married is her other option and the ultimate in settling; this is not at all what Binti wants. Binti chooses to go to University, sneaking away and risking everything. While being transported to University, the unthinkable happens: her ship is attacked by beings of another culture and everyone is massacred except for her. She is the only one left alive, but she is…changed. Binti ends up caught between several groups of people, an unwilling spokesperson for them all. This trilogy is the story of how she tries to bring peace not only to these different groups of people, but also to her family after she has left them, and to herself for the decisions that she has made.
The strengths of these stories are many, the biggest of these being Binti herself and the world-building. The world is very well done, especially considering that these are all stories that are on the shorter side. The language is lush and descriptive, and I feel like it was pretty easy to lay these scenes out in my head whether the setting was Binti's village, outer space, or Oozma University. Binti herself is incredible as a character. She becomes increasingly complex as the series continues as she learns that she can do new things and she continues to change as the story arc moves. Her culture is so rich and vital to her, so she carries it with her from place to place; I love this so much. I loved every part of the African culture that was put into this story and I see what the author did here.
What I love most about Binti is that she is true to what she is feeling. If she feels unsure about herself or a decision that she has to make, the readers know it. If she feels sad or embarrassed, we know it. If she feels cautious or if she feels her own strength, we know that too. Binti isn't automatically this warrior-type character just because she is the lead in the story, and I appreciate that so much. We get the whole person, with all of her vulnerabilities and flaws and strengths, and they're very well done. I am reminded of a scene in the first novella when Binti has come into a crowded area in a larger city, and she overhears people talking down about her because of how she is dressed and because of what she is wearing on her skin and hair. In those scenes, I learned so much about Binti and how vulnerable yet strong she is. (I also want to mention that the supporting cast is just great.)
The thing that I felt was a weakness for me may not be a problem for other readers: it's the math part of the story, which played very heavily throughout. I've already mentioned that Binti is very smart, which I love; in particular, she excels in mathematics. But the mathematical parts of the story brought me out of the narrative every time equations were mentioned, and also every time treeing was mentioned. Which was a lot. I had four novellas to get used to it and to try to find my place with the math, and I could not. It just never happened for me.
More than anything, I love Binti's journey into discovering who she really is and being comfortable with that, comfortable enough to be honest with her family and her village, and comfortable enough to be honest with herself about what she wants from life. So I guess this is sort of a coming-of-age tale wrapped up in science fiction. I think that if the stories were longer, they would be slightly more developed because there would be more room for detail and fleshing out characters and scenes that I felt were a little rushed or disjointed. To me, the newest story (Sacred Fire) is the best out of all of them. Just so, so good. And at the moment, it looks like it is only available in this omnibus, but perhaps that will change with a little bit of time.
I recommend this one strongly if you're a fan of Afrofuturistic stories or just science fiction novellas in general. Binti is a fun character and the world and characterization in these stories is definitively worth experiencing.