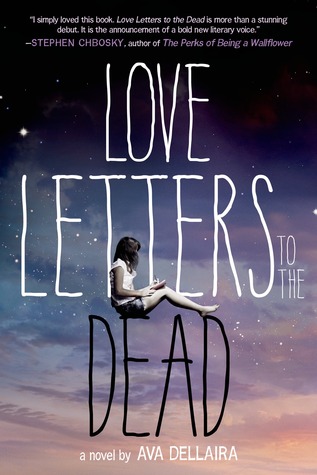 Love Letters To The Dead by Ava Dellaira
Published by Farrar, Straus and Giroux (BYR)
Publish Date: April 1, 2014
Source: Publisher
Find it here: Goodreads / Amazon

It begins as an assignment for English class: Write a letter to a dead person. Laurel chooses Kurt Cobain because her sister, May, loved him. And he died young, just like May did. Soon, Laurel has a notebook full of letters to people like Janis Joplin, Amy Winehouse, Amelia Earhart, Heath Ledger, and more; though she never gives a single one of them to her teacher. She writes about starting high school, navigating new friendships, falling in love for the first time, learning to live with her splintering family. And, finally, about the abuse she suffered while May was supposed to be looking out for her. Only then, once Laurel has written down the truth about what happened to herself, can she truly begin to accept what happened to May. And only when Laurel has begun to see her sister as the person she was; lovely and amazing and deeply flawed; can she begin to discover her own path. (from Goodreads)


When Love Letters To The Dead by Ava Dellaira released last year, I thought it was amazing. I wanted everyone to read it. Guess what? The book is releasing in paperback today! As part of this blog tour, I wrote my own letter to Judy Garland…and Author Ava Dellaira responded! Check out both letters below and enter to win your very own paperback copy. Don't forget to visit the rest of the blog tour and see some other very exciting news down at the bottom of this blog post.



Congratulations Ava! I still love the book so much!
**********************************************************************


Dear Judy Garland,


I thought of writing to you today because I want you to know that I miss my grandmother so much. I know this may not sound like it has anything to do with you, but I have these wonderful memories of watching your movies with her. Especially The Wizard of Oz, of course.


I lived with her for a time, you know. Back when I was in high school, actually. This was the best part of my life and you were a part of that. She loved to watch you act and sing on some of her old VHS tapes, and I think that we must have spent months of hours together watching you perform. She would tell me over and over how much she enjoyed your career all throughout her life. I soaked it all up because everything she said was pure gold to me. She showed me so much of you that I might not have ever known. But mostly we watched The Wizard of Oz together, and even today that is the movie and music that I remember most because it was her favorite.


Judy Garland, when you were making your movies and singing your songs, did you know that people like my grandmother and I would spend time with them, making memories? Because I have these sweet memories now that I can hold onto because of you. Did you realize that your work would be priceless to me not only because it is good but because of how much she loved it? Did you have any idea how much the world would grow to love it too? I wonder what all of this must feel like to you. Is it too much pressure or is it wonderful to know that you are remembered?


You have been special to me, all of my life. As a child, when I was a teenager, and now that my grandmother is no longer with me. I can look back at your work, and it makes me smile. It feels like a hug. It is good work, Judy Garland. Thank you for it.


Yours,
Asheley



**********************************************************************


Dear Asheley,


Thank you so much for sharing your beautiful letter to Judy Garland. There was something a bit magical for me in getting to be in the intersection between her work and your own memories. Reading your letter, I almost felt like I was in the living room with you, your Grandma, and Judy Garland, too. You brought them both to life with your words.


Even if both Judy and your Grandma have left this earth, you'll always have The Wizard of Oz, and the meaning that your relationship with your Grandma gave to it. Your personal connection to Judy Garland adds to the love in her legacy, and binds you to others who have their own ties to her.


I remember watching Meet Me In St. Louis at Christmastime, the year after my mother passed away, in the living room of the house I'd grown up in. When Judy sang "Have Yourself A Merry Little Christmas," it brought tears to my eyes, and made me feel part of something bigger than me.


Your letter perfectly expresses one of the things that I hoped to get at when I wrote Love Letters to the Dead: the way that public figures can come to represent our personal losses, loves, and ties to the world we are so lucky to live in. Thank you for it. Here's to your Grandma, her VHS tapes, and the sweet memories you will keep forever.


Yours,
Ava



**********************************************************************
**********************************************************************
Love Letters To The Dead
Blog Tour Schedule with Giveaways:
**********************************************************************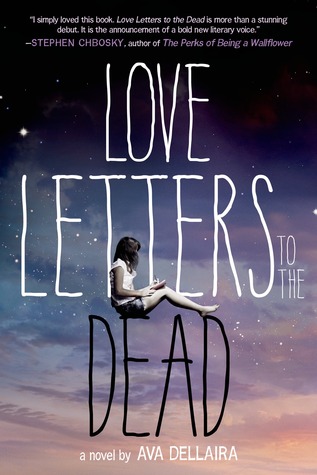 With her luminous 2014 debut LOVE LETTERS TO THE DEAD (FSG Books for Young Readers), Ava Dellaira firmly solidified herself as one of the most notable YA authors to
burst onto the scene. The novel that deftly explores the loss of a sibling through the lens of her teenage sister will be available in paperback on September 29, 2015.


A nod to its resonating power, it was announced that the novel will be adapted into a movie produced by Temple Hill Entertainment and Fox 2000, who together made the hit movie, The Fault In Our Stars. Catherine Hardwicke, who directed Twilight, will direct the film. "It's a beautiful and challenging project about a very important subject," Hardwicke tells Entertainment Weekly. Dellaira will write the script.


LOVE LETTERS TO THE DEAD tells the story of Laurel, a teenager who, in the wake of her older sister's death, is assigned to write a letter to a deceased person. She writes her first letter to Kurt Cobain (her favorite artist), and soon she pens a notebook full of letters to the dead, including Amy Winehouse, Janis Joplin, and Amelia Earhart, among others. Each of them evokes a different emotion in her. Through these letters, Laurel grapples with not only the emotional trauma of losing her older sister, but also her experiences in navigating the turbulent world of high school—including friendships, love, and even abuse. Laurel finds that in writing down her truths, she is more able to come to terms with her sister's death.


LOVE LETTERS TO THE DEAD is a miss-your-subway stop, stay-up-and-devour-all-night reading experience that pulls readers in with its heart-wrenching and beautiful honesty. The New York Times observes, "Dellaira has either experienced sibling loss or done good research, because her themes ring true."



This standout debut garnered exuberant pre-publication praise from numerous YA heavyweights, including Laurie Halse Anderson, Jay Asher, Gayle Forman, and Lauren Myracle, and foreign rights have sold to 23 countries.



**********************************************************************
Ava Dellaira is a graduate of the Iowa Writers' Workshop, where she was a Truman Capote Fellow. She grew up in Albuquerque, New Mexico, and received her undergraduate degree from the University of Chicago. She currently lives in Santa Monica, where she is at work on her second book.


Find Ava: Facebook / Twitter / Goodreads / Website