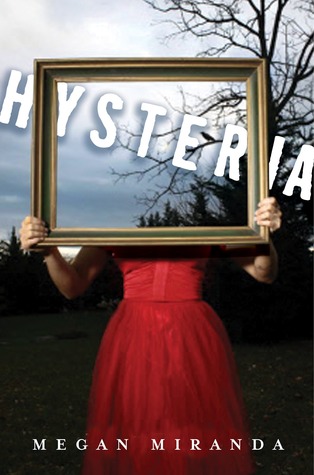 Hysteria by Megan Miranda
Published by Walker Children's
Publish Date: February 5, 2013
336 Pages
Source: Publisher via NetGalley

Mallory killed her boyfriend, Brian.

She can't remember the details of that night but everyone knows it was self-defense, so she isn't charged. But Mallory still feels Brian's presence in her life. Is it all in her head? Or is it something more? In desperate need of a fresh start, Mallory is sent to Monroe, a fancy prep school where no one knows her . . . or anything about her past. But the feeling follows her, as do her secrets.

Then, one of her new classmates turns up dead.

As suspicion falls on Mallory, she must find a way to remember the details of both deadly nights so she can prove her innocence-to herself and others. -(summary excerpt from Goodreads)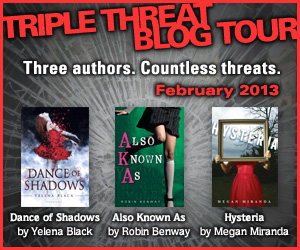 Hysteria by Megan Miranda


My Thoughts: I was a huge fan of Megan Miranda's debut Fracture when it came out last year. When I saw that she had another book out, I knew I wanted to read it. First of all, I love that Megan Miranda is a North Carolina author and I always want to support my local authors. Secondly, Miranda's has a certain style of writing that is a blend of thriller and contemporary and romance with a little bit of paranormal thrown in there, and somehow that just works for me. I'm a fan.
The first thing you need to know is this
:
We know from the book summary that Mallory has killed her boyfriend.
What we don't know is why. We don't know the circumstances surrounding that murder: the why, the exact events leading up to the death, the motive. We do know that Brian's death absolutely haunts Mallory. What she has done terrifies her because she can somehow feel Brian's presence around her, like he is somehow in the very air that she's breathing. Mallory doesn't know if what she is sensing is real or if she's making it up, if she's going crazy.
The second thing you need to know is this
:
As you can expect, Mallory has lost everyone that is important to her.
She feels alone and hopeless.
Brian's mother is stalking Mallory, parking her car outside their home and vandalizing their property. Mallory's friends are acting out: some aren't coming around anymore, some are no longer allowed to be around her, and some are acting malicious and hostile toward her. Worst of all, her own parents hide their kitchen knives, lock their doors at night, and act afraid of her, which breaks Mallory's heart. Mallory needs their love and unwavering support now more than ever, not their fear.
Mallory ends up going to a boarding school to escape everything in the town – the people, the stares, the whispers, everything. She needs a fresh start. She needs to be able to concentrate on getting her life back together. And she needs to get away from Brian's mother, who continues to stalk her and completely freak her out.
The third thing you need to know is this:
Mallory gets to her new school and instead of being better,
things are much worse than ever.
The school is creepy in and of itself, surrounded by dark, dense forest. As if that isn't enough, Mallory can still feel Brian's presence and it seems as if it is stronger than ever. Still worse, someone at the new school found out about Mallory's past and has spread the rumors among the students. She is an outcast among her peers in this new place as well. They play cruel jokes on her, they tease her, and they treat her worse than anyone did back at home.
Mallory is afraid of going to sleep at night because her nightmares are getting worse. She can hear Brian's heartbeat. She wakes up with actual bruises because she feels someone grabbing her. She really is starting to think that she is going crazy.
AND WOULDN'T YOU KNOW IT, but not long after Mallory arrives, another student is found dead in her room! Mallory remembers nothing at all of the incident because she was sleeping soundly. OF COURSE, though, she is the big suspect. Could she have killed someone else and just not remember it? Mallory begins to wonder exactly kind of person she really is.
*********************************************************
If you read this blog much at all, you know that I am usually pretty terrified of books that are thriller-y and scary, but I do not have this problem with the stories that Megan Miranda tells. Sure, she has these spine-tingling moments woven into her plots and there is plenty of mystery, but her stories are certainly stories that I can handle and enjoy while reading them. Hysteria is a great blend of psychological thriller with mystery and the possibility of paranormal mixed in there, and somehow Miranda was able to tell the story while making it seem much like a contemporary story, which I always appreciate and love.
Mallory strikes me as the type of girl that used to be popular, strong, smart, and well-liked with plenty of friends. After the incident involving the death of her boyfriend, her life spiraled out of control. She lost her sense of self, her self-confidence, and her ability to function as she always had before. As people begin to drop out of her life, Mallory became more and more fragile without a support system. After it was decided that she would leave home to attend the boarding school, I have to admit that as a reader, I was worried for her – I wasn't sure that it was the best decision for her – and once she got there my feelings were only validated. It was hard to watch her suffer; her fragility worsened until a certain event helped her decide that enough was enough and she was ready to fight back.
The thing about Mallory that I enjoyed most, believe it or not, is that she was completely unreliable as a narrator, which totally fit this story. The story was told with a mixture of narration in the present mixed with flashbacks and even some unusual dream-like visions, almost like she was hallucinating. I feel like as a reader, I did a pretty good job keeping up with Mallory, but there were a couple of times when I had to stop and think for a second about what I just read. I know that some people aren't the biggest fans of flashbacks in a story, but I tend to like them when they are cohesive to the plot, and I thought they helped with tying together the events of the past to let both Mallory and the readers realize exactly what happened when Mallory ended Brian's life.
Hysteria certainly feels like an action-driven story and the pacing is consistent and quick. I never felt a lull or break and I kept turning the pages to see what kind of crazy stuff was going to happen next. I never felt that overly-anxious feeling that I sometimes feel when I read thriller stories even though this absolutely qualifies as a psychological thriller, and I think that is something that Megan Miranda can be proud of. It felt just creepy enough to be the perfect amount of "creepy" at the right times. There were a few secondary characters that I enjoyed, but truthfully it was Mallory that was the star of this show.
I recommend Hysteria for fans of psychological thrillers with some mystery and a little bit of romance. Readers who enjoy boarding school settings may also enjoy this book.
*********************************************************
Hysteria will appeal to fans of:

YA Mystery/Thriller with some Romance
(with an element of Contemporary)
Great Setting: Boarding School
Standalone!
Hysteria
by Megan Miranda
is currently available for purchase.
**
I received a review copy from the publisher in exchange for an honest opinion and review. I received no compensation for my thoughts. Thank you Walker Childens and NetGalley!
*********************************************************
I'm so excited to welcome Author Megan Miranda to the blog today!


I recently had a chance to ask Author Megan Miranda a question: I asked her how she "turns off" staying at home, running a household, and being a mom and "turns on" writing a psychological thriller like Hysteria; how she goes from what most people would consider a 'regular day" to writing the scenes from Hysteria and keeps all of the details in order…It seems like she wears those two different hats very well and must be very organized!
This is what she had to say…
First of all, thank you! And thank you for having me on your blog today!
I'll be honest… and I think you nailed it in your question… I'm not very good at multitasking, and I do need to "turn off" the daily-version-of-me and "turn on" the writer-version-of-me when I'm drafting. I can multitask copy edits, or line edits, but to get into character, into the mood of a dark, psychological thriller, I can't be both people at once. When my kids were younger, this meant only writing at night.
Now that my youngest is in preschool most mornings, I really guard those free hours. I don't do laundry, or answer the phone, or plan dinner or make lunches or anything like that while I'm writing, even though I know it has to be done. I pretend I'm away at work, and I've stopped feeling guilty about that.
As for keeping the details straight… I know there are nice writer programs that help with this, but I mostly just keep a notebook beside me and jot down notes to myself as I'm writing. When I finish a draft, I go back through and write a synopsis off of it, keeping each thread in a different color, to make sure all the details line up. Not very high tech, I know, but it works for me. For the most part, though, those details are just in my head.
I am not one of those people who can write a scene and then check email or twitter, either. I find it's best, especially for tone of the story, to fully immerse myself. So I've gotten good at preparing before the free hours arrive. Usually, I'll be thinking about the last scene I wrote while I'm dropping the kids off at their various schools in the morning, and I'll listen to music in the car that kind of gets me in that frame of mind. So when I'm home, I'm ready. The story wants to be written.
My biggest issue, personally, is switching back out of the dark, psychological thriller mode. Sometimes I feel like my mood carries over, especially if I stop writing because time's up and not because I've finished a scene. I used to leave my laptop in the kitchen so I could tinker with things or jot down thoughts or lines throughout the day, but that just contributed to me staying in that dark place, which wasn't fair to my kids. I know several people who are able to manage this, but I'm not one of them. So this year I made a change. Laptop stays in the office. If I can't be in the office, writer-me needs to shut off. It's still a work in progress… but it works more days than it doesn't.
Thank you so much for stopping by Megan Miranda! I loved Hysteria (and Fracture) and I'm really excited about Vengeance! -Asheley
*********************************************************
*********************************************************
Author Megan Miranda
was kind enough to SIGN a few of her
HYSTERIA bookmarks for me
so I could share them with you guys!
If you're interested in one of these
SIGNED HYSTERIA BOOKMARKS,
just leave your email address underneath your comment below.
I will send the bookmarks anywhere!
*********************************************************
Is HYSTERIA on your to-read list?
Did you read FRACTURE? Thoughts?
How do you feel about psychological thrillers?
Do you have any favorites?