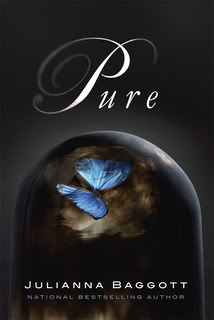 Pure (Pure #1) by Julianna Baggott
Published by Grand Central Publishing
Publish Date: February 8, 2012
448 Pages
My Source: ARC received from the publisher
We know you are here, our brothers and sisters . . .

Pressia barely remembers the Detonations or much about life during the Before. In her sleeping cabinet behind the rubble of an old barbershop where she lives with her grandfather, she thinks about what is lost-how the world went from amusement parks, movie theaters, birthday parties, fathers and mothers . . . to ash and dust, scars, permanent burns, and fused, damaged bodies. And now, at an age when everyone is required to turn themselves over to the militia to either be trained as a soldier or, if they are too damaged and weak, to be used as live targets, Pressia can no longer pretend to be small. Pressia is on the run.

Burn a Pure and Breathe the Ash . . .

There are those who escaped the apocalypse unmarked. Pures. They are tucked safely inside the Dome that protects their healthy, superior bodies. Yet Partridge, whose father is one of the most influential men in the Dome, feels isolated and lonely. Different. He thinks about loss-maybe just because his family is broken; his father is emotionally distant; his brother killed himself; and his mother never made it inside their shelter. Or maybe it's his claustrophobia: his feeling that this Dome has become a swaddling of intensely rigid order. So when a slipped phrase suggests his mother might still be alive, Partridge risks his life to leave the Dome to find her.

When Pressia meets Partridge, their worlds shatter all over again. -(summary from Goodreads.com)
Pure by Julianna Baggott
My Thoughts
: "Sometimes you meet someone and you know that your life will be different from then on."

p. 426, ARC
This quote resonated with me when I finished this book the first time. There are several characters in Pure and every time they come in contact with one another, they alter the lives of those around them. This is particularly true with Pressia, Partridge, and Bradwell…but also with the secondary cast. While I love this book so much for its world-building and its prose, I can't overlook the characterization and the way each character is brilliantly intertwined and developed so that they all depend on one another. You guys, this book is excellent and I want to tell you why…
Why I LOVE Pure, or,
Why You Need to Add Pure to Your Wish List NOW:
1. The Characters. The characters in this book are so well written that it would cause me grief to have to pick favorites. The main cast is unforgettable and the secondary cast is just as unique and well-developed. Each of them are so, so great.
Pressia. A Wretch. Now 16 years old, she is required to turn herself in to be trained as a soldier…or be used for their live training drills. Not willing to do this, Pressia hides out and runs away when they come calling for her. When she has nowhere else to go, she decides to stay with Bradwell for awhile. ~ Pressia is a great female protagonist – strong, brave, and fierce…but she also shows her fears and weaknesses and I love this about her. She isn't afraid to yell and she isn't afraid to cry. She is awesome. Definitely a favorite female lead of mine, for sure.
Partridge. A Pure. He's had an easy life, growing up in the Dome. Unscarred, well-fed…never worrying about tomorrow. He's missed out on life with a mother, though, as he has always been led to believe that she never made it into the Dome before the Detonations occurred. After hearing his very high-ranking father make a comment leading him to believe that his mother may still be alive outside of the Dome, Partridge decides to escape and look for her. ~ Patridge has heard stories of life outside of the Dome, but they've always been led to believe that life outside is different than it really is. He is both shocked at what he finds and ill-prepared to handle it on his own. Luckily, he teams up with Pressia for his task.
Bradwell. A Wretch. Living on his own for many years, Bradwell knows a thing or two about survival. He's street smart and has become a person that others can come to when they need help. He is passionate about his feelings regarding the Dome, and I love that he has strong convictions. He's one of those characters that is quietly strong…Both Pressia and Partridge look to Bradwell for wisdom in decision-making, which is shown by subtle shakes of the head or movements in his eye. I initially wasn't sure how I felt about this character but by the end of the book I had fallen HARD for this boy. Love him.
Secondary Characters. If the main cast are awesome, the secondary characters are just an extension of that awesomeness. Each lend their own flavor to the story, and each grip your heart in different ways…be it with compassion, love, or hate.
2. World-Building. Around a decade after the Detonations have occurred, life in the Dome is business as usual while everyone that survived on the outside still copes with the aftermath and destruction. Lurking about in places with names like The Deadlands and The Meltlands, there are creatures people and animals surviving that are beyond our wildest imaginations. See, when the blast happened, whatever objects you happened to be close to fused with your body…so now you may be a girl with a doll for a hand, a woman with a gardening tool stuck to one of her hands, or a man that is now fused to one of his farm animals. People and animals even fused with the ground and the trees and such

(creepy!)

. You guys, these fusions are grotesque, crazy, and brilliant. As I read about them, even when they were a little weird or gross, I just couldn't turn away. Even better than the fused people in the setting is the setting itself…I was able to completely visualize a dangerous, barren, and ash-filled environment so easily – I felt like I was there.
I am a huge, large, very-big fan of world-building, friends. This is a very big book, coming in at over 400 pages…and that is 400+ pages of excellence in world-building. I loved every word of it, every visual image I was able to conjure. Brilliant.
3. The Structure. Multiple points-of-view, all of which work together to bring several big layers to this story. There are tons of things going on simultaneously in Pure, and they're all going on at different places within this world. This is one of those cases where the multiple POV's just works really well to keep readers in-the-know about what is going on and how each of the characters are feeling about it. I usually like to keep my multiple POV's to maybe two narrators, but I completely appreciate the extra perspectives in this book. While they aren't always required for this story to maintain its flow, I loved what they added.
I should mention, too, that this is a book that is very character-driven, but that it is also very plot-driven. There is much time spent on building the characters and the world, but there are plenty of action scenes on the inside as well. Fans of either type of book should be able to find something to love in Pure.
4. The Writing. It is obvious from the very beginning that Julianna Baggott is not a newbie to the writing scene. She uses beautiful prose and, interestingly enough, it is used to describe some of the most crazy stuff I've ever read! LOVE IT. The length of this book along with the incredible bleakness of this story would be very difficult to stomach were it not for a such a beautiful writing style.
5. The Genre. Post-Apocalyptic & Dystopian. Y'all, I'm a fan of this genre in the biggest way possible. I will run laps and miles to read these books. Pure is by my favorite. And YES that is a bold statement. Let me try to tell you part of the reason why:
There is something about a huge catastrophic world-changing event, a government gone wrong, genetic manipulation, a hungry population, political injustice, and a group of people that are willing to fight for what they believe that appeals to me. Bleak, horrifying, and sometimes possible – these stories always make us think and examine ourselves and the world in which we live. It's all right here, folks.

I think there is a huge crossover appeal for this book, and I feel like my thought is probably supported by the multiple appearances of Justin Cronin (author of The Passage) and his name in the marketing campaign. For those that aren't aware, Justin Cronin is an adult writer and he is awesome. So, HOORAY for a big-kid post-apoc/dystopian book that older YA and adults can both feel comfortable/happy with!
I saw somebody mention that this book has a steampunk element to it, and while I initially was like WHAT? NO WAY! – I thought about it and now I can totally see it. This girl loves a genre mash-up, which you already know if you read my blog to any degree. This is not a steampunk book, but you guys, there are things FUSED TOGETHER and parts move and stuff. So, yeah. I'm sticking by what I say here.
You are not going to go wrong in this genre if you do it well. And this one does it well. That is all.
6. The Romance. No love triangle, and very slowly developing.

(I wouldn't even call it a slow-burn because burn doesn't seem the right word…)

Julianna Baggott didn't forget that this isn't a romance novel, so there is no huge romance in this book. There is, however, a little bit of something in there that made my heart flutter when I read. It's a relationship, and it has a steady growth rate that is so lovely and subtle. It shows itself when he

(not telling who!)

tucks her hair behind her ear or when she realizes that she can't drop his gaze. I felt that for the vast majority of the book, it was a secret that only I knew, and I loved that so much.
Folks, I realize that this type of book will not appeal to everyone in the masses. But for fans of the genre, it is a MUST READ. I simply cannot talk about Pure without getting really exciting and moving my hands around a lot when I talk. I have pushed nudged suggested it to so many people – both bloggers and people in my real life – I am starting to feel like I'll soon annoy people…but it's a risk I'm willing to take.
What really leaps out at me in this book is the unique world-building and beautiful writing. Telling you that the characters are ALL amazing is just like icing on the cake, really. For me, Pure was my total-package book. I read it and held my breath, paced the floors, gasped and cringed…and then I hugged it when I was done. Now after reading it multiple times already, I am having a FIT while I have to wait until the next book is out.
I want to know a little more about the Dome, and what ending of Pure means for the people on the inside. I want to know what the surviving characters are gonna do now?? WHAT WILL HAPPEN NEXT?! I'm rather impatient and it is so deliciously thrilling that a book has me this excited. I hope that you can feed a little bit off of my excitement and that you'll want to read it and love it too.
You guys, books like Pure are the very reason I am a book blogger.
This is ME sharing my love for a book with YOU.
Pure will appeal to fans of:
Post-Apocalyptic & Dystopian genres
Incredible World-Building
VERY Strong Characterization
(both the main cast & the secondary cast)
Character-Driven stories AND Action-Driven stories
No Love Triangle
Pure by Julianna Baggott will be released on February 8, 2012.
Make sure you stop back by tomorrow
because I was so lucky to be able to
Interview Julianna Baggott!!
**I received a review copy from the publisher in exchange for an honest opinion and review. I received no compensation for my thoughts. Thank you SO MUCH Grand Central Publishing and Julianna Baggott!