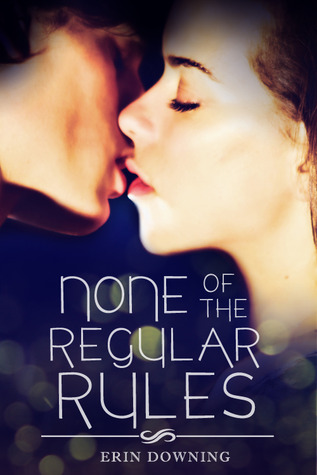 None of the Regular Rules by Erin Downing
Publish Date: November 20, 2012
260 Pages
Source: Author for review – Thank you!


Sometimes, a few dares can change lives…

The weekend before the start of senior year, Sophie Erickson and her best friends, Ella and Grace, discover a handwritten list of dares tucked away in the glove compartment of Sophie's beat-up old Toyota. But this isn't just any list; it's a dead girl's bucket list.

Sophie's beloved aunt Suzy died as a teenager in a fatal fall, leaving Sophie with an overly cautious family, a few fading photographs, and a bucket of bolts that barely passes for a car. But now, Sophie has Suzy's list of the things she wanted to do in her last year of high school. Sophie can't help but wonder: What would happen if she tried to fulfill Suzy's last wishes, to live out the longed-for life of her aunt, her hero?

As Sophie and her friends attempt to knock off the things on Suzy's list of dares, love blossoms in unexpected places and Sophie begins to feel that her life is finally coming together…when in fact, everything is slowly unraveling around her. When the truth about a long-held family secret threatens to shatter everything she believed to be true, Sophie is forced to question everything she knew about the life and people she believed in, and ultimately herself. -(from Goodreads)




Hosted by Xpresso Book Tours
None of the Regular Rules by Erin Downing


My Thoughts: None of the Regular Rules is a book about finding love, friendships, and coming-of-age – but not necessarily in that order.



The first thing you need to know is this
:

This is a story of friendship.
Sophie Erickson is lucky to have the two greatest best friends ever: Ella Ambrose and Grace Cutler. The trio have been friends for years but since making it to high school, they have kind of grown in different directions as far as school is concerned. Still, they remain the best of friends.
Being so very different is probably the thing that has kept them so close. Ella is the artsy one, almost like a hippie, the one that is just on the fringes of the regular crowd at school. She wears the loud-colored tights under her clothes and pulls together outfits that other people might not necessarily piece together. Ella is happy and completely comfortable not knowing what she wants to do with her life just yet. Grace Cutler is on the student council. She also joins just about every other extracurricular activity she can possibly fit into her schedule. She's an overachiever with high hopes of a big-time college after high school. Both of these girls get picked on regularly for their quirkiness.
Our main character Sophie Erickson hovers in a somewhat different place – she doesn't really fit in any particular crowd. She has never had any trouble fitting in with anyone and gets along with pretty much everyone. She is content to just be. For all of their differences in terms of school, these three balance each other out really well outside of school, and they are the best of friends.
The second thing you need to know is this
:

This is the story of a romance.
Johnny Rush is the boy next door. He is the actual boy-next-door, as in the neighbor, and he is really good-looking. He's so good-looking that Sophie's been looking out of her window at him for years while he hangs out with his friends in the yard and hosts his famous parties. In the beginning of our story, Johnny notices Sophie looking down and yells up that she should come down to his party. Partly embarrassed at being caught and partly freezing up because he's Johnny Rush from next door, she turns down the invitation and tries to play it cool – instead riding around in her car with her friends (we'll get to that in a minute). The parties happen again and again, and Sophie continues to receive these invites from Johnny.
Sophie and Johnny start spending a little bit more and more time together and gradually Sophie's friendship-crush becomes solid feelings. The problem is: Johnny has a girlfriend who is away at college and Sophie knows that she can't let herself fall for this boy, this perfect and handsome boy. But oh she wants to! Then one day, Johnny leaves town suddenly, saying he got a job as a ski instructor in another state and he'd be home soon. Sophie is crushed that he would leave so suddenly. (Trust me, he has his reasons!) Things aren't great at home and Sophie's friends aren't around anymore (more on that later) and she really, really could use Johnny hanging around next door. But he's gone and she feels so very lost without him.
I initially judged Johnny as one of those super popular party boys – the ones that would probably be a jerk and a waste of Sophie's time. I figured Sophie's crush would be big and Johnny wouldn't reciprocate or he'd break her heart or embarrass her. Boy, was I wrong. Johnny Rush is a GREAT guy.
I have to apologize to our main character Sophie Erickson, but TO ME Johnny Rush was the star of this show. (Could it be because he was named Johnny Rush? Because that name is the coolest name ever.)
The third thing you need to know is this
:
This is a coming-of-age story.
When Sophie turns Johnny's initial party invitation down at the beginning of the book, she and her friends take her car out for a drive. It's an old car – not new at all. In fact, she inherited it from her Aunt Suzy who died about ten years earlier. On the drive, they end up with a flat tire. While fumbling through the glove compartment for the instruction manual to see how to change the tire, a piece of paper falls out – this ends up being a an old list belonging to Aunt Suzy. The list is kind of like a group of dares that Suzy wanted to accomplish before she graduated high school. Some of the things aren't very hard and some are downright crazy. All seem relatively doable. In an impulsive moment of girlfriend-bonding, they decide that HECK YEAH! they'll complete Suzy's old list since she didn't get to!
The list takes them places they never knew they'd go. At first, they have a great time crossing things off. For example, they chop off Sophie's hair and donate it to Locks of Love and then give her a pink streak – everyone loves it, including Johnny Rush. There are other parts of the list that are more intense, like breaking into a local planetarium, in which not all of them make it out without getting into big trouble. List-related times and events like this begin to place strain on their friendship. Then there are boys…Grace's boyfriend becomes jealous becomes possessive starts acting overly weird that the girls are spending so much time together and starts forbidding discouraging Grace to have anything to do with the list. Ella becomes interested in a new guy and lands a part in a chorus production and has less time to complete the list. Sophie is hanging out with Johnny Rush in all of her spare time. Girlfriend/list time is slowly turning into boy time and before Sophie knows it, finishing the list with her isn't the most important thing to Ella and Grace anymore.
Sophie gets kind of sad that her friends are falling away as they are making good progress on the list – just as a huge shocking piece of information is passed onto her that may change everything she has ever known about herself. With neither Grace nor Ella around much (and Johnny still out-of-state), Sophie is alone in her grief and sadness and despair and confusion over this crazy information she's found out.
******************************************************************
None of the Regular Rules
by Erin Downing came along at exactly the right time for me. It was exactly the book I needed to read, but it actually was exactly the book I wanted to read as well. It was such a great story about a girl searching for something, anything
to liven up her boring life. It was a great coming-of-age story, with a wonderful friendship story and great romance interlaced throughout.
At the time Sophie finds her Aunt Suzy's list, she already feels like she's living life by going through the motions, just breezing by. Sophie is going into her senior year of high school and doesn't feel like she has left her mark on anything and has nothing to show that she's actually been there. In a way, finding the note gives her a way to leave her mark and burn her existance into her high school career. It also gives her a way to honor her Aunt Suzy, who meant so much to her. Most importantly, her two best friends can join her in this endeavor so it is something they can do for fun together. And it does seem fun – until things start to go wrong.
Sophie eats, breaths, and sleeps the list. She carries it around in her pocket every day. It's pretty much all she thinks about. She kind of expects the same from Grace and Ella, and while they're on board with Sophie – they have lives of their own. The list never consumes them the way it does Sophie, and it takes her a while to realize that. Eventually it causes friction in their wonderful friendship, and the friction turns into an all-out fight that leaves them not speaking for a length of time. It broke my heart to read about this small break in their friendship, but I also found it very true to life and authentic because I know that at least in my experience, most friends go through periods where they need a break from each other for awhile, or they at least have disagreements. The best part of all of this comes in how this fight/disagreement/break is resolved, and how it is obvious that the three are stronger friends than we readers even knew from the beginning. It is a marvelously written friendship, filled with honesty (even when it isn't all that pretty), fun times, and short-term friendship break-ups. I loved it.
Let's talk about this romance for a second.
Johnny Rush is one of the best male main characters in a book I think I've ever read. He is thoughtful, caring, and kind. He's funny and has a sense of adventure. When he has parties, he goes around and spends time with pretty much everyone that takes the time to attend. When you're speaking with him, he makes you feel like you're the only person on earth. There are details that come out in the story that show you that he is willing to sacrifice the things that he wants for other people, even when it kind of breaks his heart a little. And best of all, Johnny Rush respects women. He really is one of the more perfect YA male characters out there. So I understand completely why Sophie would fall for him, despite her best efforts at trying not to because he already has a girlfriend. The thing about this is how the two handle the "But you have a girlfriend!" thing. I'm pretty sure everyone will approve. It's so sweet and wonderful and refreshing and handled in a way that is…really, really nice. Way to go, Johnny Rush!
The summary speaks of a "long-held family secret" and I have to admit I was wondering when that would come up as I kept reading. What could it be? The book was so good and I didn't really want anything that would shatter my feelings about it! When the secret was revealed, it breaks Sophie's heart and it just happens to occur during one of the worst times possible for her. Isn't that how life is sometimes? For a time, we see Sophie kind of spiral downward. It's tough, but it's part of the coming-of-age tale in the story. The wonderful part of this is later on, when the girls come back around and when Johnny comes back home, hearts get healed. Sophie is able to share her thoughts and feelings on this big issue and thus begin her healing process with this big life-changing secret.
None of the Regular Rules by Erin Downing is one of those absolutely, all-around good books. It's one you read when you're looking for comfort, for something happy. It's a quick read with wonderful, wonderful characters. I recommend None of the Regular Rules for fans of YA contemporary romance that enjoy slow-burn romances and great friendships and coming-of-age tales.
******************************************************************
None of the Regular Rules will appeal to fans of:


YA Contemporary Romance
Romance: No triangle. Slowly developing relationship.
Coming-of-age story.
Large focus on friendships.

None of the Regular Rules by Erin Downing
is currently available for purchase.
******************************************************************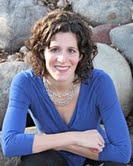 Erin Downing has written more than a dozen books for young adults, tweens, and kids. Her guilty pleasures include an unhealthy obsession with reality TV and cheesy romantic dramas (Revenge! Alias!), an addiction to Us Weekly magazine, and cupcakes.

Before turning to writing full time, Erin worked as a book editor, spent a few months as a cookie inventor, and also worked for Nickelodeon. Erin has lived in England, Sweden, and New York City, and now resides in Minneapolis, Minnesota, with her husband and kids. More information about Erin and her books can be found at: www.erindowning.com.


You can find Erin Downing in the following places:
******************************************************************
Click HERE to see the full tour schedule
for reviews and GIVEAWAYS!
SEVERAL GIVEAWAY OPPORTUNITIES for everyone!