What's up, you guys!
Today is my stop on the
Of Poseidon by Anna Banks Blog Tour!
I read Of Poseidon back in March and posted my thoughts at that time. It was such a fun book! You can read my thoughts on Of Poseidon Here.
I'm so excited that I have the chance to share an interview with
Author Anna Banks
with you today because –
you guys
– she is really hilarious! When she emailed me these responses, I laughed for a good, long while…
**********************************************

Anna Banks!

Thanks so much for stopping by today!

1. Congratulations on Of Poseidon! Can you tell us a little bit about yourself and the book?

I'm a southern girl who loves fried chicken, chocolate, and Starbucks. My favorite book is Divergent (so far), my favorite color is red (therefore my favorite nail polish is "I'm Not Really A Waitress"), and my favorite TV show is The Walking Dead. I once broke my ankle falling off the toilet (don't ask, because I simply will not tell you).
Of Poseidon is my debut, and it's full of sarcasm, humor, and romance. Probably you should check it out. It's about mermaids and secrets and upchuck.
2. Of Poseidon is YA Fantasy with a little bit of Paranormal, a little bit of Mythology, and a lot of Romance. Personally, my favorite parts were the romance! Which aspect of the book was your favorite to write?

Oh, I love writing bickering couples (Gilbert and Anne, anyone?), so all the interaction between Galen and Emma was my favorite. HOWEVER, I have to say that keeping them apart was hard. I don't know how Jane Austen did it with Mr. Darcy and Lizzy in Pride and Prejudice. I watched that movie recently (the one with Kiera Knightley) and the whole time I was all, "OMG just kiss her already!"
As an author, I understand that it has to be done. As a reader, I just want to throw the book across the room.
3. How did the idea for the story of Emma and Galen come to you?

The idea of mermaids came from an article I read about how they'd discovered the colossal squid—something scientists thought was only fishermen's lore up until 2005. It got me thinking, what else could be out there? Mermaids, perhaps?
Emma and Galen specifically came to me as I wrote. I knew I wanted to create a modern, twice-removed cousin of The Little Mermaid, where the guy was the fish prince and girl was the human. It grew from there.
4. It took me a little while to warm up to Emma but I loved Galen instantly. Likewise, it was a bit hard for me to like Rayna as much as I liked Toraf…Which characters were your favorites and why?

I love love love Toraf. He's so easy going and good natured. He's not as serious as Galen, because he doesn't have as much responsibility as Galen. And since he has far less experience in the human world than the other characters, it's excessively fun to explore how he might interpret things.
5. Oh! The ending was a killer! I'm already impatient for the rest of the story…Can you tell us anything – anything at all – about the next book in the series?

Yes, I'm sorry! I think I'm getting a black eye on tour because of that ending.
The sequel is tentatively titled Of Triton. I think you can guess that the Gift of Triton will make an appearance. That's all I can really say…Sorry!
6. I adore a book with a pretty cover and Of Poseidon certainly has a beautiful cover! Can you tell us anything about its design?

Only that I had nothing to do with it, I wish I could take credit for it because look at it for crying out loud, and I almost cried when they sent it to me, because I knew I was one freaking lucky author to get a masterpiece like that as my cover. Also, I lub it.
7. I have never been able to imagine myself as an author because I am admittedly not very disciplined in terms of my time; I need a certain amount of structure and order in my day to function at an acceptable level. What does a typical writing day look like for Anna Banks?

I get up at 4:45 in the morning and write for a couple of hours. Unfortunately for me, I'm sharpest in the morning time, because in the evenings I tend to drink wine. I've tried to switch it up and drink wine in the morning instead of the evening, but it didn't work out so well.
Sometimes I can sit down and write a couple thousands words in one sitting. Sometimes it feels like writerly constipation and I can only squeeze out 100 words. But if I keep my routine and actually write, no matter how many words, then I don't have a guilty conscience the rest of the day and I can really enjoy my evening wine instead of brood in it…
8. You've mentioned before on your blog (here) that music gets you in the mood to write. What music are you reaching for these days when you are looking for inspiration?

I choose music per scene. For romantic scenes, I choose love songs (for Of Poseidon, there was a lot of Bruno Mars, and 80's music. The theme song would have been Animal by Neon Trees). For funny scenes, I choose songs like, "I Want to Break Free" by Queen or "Clumsy" by Fergie. If it's a fight scene, I'll go with Marilyn Manson.
9. Have you read anything lately that stuck with you? Are there any titles that you are looking forward to reading this summer or fall?
The Fault in Our Stars by John Green stuck with me, because I read it shortly after my mom died of cancer in October (not super smart of me, right?). Shatter Me by Tahereh Mafi stuck with me because of her glorious writing style. And Cinder by Marissa Meyer because it was so stinking original.
10. You're going on tour this summer with MacMillan and Fierce Reads…Tell us all about that!

I'm touring with Jennifer Bosworth (Struck), Leigh Bardugo (Shadow and Bone), Emmy Laybourne (Monument 14), and other authors such as Marissa Meyer and Ann Aguirre (Enclave). Looks like we're crashing 14 cities in 13 days, or something crazy like that. For stop sites, you can check the Fierce Reads Facebook page. I've also got it posted on my blog.
So far we've been cutting up on Twitter together. What I've gathered so far about my tour mates is: Leigh and I argue a lot, Emmy is a sweetheart, and Jennifer is generally cooler than me in every way. I think we're going to get along just fine. (Also, Leigh is a makeup artist, and she promised to make me look like a zombie on tour.)
***************************************************
Thank you, Anna!
Thanks for being here today! You make me laugh so much!
And I loved Of Poseidon!
GIVEAWAY
!
Author Anna Banks & MacMillan Publishing
are offering one copy of
OF POSEIDON
to
ONE WINNER
!
(US/Canada Only)
Make sure to stop by the other stops on the
OF POSEIDON by Anna Banks Blog Tour!
(Hint: There may be other giveaway opportunities.)
Monday 5/21 Mermaid Vision Books
Tuesday 5/22 Two Chicks On Books
Wednesday 5/23 Live To Read
Thursday 5/24 The Book Goddess
Friday 5/25 Moonlight Book Reviews
Saturday 5/26 A Cupcake and A Latte
Sunday 5/27 The YA Sisterhood
Monday 5/28 Into the Hall of Books
Tuesday 5/29 The Book Cellar
Wednesday 5/30 Bookalicious.org
Thursday 5/31 Good Choice Reading
Friday 6/1 Pretty Deadly Reviews
Saturday 6/2 That Artsy Reader Girl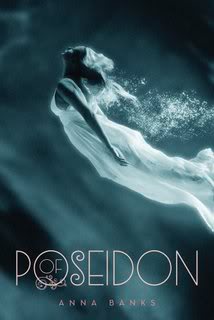 Of Poseidon is currently
available for purchase!