Welcome to today's stop on the
On The Island Blog Tour!
I am SO HAPPY for you to be here!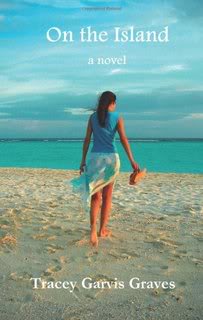 On The Island by Tracey Garvis-Graves
Publish Date: September 3, 2011
My Source: review copy from the author
When thirty-year-old English teacher Anna Emerson is offered a job tutoring T.J. Callahan at his family's summer rental in the Maldives, she accepts without hesitation; a working vacation on a tropical island trumps the library any day.
T.J. Callahan has no desire to leave town, not that anyone asked him. He's almost seventeen and if having cancer wasn't bad enough, now he has to spend his first summer in remission with his family – and a stack of overdue assignments – instead of his friends.
Anna and T.J. are en route to join T.J.'s family in the Maldives when the pilot of their seaplane suffers a fatal heart attack and crash-lands in the Indian Ocean. Adrift in shark-infested waters, their life jackets keep them afloat until they make it to the shore of an uninhabited island. Now Anna and T.J. just want to survive and they must work together to obtain water, food, fire, and shelter. Their basic needs might be met but as the days turn to weeks, and then months, the castaways encounter plenty of other obstacles, including violent tropical storms, the many dangers lurking in the sea, and the possibility that T.J.'s cancer could return. As T.J. celebrates yet another birthday on the island, Anna begins to wonder if the biggest challenge of all might be living with a boy who is gradually becoming a man. -(summary from Goodreads.com)
On The Island by Tracey Garvis-Graves
Review Excerpt
: (For my full review, click HERE)
I will admit, you guys, when I started this book – I didn't really know what to expect. Another blogger,
April
, had raved and gushed about On The Island…so I knew that it would at least be good. I had no idea that it would be FANTASTIC. I sat down to read a little bit of it for a few minutes – you know, to check it out – and ended up reading the whole doggone book. I couldn't put it down. Could not.
When the plane goes down and TJ and Anna are stuck on the island, TJ is sixteen and Anna is thirty. They are in full survival mode as teacher and student first, then as two people trying to just survive another day. They gradually become easy companions and things stay this way for a very long time. As their unusual relationship becomes more of a friendship over the course of a couple of years, TJ has grown and matured from a post-cancer teenage boy to an island-survivor man. He's grown into a role where he is helping to make choices – in some cases, making serious grown-up decisions – and Anna begins to view him more as an equal. Eventually, over the course of about three years or so, Anna realizes that she doesn't really see him as a boy anymore because he is a man now, and she realizes that things are about to change.
I knew they would have an intimate relationship going into this book. I knew it sounded controversial, and if the author had handled it differently it might have been. But guys, I assure you that this relationship – from the very beginning – was handled completely appropriately. I was never uncomfortable reading On The Island. In fact, I was so fully immersed in it that I had to remind myself that I wasn't on the island with TJ and Anna.
On The Island was an absolute pleasure to read. It was an emotional roller coaster, and I enjoyed every up and down. TJ and Anna are great characters. They are never bore to read, keeping me on my toes the entire time. They're very easy to become attached to. I felt fully invested in their trip as they boarded the plane, their survival as they arrived onto the island, and their life as they realized that help might never come. I was invested in their relationship as it grew from teacher-student to friends to more than friends. Even though I tended to forget that Anna was considerably older than TJ, she never did – and this attention to the appropriateness of their relationship was one of the things that I liked about her and one of the things that I loved about how the book was written.
I cannot recommend On The Island highly enough to an age-appropriate crowd. It is everything I love about a great book. It brought out every emotion and made me feel all sorts of things for these two excellent characters.
*********************************************
Hi Tracey!
You guys, I'm so excited that
Author Tracey Garvis-Graves
stopped by today for a fun
Top 10 Guest Post!


1. Favorite movie and actor/actress?


TGG: It's a tie between Pretty Woman and Sweet Home Alabama. I'm a sucker for a good romantic comedy and a swoon-worthy happily-ever-after. Other favorites include Thelma and Louise, Steel Magnolias, and last but not least, Jaws (I do love a good shark film).


I love Julia Roberts and Reese Witherspoon (see above!). I've been a Julia Roberts fan since her Satisfaction, Mystic Pizza, and Steel Magnolia days, and I fell in love with Reese Witherspoon because of her hilarious portrayal of overachiever Tracy Flick in Election. I will see any movie either of them is starring in.


As for my favorite actor, it's a three-way tie between George Clooney, Mark Wahlberg, and Ryan Gosling.


2. Favorite song and singer?


TGG: I'm mostly a 70's girl. My favorite singers/bands are Elton John, The Eagles, Fleetwood Mac, James Taylor, Jim Croce, Van Morrison, Chicago, Rod Stewart, etc… (the list could go on and on). As for more recent artists, I like Sheryl Crow, Adele, and Pink. I don't know that I could pick a favorite song because I have way too many to choose from. I do love "Tiny Dancer," "Life in the Fast Lane," and "Fire and Rain."


3. Favorite place you would love to visit?


The Maldives. I'd love to visit where ON THE ISLAND took place to see if the actual location matches the images I had in my head while I was writing the book.


I would also love to go to Greece someday. My grandfather emigrated from Greece at 17 and I'd love to visit his homeland. I've heard it's a beautiful place.


4. One item you cannot live without?


TGG: My Kindle!


5. Who would you like to meet? (dead or alive)


Stephen King. I find him absolutely fascinating. I really enjoyed his memoir ON WRITING, and I'd love to sit down with him for an afternoon and pick his brain. I would also like to meet Jennifer Weiner; she's one of my favorite women's fiction authors.


6. Favorite hobby?


TGG: Reading and writing.


7. Guilty pleasure?


TGG: Home alone in a quiet house with the fireplace going, a glass of wine, and my Kindle. It doesn't get much better than that (but it doesn't happen very often!).


8. Favorite author and book?


TGG: For non-fiction, definitely Jon Krakauer. I am obsessed with mountain climbing (I have no idea why) and his book INTO THIN AIR, about the tragedy on Mt. Everest, is a compelling story. I also loved INTO THE WILD, which was later made into a movie. I don't have a single favorite author for fiction, but Stephen King is definitely at the top of the list. THE STAND is my all-time favorite book and the one I remember as being the most influential to me as a writer. It's an epic book. My favorite fiction categories are women's fiction, contemporary romance (both adult and YA), and most commercial fiction. I am drawn to books with a fast pace and the story is more important to me than the writing (although that is important, too). If a book doesn't grab me and make me want to turn pages, I may not pick it back up again. My Kindle and low ebook prices make it way too easy to move on to the next book.


9. Do you collect anything?


TGG: I used to collect hardback books and I'd display them on the built-in bookcases on either side of our fireplace. Now that I have a Kindle, I don't buy as many paper books. I've only had my Kindle for a little over a year, but it's so easy to hit that 1-click button. I remember my years as a stay-at-home-mom when I'd have to load an infant and a toddler into the car in the dead of winter so we could go to Target for diapers and a new trade paperback. How I wish I'd had a Kindle back then!


10. Favorite color?


TGG: Red! The walls of my family room and kitchen are red, my bridesmaid's dresses for my wedding were red, and my first brand-new car was, of course, red.


Tracey, I love Jon Krakauer too…
I loved INTO THIN AIR and INTO THE WILD!
And I'm pretty sure I couldn't make it without my Kindle either.
Thank you SO MUCH for stopping by!
And for sharing On The Island…
I CANNOT WAIT to read it again! ~Asheley
You can follow along on the On The Island Blog Tour
for more about the book and the author – and more GIVEAWAY opportunities –
by clicking HERE for the tour schedule!
*********************************************
Now for the GIVEAWAY!
Tracey has generously provided
one eBook copy of ON THE ISLAND
Giveaway Information:
You must be at least 13 years old to enter.

Deadline for entry is

Tuesday, March 13, 2012

.

This contest is open to Everyone.
Following this blog is not required, but appreciated!
Fill out this form to enter:
Form was removed at conclusion of Giveaway!
Congratulations to the winner, Tina!!
The winner will be determined using Random.org and notified via email.
The winner will then have 48 hours to respond.
Good luck!