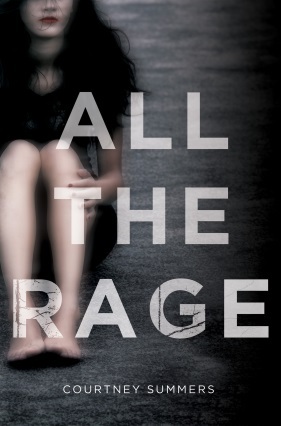 All The Rage by Courtney Summers
Publish Date: April 14, 2015
Source: Publisher
Find it here: Goodreads / Amazon

The sheriff's son, Kellan Turner, is not the golden boy everyone thinks he is, and Romy Grey knows that for a fact. Because no one wants to believe a girl from the wrong side of town, the truth about him has cost her everything—friends, family, and her community. Branded a liar and bullied relentlessly by a group of kids she used to hang out with, Romy's only refuge is the diner where she works outside of town. No one knows her name or her past there; she can finally be anonymous. But when a girl with ties to both Romy and Kellan goes missing after a party, and news of him assaulting another girl in a town close by gets out, Romy must decide whether she wants to fight or carry the burden of knowing more girls could get hurt if she doesn't speak up. Nobody believed her the first time—and they certainly won't now — but the cost of her silence might be more than she can bear. 

With a shocking conclusion and writing that will absolutely knock you out, All the Rage examines the shame and silence inflicted upon young women after an act of sexual violence, forcing us to ask ourselves: In a culture that refuses to protect its young girls, how can they survive? (Goodreads)



All The Rage by Courtney Summers
My Thoughts:
When I was a senior in high school, I wore a pale-colored dress one day. Pale-colored meant very specific underclothes, nude-colored was a *gasp* big deal for me, because modesty and all. I felt pretty when I wore these things, which is huge for girls, ya know? So I'm in class, I bend over to grab something from the floor, I hear two guy friends
not-whispering
about being able to see up some poor girl's skirt, then a derogatory statement about how
gross
it probably was up there, followed by some other awful words. My heart broke for that poor girl, I was embarrassed for her. I soon found out that they were talking about me and no words can describe the humiliation I felt, still feel. I wanted to die right there in front of everyone.
I wanted to be invisible
. My friends were humiliated for me. NOTHING could have made it better. These guys were my friends…I thought? And I was so, so embarrassed. And I suddenly didn't feel pretty anymore; I wanted to go home and stay there.
At school the next day, I discovered that one of my sweet friends did what she thought was best and reported this as sexual harrassment. This was serious. Meetings, counselors, all of that – alone and as a group of three – me + the two guys. Devastating. Humiliating. In front of teachers I respected, I had to repeat the words that I'd heard spoken while it was denied, over and over. In the hallways, at lunch, nobody wanted to be friends anymore because why would they when I was ruining the senior years of these two athletic, well-liked people that were just joking around? I didn't ask for those words, I didn't ask for the report to be made, I didn't ask for those counseling sessions. Teachers were uncomfortable doing it, the principal was uncomfortable. I wanted to be invisible. I remember almost nothing from my senior year except for this.
I tell you this story, world, because it is a very small fraction of what main character Romy Grey went through. I have not experienced a physical issue like rape as Romy has. I am so thankful for this, and I'm not comparing myself to Romy Grey's situation in the story. But I have lived through some of the bullying and teasing and pranking because of a situation that sits somewhere on this spectrum, and I would never wish these things on anyone. Romy's situation is so, so much more dire and complicated, it made much more of an impact on her life (and others, gosh). It is so very frightening to think that it is happening out there right now, while I type these words. It makes me angry. It makes me RAGE.
********************************************************
Romy Grey was raped — this is something that happens early in the book and is not a spoiler. Nothing too detailed early on, really, but we certainly know that it is happening. And that Romy doesn't want it. And that she is being forced. The resulting scenes, the aftermath of what happens are just so much. There is so much there. Romy deals with finding herself in a poor position afterward, she deals with negative thoughts about herself and her self worth and also how she sees herself literally, like actually when she looks in a mirror. Romy thinks of herself as dead now, Romy is mistreated by so many and overlooked by others…because the news of her rape was broken to the town by someone other than her. Romy probably wouldn't have even told, if the truth is told. She just wants to hide. To be invisible and unseen. Since the news came out, and due to the way it came out, she isn't taken seriously and people think she is lying. Why, why are people choosing not to believe her? Why are there no charges? Why is nothing being investigated? Because the accused is the son of the Sheriff and well, that's how it is sometimes in small towns. Sometimes crimes just poof! go away.
This IS how it is sometimes in small towns, world. I've seen this exact thing.
I think that Romy represents every girl. She is so round and full as a character that I forgot sometimes that she wasn't right in front of my face so I could talked to her. I mean, I talked to my Kindle while I was reading a couple of times. I cried for her more than once, and I touched words on the screen of my Kindle out of just feelings. Compassion. Wanting to do something from righteous rage and also just oh-my-god-can-somebody-just-look-at-this-girl. Romy represents the times when society fails, when strong girls fall through the cracks, when we can help but don't.
I say strong girls because dammit, I believe that GIRLS ARE STRONG. And I say we, because dammit, I mean WE.
There are a mixture of likable and unlikable characters in this book and they are perfectly placed within these pages. The unlikable ones showed me the ways that Romy is brushed aside. They made me so mad, and I relished that anger. I let it wash me over as I read this book. The likable ones made me feel like Romy has people in her life that do love her and want what is best for her and even still, this young girl is grieving and going through something that is difficult to touch and hold onto and admit and voice to other people. Romy is a very likable character, but I can see that she is one that needs a boost. She is strong because she continued to walk through that town and through the halls of her school even with the negativity and spite and adversity, yet I read every line of her vulnerability. I cannot imagine the difficulty behind something awful like a rape happening, no one believing you, and then the self-doubt. Romy showed me this. The telling yourself that maybe it didn't happen exactly like you think because you hear people calling you a liar. Romy showed me this. Those empty spaces in Romy's memory during the time of the incident? So frightening. Even as I wanted her to open up a little more and talk to people so she could begin to heal, I understand and felt compassion when she just couldn't, she just could not.
The scenes with Romy having difficulty wearing a the prettier bra because what if something happens while she is wearing that one instead of the ugly one? My heart. The scenes when she slowly, slowly allowed herself to open up to Leon, the boy she worked with and kind-of liked, because he stopped kissing her when she said stop – something so simple? My heart. So delicate, these things, and so impactful.
And then all of the bullying. And then more things happen to this girl. I could go on and on about All The Rage, and all of it praises for a difficult story, well-told.
A difficult story, yes. But there is hope in these pages, friends. There is a message of hope at the end of the raging and hurt. All The Rage by Courtney Summers is not an easy one to make it through, but that's what is so beautifully wonderful about it. This book is out there, first of all, for young girls that might need it. No, young boys and girls. That is important. High-fives to you, Courtney Summers, because this is something worthy and important and I'm grateful to have this title in-my-know to tell people about, to push, for what that is worth. THIS IS THE MOST IMPORTANT THING, the young adults that will be reading this book. Let's not forget this.
But see, it's also now available to those of us that are raising young girls, for educators and for counselors and for anyone that ever, ever, ever comes in contact with young girls. I don't think it's cool to turn a blind eye to these situations because they're real and they happen – that's like denying they exist, I think maybe. So here's a book that is available that is so unbelievably palpable and real, why not read the heck out of it and see what it's like to be in those shoes – that way if we are EVER in the position to help someone like Romy, if we are ever that lucky as to make that kind of difference, we will 1) have an inkling of empathy and 2) be able to hand them a book so they won't feel alone. A really, really good book.
I feel passionate about books like these, like All The Rage. I feel like this is something important, you guys. Books like All The Rage by Courtney Summers – we can't have too many of them. It takes someone that also feels strongly about girls having a voice to write something as eloquent and yet as white-knuckle as this one, and I highly, highly recommend this one to everyone. EVERYONE. I read this book both as a YA-contemporary lover and as a parent, and both sides of my reading-self sing high praises.
My gosh, this book did not disappoint. I felt every single emotion possible, and every one made me cry. That isn't surprising either, because I'm an emotional reader that is given to crying. But the RAGE that I felt while I was reading is the driving force that propelled me to keep going and not look away, don't look away, keep going. Because I think that so many times, when junk like this happens, people just look away and there are so many strong girls out there that can be even stronger if we look and listen and engage and speak to them and have dialogue. A world full of even stronger girls, you guys.
Read All The Rage by Courtney Summers, and then tell someone else about it. Tell two people. Then tell them to do the same.
********************************************************************************
All The Rage will appeal to fans of:
Young Adult Contemporary with Realistic Fiction
Romance: Some, very light. No Triangle.
Fans of Courtney Summers
All The Rage by Courtney Summers
is currently available for purchase.
********************************************************************************
COURTNEY SUMMERS was born in Belleville, Ontario in 1986 and currently resides in a small town not far from there. To date, she has authored five novels. Her first novel,
Cracked Up to Be
, was published when she was 22 and went on to win the 2009 CYBIL award in YA fiction. Since then, she's published three more books–2011 YALSA Top 10 Quick Pick and White Pine Honour book,
Some Girls Are
, 2012 YALSA Quick Pick,
Fall for Anything
, and 2013 YALSA Top 10 Quick Pick and White Pine Honour book
This is Not a Test
. Her next projects are an e-novella,
Please Remain Calm
(a sequel to
This is Not a Test
) and a new novel,
All the Rage
, both out in 2015.
********************************************************************************
Courtney Summers is instant-read for me.
I'm working slowly through her backlist because her
books are some of my absolute favorites.
This is SO FAR at the top of that list –
it may be at the top of my 2015.