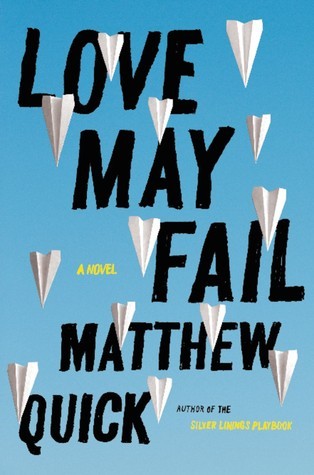 Love May Fail by Matthew Quick
Published by Harper
Publish Date: June 16, 2015
Source: Book – Publisher, Audio – Purchased
Find It: Goodreads / Amazon

"It doesn't matter how I got here. What I do with the puzzle pieces that are now in front of me—that's what matters.
Save Mr. Vernon.
My three-word quest.
Why I'm here in this time and space."
Portia Kane is having a meltdown. After escaping her ritzy Florida life and her cheating pornographer husband, she finds herself back in South Jersey, a place that remains largely unchanged from the years of her unhappy youth. Lost and alone, looking for the goodness she believes still exists in the world, Portia sets off on a quest to save the one man who always believed in her—and in all of his students: her beloved high school English teacher, Mr. Vernon, who has retired broken and alone after a traumatic classroom incident.
Will a sassy nun, an ex–heroin addict, a metalhead little boy, and her hoarder mother help or hurt Portia's chances on this quest to resurrect a good man and find renewed hope in the human race? Love May Fail is a story of the great highs and lows of existence: the heartache and daring choices it takes to become the person you know (deep down) you are meant to be.
Love May Fail by Matthew Quick

My Thoughts: Every time Matthew Quick releases another novel into the world, I feel like it's Christmas or maybe even my birthday. I wasn't too sure where Love May Fail was taking me when I began it – this author is instant-read for me and it had been a while since I'd read the summary – but this is where I get to trust the author and enjoy the ride. I love this and it paid off. By the end of the book, I found myself working hard to stay at my emotional baseline (I failed) and truthfully I ended the day much better for having made this story a part of it.

The story begins with Portia Kane, who ends an unhealthy marriage to a wealthy man. She travels home to her mentally unwell mother, immediately remembering why being home is so difficult in the first place. Portia has decided to pursue a dream that she buried long-ago: she wants to write fiction. Nobody made a bigger impression on her than one of her high school teachers, Mr. Vernon. Portia learns while at breakfast with her mother (phew, such a chore) that Mr. Vernon is no longer teaching after something huge happened to him while teaching, and this effectively drove him from the classroom. Now he just lives a private life with his dog and his cane out in the middle of nowhere and his world is a much different place.

Portia thinks this is awful. Portia, with some encouragement, makes it a mission of hers to get Mr. Vernon back in front of a classroom…basically without regard to whether or not Mr. Vernon wants to be back in front of a classroom.

Ahem. Good luck, Portia!

********************************************************************************

Ahhh. So there are a few things that I can expect when I read adult fiction by Matthew Quick: Colorful, interesting characters in both the main and secondary casts. Humor infused throughout the storyline to break up all of the serious, because the serious is there, because life is serious, and because the characters have ya know, things going on in life. (We all do.) My heart to feel squeezed when I'm finished with the book, like the story is actually hugging me. I'm being serious.

This is Portia's story, her journey if you will, from one place in her life to another. But it is also the story of three other people: Mr. Vernon, Chuck Bass, and Sister Maeve. These people are all connected in the craziest, most amazing way and even though it takes patience to see their story come full circle, IT IS SO WORTH IT. The story is told in four points-of-view, so there are four unique voices telling the tale. I tried not to have a favorite, I really did – but ultimately I could not help it.

I fell so hard for Chuck Bass, the 90's hair-band-loving ex-drug-addict/family guy. Chuck struggles to be somebody now that he's clean. He's an amazing uncle to his sister's child and once he reconnects with (and falls for) former classmate Portia Kane, he worries that he may never really be enough, at least compared to the wealthy husband she used to have. His story is fantastic, his actions are fantastic, and the love he has is so great, particularly the love he has for his nephew.

I love the other characters too. Two characters in particular that I love that did not get their own POV's are Portia's mother and Sister Maeve's nun-friend. I just tend to love character-driven stories and I'm always so amazed at what Matthew Quick gives us. I felt such a connection to this one because I too have that one teacher in high school that was so, so inspiring to me and really set a course for my whole life. He's the one that I think of almost, if not, every single day because of the difference he made in my life. That teacher is a super-huge topic of conversation in my house between my husband and I because he made a huge impact on him too. I'm not sure how Mr. Quick manages to write to the very core of me with all of his books, but he just does, and he did it again, and I loved it. It wasn't only with the high school teacher part of the story; it was with the issues of relationships, with family, with following your dreams, with taking care of people we love, with so many things inside of this book. And yet it never, ever felt too heavy.


There is a whole lotta story in this book, and it is such a good time.

I know I keep talking about these characters and how much I love them, but I think that this book is so character-driven and heartwarming because of the people that make up the story. The thing that I love most about all of these characters is that they are all flawed, in need of connection, and seeking something more. I think the author did a great job with presenting these very-developed parts of these people, and I appreciate this because I feel each of these things too, just a little differently (and, you know, not fictionally). We all have different stories and this is theirs.


Ultimately, to me, this book is about chance and also second chance. And love, all types of love. This book made me feel good, but there were points throughout that made me tear up and take a deep breath or two. That's how life is, right? YES.


This is all exactly why I'm such a fan of this author's work. It feels very realistic to me and yet there is humor. There is humor to real life, see.

I recommend Love May Fail by Matthew Quick for fans of second chances, great relationships, and great characterization. I love that Mr. Quick's books are all so different and yet they are all so very distinctly his voice. I think that fans of his other books will likely enjoy this one. I purchased this book in audiobook format as well because this will be a reread for me.


Audiobook Notes: The audiobook format of Love May Fail by Matthew Quick is published by Harper Audio and is 12 hours and 5 minutes, Unabridged. It is narrated by a full cast, which works in particular in the case of this book's structure given that it is written in four parts, representing the four different storytellers. Each of the narrators are new to me and I liked them all very much. I have to say that listening to the story added another depth to it – I expected this – and it made certain characters practically leap off of the pages. In particular, I enjoyed Portia's mother even more because of hearing her, I think. I bought this audiobook to go along with my paperback and I loved this decision. I recommend this audio for those considering Love May Fail as a first-time read or a reread. I'll be listening in future rereads for sure.



********************************************************************************
Love May Fail will appeal to fans of:
Adult Contemporary Fiction
Romance: No Triangle.
Great Characterization
Alternating POV's
Second chances.
Love May Fail by Matthew Quick
is currently available for purchase.
********************************************************************************
Matthew Quick (aka Q) is the
New York Times
bestselling author of several novels, including
The Silver Linings Playbook
, which was made into an Oscar-winning film, and
The Good Luck of Right Now
. His work has been translated into thirty languages and has received a PEN/Hemingway Award Honorable Mention. Q lives with his wife, the novelist-pianist Alicia Bessette, on North Carolina's Outer Banks.
********************************************************************************
Thanks to the generosity of HarperCollins
and Author Matthew Quick, I am able to offer one copy of
LOVE MAY FAIL to a lucky reader!

(US Only) * (Ends June 15)