I'm over the moon to be hosting today's stop on the
Scarlet by Marissa Meyer Blog Tour!
I think we can pretty much all agree that if we've read and loved Cinder, it feels like forever that we've been waiting for it's follow-up, Scarlet. Thank goodness the wait is almost over, everyone! Like many of you, when I read Cinder for the first time, I fell in love. It had so many of the great things I love about fairy-tale re-makes, but it was in a completely, absolutely never-seen-before new package and just…wow.
Well, you guys, Marissa Meyer has done it again. I'm not sure how she was able to top
Cinder
, but
Scarlet
is like
Cinder-plus-some
. This time, she's taken Little Red Riding Hood and given it a makeover. I had no idea I would be able to like this companion book as much as the first one, but I do. Cover-to-cover, it's nothing but fantastic.
(You can read my thoughts on Scarlet HERE.)
*****************************************************
Author Marissa Meyer has stopped by my blog today to talk about one of my favorite elements of a book: setting! She's discussing the real-life town behind one of her settings from Scarlet.

I'm so happy to have Marissa Meyer talk about this on my little blog because you know how I get squeally great settings. This little town in Scarlet is such a cute, visual, and dreamy place, you guys!

*****************************************************



Rieux-Volvestre: The Real-Life Town Behind the Fictional Rieux
Scarlet takes place in the French countryside. Just saying the words French countryside seems
to call up visions of weathered farmhouses, the smell of fresh-baked breads, and the taste of
garden-fresh herbs, and—I don't know about you—but it immediately fills me with a sense of
longing. Scarlet herself lives on her grandmother's farm and runs deliveries to restaurants and
grocers in nearby towns.
However, my choice of setting posed a few problems for me when I started writing the book.
Namely, I've…uh… never been to France. Sure, I had plenty of fantasizes of what rural
European towns might be like, but it was still a bit of a crapshoot trying to choose a location that
would have that small-town feel I wanted but still allow me the flexibility to be creative.
Lucky for me, my inability to travel to France and explore the countryside myself was somewhat
mollified by having connections. My French editor agreed to take an early look at the manuscript
and offer feedback on my setting, for which I will be eternally grateful. (Thank you, Xavier!!)
In that early draft, I was using a "placeholder" town called Bessou. I'd found it by spending way
too many hours staring at a Google Maps satellite image. Bessou—a real town—seemed small
enough that not too many readers would question its legitimacy, and yet close enough to the
larger city of Toulouse, which I needed for certain plot points.
However, my French editor wasn't thrilled with this choice for Scarlet's hometown. He never
explained why, but I wasn't about to question him.
Instead, he pointed me toward a town called Rieux-Volvestre. Population: 2,401.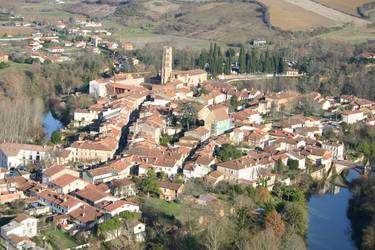 The wonderful thing about changing the inspiration town to Rieux-Volvestre was that there
was a lot more information available about it. In fact, the town has a lovely web site filled with
pictures of buildings, both interior and exterior: http://www.mairie-rieux-volvestre.fr/.
(At the time that I was researching there was also a travel documentary detailing one of their
town festivals, although that now seems to have been removed.)
In order to maintain distance between fact and fiction, and be able to keep creative control
over the setting, I called Scarlet's town simply "Rieux," and of course, many of the specific
businesses are entirely of my own making (such as the Rieux Tavern where we first meet Wolf,
and the nameless parts store filled with everything from tractor engines to spaceship power
converters).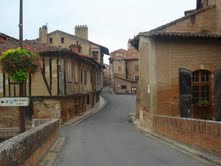 But I was able to use the pictures and information I found on Rieux-Volvestre's web site to get
a much better feel for what small town living might be like in France. Buildings fused together,
streets became narrower, concrete turned to cobblestone, olive trees spanned the alleyways over
arched windows and flower boxes. These are the details that can bring a fictional city to life,
after all.
Both Paris and Rieux-Volvestre are now high on my Ultimate Travel Wish List. But in the
meantime, I very much enjoyed getting to explore the semi-futurized yet still adorably quaint
town of Rieux, France, in the European Federation. I hope readers will too.
*****************************************************

Make sure you check out the rest of the Blog Tour!
More Scarlet-Related Information:
Have you pre-ordered Scarlet? If you send in your receipt: the first 1,000 people who do will get a Scarlet-branded lip gloss! US only! Details here: goo.gl/yycA5
*****************************************************

GIVEAWAY!
Author Marissa Meyer & MacMillan Publishing
are offering
one paperback copy of
CINDER
& one hardcover copy of
SCARLET
ONE LUCKY WINNER
!
(US/Canada Only) (ends February 6)
a Rafflecopter giveaway

Good luck!