This is one of my very favorite Blog Tours EVER
because I love this book so very much
and because I am so very behind the story this author has written.
Today is my stop on the
VAIN by Fisher Amelie Blog Tour
!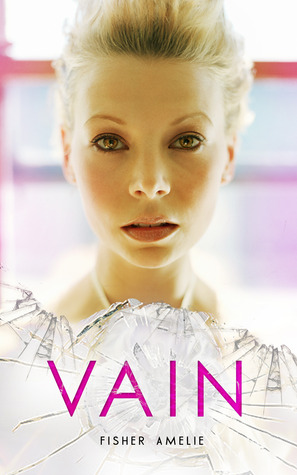 VAIN by Fisher Amelie


Publish Date: December 24, 2012




355 Pages




Source: Author for Review –

Thank you!
See my full review HERE.
If you're looking for a story about a good, humble girl, who's been hurt by someone she thought she could trust, only to find out she's not as vulnerable as she thought she was and discovers an empowering side of herself that falls in love with the guy who helps her find that self, blah, blah, blah…then you're gonna' hate my story.
Because mine is not the story you read every time you bend back the cover of the latest trend novel. It's not the "I can do anything, now that I've found you/I'm misunderstood but one day you'll find me irresistible because of it" tale. Why? Because, if I was being honest with you, I'm a complete witch. There's nothing redeeming about me. I'm a friend using, drug abusing, sex addict from Los Angeles. I'm every girlfriend's worst nightmare and every boy's fantasy.
I'm Sophie Price…And this is the story about how I went from the world's most envied girl to the girl no one wanted around and why I wouldn't trade it for anything in the world.
-(from Goodreads)
Vain by Fisher Amelie
My Thoughts: When I read VAIN by Fisher Amelie, I was hoping I would enjoy it but I had no idea that it would make such a large impact on me. I love New Adult books; I love books with slow-burn, swoony romances; I love books with great settings; I love books with wonderful character development. But what this author was successful at doing was adding all of these wonderful things to real-life global social issues in a way that was not preachy or annoying but left a lasting impression on me. I think Fisher Amelie has done something wonderful here and I want to expose as many people as possible to this book so they can read it for themselves.
When I began Vain by Fisher Amelie, I really thought I'd be reading about an unlikable girl that goes through some character development and then YAY for a great ending. I had no idea that the changes that would take place in Sophie Price would be so meaningful in my own heart and that this story had such deep and very real issues on the inside.

Joseph Kony

is a real person, a very real menace to the entire world as the leader of the

Lord's Resistance Army

, and the things I've mentioned here are only the tiny tip of the iceberg of what his group does. I love that Fisher Amelie chose to incorporate this person and the issues surrounding his controversy and atrociousness this story, because every person that reads this book will become aware at the very least – and I love that. If nothing else, everyone will be able to link the name Joseph Kony to his involvement in abducting children to be used as child soldiers and child-sex slaves. But I'm here to talk about the book, not about Kony. I digress!
The romance is pretty significant in the story, but the story of Masego and the safety of the children there and Sophie's role there is pretty signicant as well – so I'd go as far as to say there are kinda/sorta parallel plot lines. They don't cross and they don't stay separated, but they intermingle to create a perfect story that those of us that are loving this more mature YA/NA stuff can't seem to devour fast enough. There is also plenty of tension – the best kind – while also being plenty of action with great characterization (loving lawyer Pembrook!). There is a little bit of something in here for all of us, and despite the real-life issues inside the story, they just aren't too heavy. Somehow Fisher Amelie is able to include these really tough subjects without making them overpower the story or making the reader feel heavy or guilty or anything other than great after reading this book.
I ended up absolutely loving Sophie Price in the end, as I'm sure most readers do, because her character development is absolutely incredible. She is an absolutely different person at the end of the book then she was at the beginning.

I loved Ian Aberdeen, the love interest, as well – just because. Both are wonderful leading characters that find that they are compatible with each other by working under stressful circumstances and learning to lean on

each other

rather than harmful substances and unhealthy lifestyles to cope with their stress. This story gets bonus points for including a topic that raises awareness of what is going on in Uganda and the surrounding region with Joseph Kony and his LRA group.
********************************************************
Fisher Amelie is the author of The Leaving Series, Callum & Harper and Thomas & January. She began her writing career as a copywriter for an internet marketing company wherein one of their client's said, 'Hey! You're funny. You should write books'. Which in turn she said, 'Hey, get out of here! This is the lady's restroom.' While washing her hands and the embarrassment from her face, she thought they may have had a valid point. So, she took the thousands of hours of writing stories growing up, tucked them into her pocket and began writing and writing and writing.
********************************************************
VAIN will appeal to fans of:


Mature YA/New Adult Contemporary Romance
with Realistic Fiction
Romance: No triangle. Slowww-Burn. Ahhh, yesss.
Amazing settings: Uganda
Books that contain real-life worldwide social issues.
**Be smart, younger YA readers!
There are some drug scenes in here and there is violence.**

VAIN by Fisher Amelie
is currently available for purchase.
********************************************************
And now for the Giveaway!
Author Fisher Amelie
is offering
a
SIGNED COPY OF VAIN
and
a
SWAG BAG OF VAIN GOODIES
!