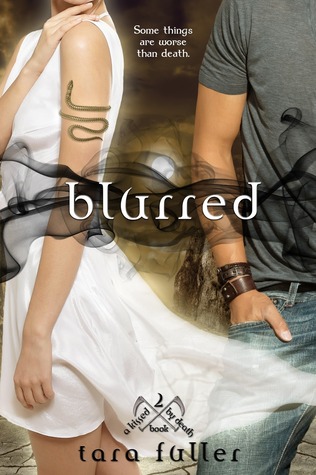 Blurred by Tara Fuller
Series: Kissed by Death #2
Publish Date: July 2, 2013
352 Pages
Source: Publisher for Review – Thank you!
Find It: Goodreads / Amazon / B&N


Cash is haunted by things. Hungry, hollow things. They only leave him alone when Heaven's beautiful reaper, Anaya, is around. Cash has always been good with girls, but Anaya isn't like the others. She's dead. And with his deteriorating health, Cash might soon be as well.

Anaya never breaks the rules, but the night of the fire, she recognized part of Cash's soul—and doomed him to something worse than death. Cash's soul now resides in an expired body, making him a shadow walker, a rare, coveted being that can walk between worlds. A being creatures of the underworld would do anything to get their hands on.The lines between life and death are blurring, and Anaya and Cash find themselves falling helplessly over the edge. Trapped in a world where the living don't belong, can Cash make it out alive? -(Goodreads)



This review may contain slight spoilers for the first book in the series, Inbetween.
Read further with caution!
You have been warned!
Blurred by Tara Fuller


My Thoughts: I've never spent a lot of time reading books about reapers, but I can tell now that after two books, I'm a huge fan of the Kissed By Death Series by Author Tara Fuller. They're nothing but FUN. And I want more.



(You can read my thoughts on Inbetween HERE.)


ALSO CAN I GET SOME APPLAUSE FOR THE DESIGN TEAM FOR THAT COVER??? It is wonderful and I love it so much.


1. The Characters. In the previous book, Inbetween, the focus was primarily on characters Finn and Emma – while they do show up quite a bit in this book, there some new main characters for us to fall head-over-heels in love with.


Cash. Survived a devastating fire at the end of the first book, but never really recovered and became healthy. Cash is in an interesting position, straddling the line between life and death – all of this because of Anaya not taking his soul when she maybe/probably should have. As a result, Cash spends a large part of the book absolutely miserable because he can't figure out what is wrong with him – he eventually figures out that he doesn't really fit into the human world but he doesn't understand what his place will be in the afterlife since there are so many different entities after him. He doesn't know who he can trust. ALSO – it should be noted that there are these shadow-things that keep showing up, freaking him out. They show up in his bedroom, they show up in his school, they show up basically wherever he is and he can't get rid of him. What are they and what do they want with him?
Anaya. Reaper that saved Cash's life – at the order of Balthazar, the guy in charge. It isn't revealed until later in the book exactly WHY that is – even Anaya doesn't know – but she can't bear to see him tortured because of her actions. As a result, she spends her time (when she's not reaping) standing guard over him, trying to keep him from his nightmares and fears. Eventually, Cash realizes that someone is there with him – and it isn't long before he realizes it is Anaya. Wouldn't you know the two strike up this odd human + non-human friendship-turned-relationship THAT I LOVED, of course. But can it work?
As I said, Finn and Emma (from the first book) make big appearances, and quite often, which made me happy. I loved Finn's character from Inbetween so it was a lot of fun to see how he would fit into this second installment in this series. I loved his interaction with Emma, and I loved their interaction with Cash. Emma and Cash were best friends as humans, in real life, so there is a ton of emotion and feeling and interaction that takes place, and I just loved it all. It was written so well.
There are some other secondary characters that are fun as well. One in particular, Easton, is another reaper that takes souls that are condemned to hell. He dresses in dark clothes and always seems to have a chip on his shoulder (wouldn't you if you spent your days making trips down below?) but he has a soft spot for Anaya, and he is actually a pretty nice guy. Great character. If another book is written in this series, I'd love to see more from Easton.
2. The Story. Anaya doesn't reap Cash in the fire that threatens his life at the end of book one – she pushes his soul back down into his body, to be exact. As a result, in Blurred, Cash is basically a shell of a human. His body is expired, meaning he should have died but didn't – and he will likely die soon and there is nothing anyone can do about it. The thing is that there is something very unique and special about Cash that is keeping him around longer than expected. Cash has some unique abilities that very few in the non-human world understand.
Balthazar (the boss) has struck a deal with Anaya (no spoilers!) and she is to bring Cash directly to him before anyone else gets to him – because of his high status, he is highly desired in the afterlife. Anaya doesn't have any idea what Balthazar wants from him, but she aims to keep her end of the bargain…that is, until she starts falling for Cash. Then, she begins to feel guilty for what she is putting him through, for all of his pain and misery. She begins to wonder if the deal she made is really worth all of his pain and suffering. Interestingly and shockingly, Anaya actually considers defying and going against the very powerful Balthazar – turning her back on their deal – to relieve Cash from what he is facing, from the torment is dealing with.
Just like with the previous installment, Blurred is told in alternating points-of-view (by Cash and Anaya), and it works perfectly for this book. Again, it is very necessary to see the perspectives of both of these characters because 1) Cash is going through some crazy stuff and learning some crazy stuff and realizing that he is extremely sought after in the afterlife and 2) Anaya is dealing with some extreme guilt over the deal she made with Balthazar, some intense feelings of grief over a past love now that she's got feelings for Cash, and some intense struggling with what she should do to make things right for this boy that she now might love. The plot is paced perfectly and the pages turn fast. I was engaged fully the entire time and I was always curious about what would happen next. This is EXACTLY how I felt about the first book in the series, and I can see this becoming a pattern with this author's work. I love it.
3. In Case You've Forgotten, A Recap: The reapers are alerted to deaths as they occur. They go to the scenes, collecting souls to deliver to the place each soul will spend eternity – heaven, hell, or the Inbetween. Anaya, Easton, and Finn used work together but since Finn is no longer reaping Anaya and Easten are working extra hard, covering his share of the work. Anaya most often collects souls bound for heaven while Easton most often collects souls that are bound for hell. The Inbetween is where souls go when they have yet to declare themselves fit for either heaven or hell, for lack of a better description – it's just a place in-between. While in the Inbetween, souls can earn entrance to heaven or risk being stuck forever as the equivalent of a lost soul, which is pretty sad.
4. The Romance. There is a sweet and swoony romance that develops slowly between Cash and Anaya. I didn't think I would love a romance in this series as much as I loved the one between Emma and Finn in the first book BUT I WAS WRONG. I can admit it. Slowly developing with no triangle, lovely and perfect.
*******************************************************
Blurred by Tara Fuller is a ton of fun from cover-to-cover. I was almost scared to read it when I started it because I couldn't even imagine liking it as much as the first book in this series, but BOY was I wrong. Not only did I like it as much, but I think I liked it even more. Cash is an amazing character – intensely likable – and so is Anaya. I should've known that I had nothing to worry about.


I love it when a second-in-a-series brings back the characters from the first book even better than ever while still managing to tell a completely separate story, almost like a companion novel. Blurred is almost like a sequel and a companion novel, which is really kind of cool – we get to see the progression of Emma and Finn – which I loved because they've come so far as individuals and as a couple. But at the same time, there is a completely different story being told here with a separate set of characters that were present in the first book. It's basically like the best of both worlds.
Cash is a great character – we met him in Inbetween – but in Blurred, he isn't really doing so great from a physical and emotional standpoint. At the beginning of the book, he has undergone a major ordeal and actually survived it – for the most part. I mean, he's alive, but just barely – and his condition seems to be worsening every day. He can't understand what is happening to him and neither can his best friend Emma, who is completely human. Finn can understand to a degree because he understands the non-human world, the world of the afterlife, but Cash isn't really a fan of Finn since he basically stole Emma's heart, as she was the only girl he ever had eyes for…until Anaya came along.
Cash wasn't looking to fall in love with anyone else after Emma. He really only saw himself ending up with Emma in the future (after sowing his wild oats) but he also didn't see himself in a near-death experience that left him straddling the line between life and death either. He never knew he would be haunted by his dreams and by shadows while he was awake – and he didn't know that he would be protected by someone, this beautiful, incredibly gorgeous reaper. The story of Cash and Anaya is AMAZING and I loved it.
The way that Cash ends up finding out exactly what he is is a hard road filled with heartache and difficulty and near-death (again) and ultimately, some difficult choices. His identity, his job is so unique and special that nobody really saw it coming and I love the way that this author wrote it into the story. I loved the happy ending of this book, particularly after the uncertainty of so many things throughout with regard to Cash and his future.
Blurred is a wonderful follow-up to Inbetween. It is engaging with great pacing, a great set of characters, and a wonderful plot. Thank goodness there is no cliffhanger and I am genuinely hoping that Author Tara Fuller is planning on continuing with this series because I am having so much fun with it. This is a fun, enjoyable, easy read that I easily recommend to those that enjoy fun YA paranormal romance stories.
Blurred will appeal to fans of:

YA Paranormal Romance
Great Characterization
Romance: Slowly developing. No love triangle.
Reapers
No cliffhanger
Blurred
by Tara Fuller
is currently available for purchase
**
I received a review copy from the publisher in exchange for an honest opinion and review. I received no compensation for my thoughts. Thank you Entangled Teen!
*******************************************************
The Kissed by Death Series: