An Appalachian Summer
by
Ann H. Gabhart
Published by
Revell Books
on June 30, 2020
Source:
the publisher
Buy from Amazon
|
Buy from Barnes & Noble
|
Buy from Book Depository
Goodreads
In 1933, most people are focused on the Great Depression but all Piper Danson can think about is how to get out of being a debutante and marrying Braxton Crandall. In an act of defiance, Piper volunteers as a frontier nursing courier in the Appalachian Mountains where adventure awaits.
I received this book for free from the publisher in exchange for an honest review. This does not affect my opinion of the book or the content of my review.
Book Review:
This story takes place in Kentucky, in 1933. Piper Danson has just had her debut in Louisville, where she was escorted by the handsome and wealthy Braxton Crandall. Piper's parents want her to marry Braxton because of his family's financial stability, as they were able to maintain their wealth while so many others lost everything during the stock market crash and the Depression that followed. But alas, the thought of a life of society and money bores Piper. Plus, she is in love with Jamie Russell, but her family won't approve of a marriage with him because his family is one of those that lost their fortune.

Piper decides to do something adventurous and leave home to work with the Frontier Nurses up in the mountains of Kentucky. Acclimating to a lifestyle that requires hard work is tough for her, but rewarding, and ultimately Piper learns a lot about herself. Best of all, she finds the confidence to start making her own choices.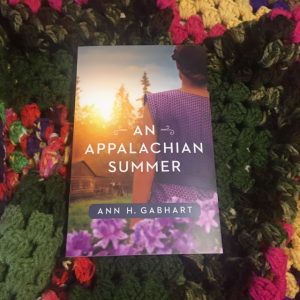 I was drawn to this story because of the Appalachian setting and because parts of the plot were centered around nursing. (I am a nurse!) I loved reading about Piper riding up into the Kentucky mountains on horseback and I loved that she was able to learn about hard work and public health. It was a lot of fun watching Piper's confidence grow, and it was inspiring to watch her eagerly learn skills that she had never been exposed to before (cooking, painting, washing clothes, etc.). I also loved all of the people that Piper met through the Frontier Nursing program.

There is, of course, romance throughout the story where Piper is concerned. She has to figure out what she wants to do about marrying Braxton without hurting him and upsetting her family. She also has to figure out what to do with the very real feelings that she feels for Jamie. There is a smaller, secondary romantic plotline in the story that I LOVED.

This one was a lot of fun for me. I read it one over the course of about a week when things were exceptionally busy at my house (and a little bit stressful). I really looked forward to picking this book up for a little while before bed every night.