Dark Tides
by
Philippa Gregory
Series:
Fairmile #2
Published by
Atria Books
on November 24, 2020
Source:
the publisher via NetGalley
Buy from Amazon
|
Buy from Barnes & Noble
|
Buy from Book Depository
Goodreads
Midsummer Eve 1670. Two unexpected visitors arrive at a shabby warehouse on the south side of the River Thames. The first is a wealthy man hoping to find the lover he deserted twenty-one years before. James Avery has everything to offer, including the favour of the newly restored King Charles II, and he believes that the warehouse's poor owner Alinor has the one thing his money cannot buy—his son and heir.

The second visitor is a beautiful widow from Venice in deepest mourning. She claims Alinor as her mother-in-law and has come to tell Alinor that her son Rob has drowned in the dark tides of the Venice lagoon.

Alinor writes to her brother Ned, newly arrived in faraway New England and trying to make a life between the worlds of the English newcomers and the American Indians as they move toward inevitable war. Alinor tells him that she knows—without doubt—that her son is alive and the widow is an imposter.

Set in the poverty and glamour of Restoration London, in the golden streets of Venice, and on the tensely contested frontier of early America, this is a novel of greed and desire: for love, for wealth, for a child, and for home.
I received this book for free from the publisher via NetGalley in exchange for an honest review. This does not affect my opinion of the book or the content of my review.
Review:

My most anticipated read of the year!! And it was SO GOOD.
Alinor Reekie used to be a midwife and herbalist, like her mother and grandmother before her. Years ago, she fell in love with a man she shouldn't have, and her life fell apart. Now, she is an entirely different woman, sickly and frail, living with her daughter Alys Stoney by the dirty waters of the river. It has been twenty years since Alinor and her children, Alys and Rob, left their beloved home in the tidelands. At the beginning of this story, a beautiful and mysterious Italian woman named Livia arrives at their door with baby in tow, dressed in black mourning clothes, claiming she is Rob Reekie's widow. Alys welcomes her in, but Alinor isn't convinced her son is dead. Also! Out of the blue, James Avery shows up to outrage and no-fanfare-whatsoever, after twenty long years of no word at all. He desperate to make amends with Alinor after allowing unspeakable horrors to happen to her long ago. But none of these women nor their circumstances will make it easy for him to reacquaint with Alinor.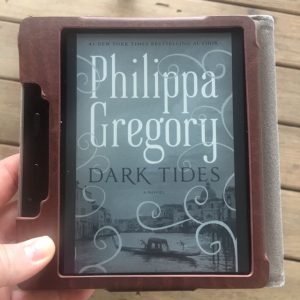 Before anything else, I want to say that I LOVE the way Philippa Gregory writes women. The women in this series are such badasses. At first glance, they don't seem to have much and they seem like their lives matter very little. But these women have a strength that is larger than life and they can handle far more than anyone in their world wants to give them credit for.
This story is not at all like Tidelands in terms of atmosphere and tone. The main POV's have shifted around a little bit and the world is much larger. The first story took place in a very small community in England, but this story has spread to London, Venice, and New England. It was super compelling and all I wanted to do was read it. (I thought about it nonstop when I couldn't be reading.) The chapters are short, which made it easy for me to sneak a few pages here and there throughout the day: while I was in the line at the grocery store, while dinner cooked, in between subjects while homeschooling my kids.
Here's the thing: I had a hunch that something was up with Livia from the beginning. She was coy and her story often didn't line up with reality. (I loved to hate her!) I kept hoping everyone would wise up to [what I assumed were] her schemes, and then when things really picked up, I couldn't wait to see how everything would unfold for these characters.
GAH, it's going to be a long wait for the next part of the story!! The ending thankfully isn't a cliffhanger, but there is definitely more story to be told. I'm really happy for some of these characters and I really feel like some of them got what was coming to them.
Sidenote: I can't wait to reread Dark Tides via audiobook. Right before I started this one, I reread Tidelands via audiobook and it was fantastic. Louise Brealey narrated and did such a fantastic job. Her accent is beautiful and I cannot wait to hear her bring Dark Tides to life.