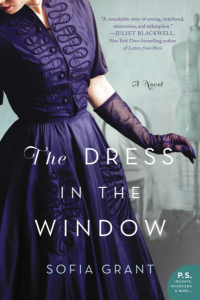 The Dress in the Window
by
Sofia Grant
Published by
William Morrow
on July 25, 2017
Pages:
384
Source:
the publisher
Buy from Amazon
|
Buy from Barnes & Noble
|
Buy from Book Depository
Goodreads
A perfect debut novel is like a perfect dress—it's a "must have" and when you "try it on" it fits perfectly. In this richly patterned story of sisterhood, ambition, and reinvention Sofia Grant has created a story just right for fans of Vintage and The Dress Shop of Dreams.

World War II has ended and American women are shedding their old clothes for the gorgeous new styles. Voluminous layers of taffeta and tulle, wasp waists, and beautiful color—all so welcome after years of sensible styles and strict rationing.

Jeanne Brink and her sister Peggy both had to weather every tragedy the war had to offer—Peggy now a widowed mother, Jeanne without the fiancé she'd counted on, both living with Peggy's mother-in-law in a grim mill town. But despite their grey pasts they long for a bright future—Jeanne by creating stunning dresses for her clients with the help of her sister Peggy's brilliant sketches.

Together, they combine forces to create amazing fashions and a more prosperous life than they'd ever dreamed of before the war. But sisterly love can sometimes turn into sibling jealousy. Always playing second fiddle to her sister, Peggy yearns to make her own mark. But as they soon discover, the future is never without its surprises, ones that have the potential to make—or break—their dreams.
I received this book for free from the publisher in exchange for an honest review. This does not affect my opinion of the book or the content of my review.
REVIEW:
The Dress in the Window by Sofia Grant is the story of Jeanne, Peggy, and Thelma who are all trying to make their way in the late 1940's in post-World War II Pennsylvania. Each of these women has lost someone that they loved during wartime. Jeanne and Peggy are sisters that live with Thelma, Peggy's mother-in-law. Throughout the story, these women combine their talents and resources in order to pay their bills, keep the house in working order, and raise Peggy's young daughter.
Jeanne is a talented seamstress who can take any garment and turn it into something that looks like it comes from the high-fashion magazines. Her work is exquisite and nearly flawless, which earns a reputation for herself. Neighbors and coworkers call on her to mend and re-purpose their clothing due to their budget constraints. The demand is high for her work.
Peggy is interested in fashion, and very talented, but her area of expertise is designing. Her sketches are top-notch and her eye for what looks nice complements Jeanne's skill nicely. Although Thelma is older than the younger girls, her working skills lie in management and organization – things like book keeping, payroll, accounts, things like that. She is smart as a whip and not to be underestimated.
The Dress in the Window tells how these three women find their place in the world when their plans get ripped out from under them. When they find themselves alone after the war, they have no choice but to grieve quickly and figure out what they will do with their lives. I love their processes of self-discovery and re-planning after their grieving time, because they all decide that they have what it takes to earn for themselves and to be fulfilled in life. They realize that they are smart and can be successful with hard work. It takes them a little time, but they way all three of them turn their lives around is amazing.
Making the book more interesting: well, these are three women living together in a house. They aren't exactly friends – they are family. And they are living together out of necessity, not necessarily choice. So there is plenty of comparisons and butting heads. There are periods of time where two have to work together to pick up the slack of the third. And there is always the issue of who is taking care of Peggy's child since all three women are busy working. Not to mention that everyone wants a few moments to herself and what about if someone wants to visit with a man? Hmm. 
Ultimately this is a story of loss and redemption, of sisterhood, of secrets and betrayal. It's the story of success and family, and how three people define these things differently. There are no big actions scenes in this book – this is a steadily paced, multi-perspective story about these women making their way during a really hard time in history. I love the way that all three of these women are strong women, but none of them are perfect by a long shot. They need each other. I loved seeing the lengths that they would go to in order to find happiness and success, and I loved seeing how sometimes these things worked out and sometimes things did not. I enjoyed each woman's perspective equally, by the way – flaws and all. And this is one of my favorite covers of the year.
This is a little bit silly, but the chapters are long; I wish the chapters had been a little bit shorter. This is because I have to read in small chunks because: life with kids keeps me on the go, constantly. To be clear the chapter size does not make a difference to the book at all in terms of flow or the story. This is just a detail that I nitpick about. I also selfishly wish that I knew a little bit more about these women beyond the end of the story, but that is because I grew attached to them. Sigh, I know that all good things must end.
I enjoyed The Dress in the Window. The more I read, the more I wanted to know about these women. I was invested in their lives and their careers. I was interested in their dramas and their secrets, even when they made me gasp.