The Moonglow Sisters
by
Lori Wilde
Published by
William Morrow
on March 3, 2020
Source:
the publisher
Buy from Amazon
|
Buy from Barnes & Noble
|
Buy from Book Depository
Goodreads
It's Jill Shalvis meets Susan Mallery in this gorgeous novel by New York Times bestselling author Lori Wilde about three sisters, one small town, a wedding, and the summer that changes everything.

Welcome to Moonglow Cove, Texas, a place where your neighbors know your name and the gentle waves of the Gulf of Mexico lap lazily against the sands. It's a magical spot, especially in the summertime…

Once the town was the home of the Clark sisters—brought up by their grandmother at the Moonglow Inn. Nicknamed "The Moonglow Sisters", as children they were inseparable. Then, a wedding-day betrayal tore them apart and they scattered across the globe and away from each other. But the sisters have at last come home…

There's Maddie: smart, sensible, and stubborn. Shelley, who ran off to find her bliss. And Gia, a free-spirit determined to keep the peace. It's her impending wedding that keeps them together…but Gia has a secret, and when her sisters find out all heck is going to break loose!

The Moonglow Sisters continues Lori Wilde's trademark storytelling to create an unforgettable novel of family, betrayal, love, and second chances.
I received this book for free from the publisher in exchange for an honest review. This does not affect my opinion of the book or the content of my review.
REVIEW:
Five years ago, a betrayal happened that caused a huge rift in the family. The three sisters don't really communicate anymore, and their grandmother (who raised them) is heartbroken that they haven't managed to fix their broken relationships. Now, staring down some bad health, her big wish is for her grandchildren to come back together as a family. That won't be easy because the wounds still feel fresh. She writes a note to one of the granddaughters and strongly urges her to contact the other two and fix things, and she suggests the way it should happen.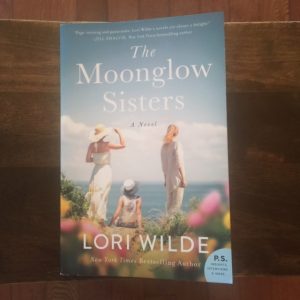 Listen, it's really a big deal when a family has a falling-out and doesn't speak for a length of time. (I've been through this!) Ms. Wilde has crafted a story here where this family has fallen apart after a betrayal, and now they have no choice but to come back together and work things out. Well, they do have a choice, but they feel sort of manipulated into doing what their grandmother wants them to do. Working out tough family situations is tricky period, but when you throw in other real-life stresses, things get much more elevated because the stress and emotions run high. Some of the tensions (and problems, and solutions) in this story were obvious to me as a reader, but not necessarily easy things for these sisters. I loved reading the overall process of this family healing and forgiving and moving on.
I also loved that each of the three sisters were so different and unique. Gia operates a kite business, Madison is a YouTube and TV personality, and Shelley has a mysterious past involving living with a non traditional community in Costa Rica. They're all different, but they're still much the same because they're family. They all have secrets they're keeping. They all have pain.
I just really felt for them and wanted the best for them. I feel like I understood so many of their thoughts and feelings because of my own relationship with my two sisters. I got frustrated a few times because I knew things that one sister said to another were charged and inflammatory, but isn't that how it goes with sisters? Even the closest of sisters are sometimes involved with nitpicking and bickering at times. This process of mending felt true to me, even in its difficulty.
I loved the supporting characters too. And I loved that they were by the ocean. This story was heartwarming and cozy and lighthearted. I haven't read anything else by Ms Wilde yet, but this really, really makes me want to read her other work.