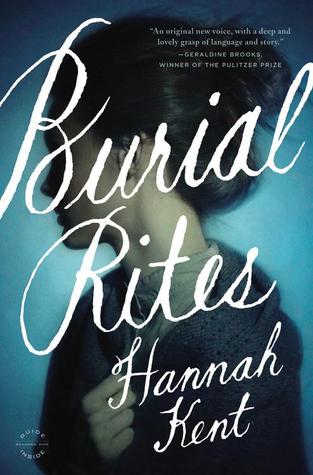 Burial Rites by Hannah Kent
Published by Little, Brown and Company
Publish Date: September 10, 2013
322 Pages
Source – Library
Find it here: Goodreads / Amazon / B&N


Set against Iceland's stark landscape, Hannah Kent brings to vivid life the story of Agnes, who, charged with the brutal murder of her former master, is sent to an isolated farm to await execution.

Horrified at the prospect of housing a convicted murderer, the family at first avoids Agnes. Only Tóti, a priest Agnes has mysteriously chosen to be her spiritual guardian, seeks to understand her. But as Agnes's death looms, the farmer's wife and their daughters learn there is another side to the sensational story they've heard.

Riveting and rich with lyricism, BURIAL RITES evokes a dramatic existence in a distant time and place, and asks the question, how can one woman hope to endure when her life depends upon the stories told by others? (excerpt from Goodreads)



Burial Rites by Hannah Kent


My Thoughts: I've only recently fallen head-over-heels in love with historical fiction and it is in large part to this book. Aside from the pull of this BEAUTIFUL cover, it had a gushing endorsement from Hannah at So Obsessed With – you guys, I read books based on her recommendations so often and so wholeheartedly that I don't even read the book summaries anymore. Hannah was absolutely on-the-money with this one. Burial Rites is one of the best books I've read this year – and yes, I feel completely confident saying that this early in the year.


**************************************************************
HOW DO I PORTRAY MY FEELINGS TO YOU ABOUT A BOOK THAT I LOVE SO MUCH? HOW HOW HOW?
I barely even know how to describe Burial Rites by Hannah Kent and how it still sits with me despite the fact that I finished it several weeks ago. I began the book and immediately, immediately, fell in love with it. I remember reading the prologue and thinking that it was absolutely beautiful and then being stunned at the structure of the story – a mixture of narrative and epistolary/documentation relevant to the trial of the main character, Agnes, and the other accused and the deceased. Not only is there that mixture of structure but there is an alternating point-of-view that was a little different at first, but within a chapter or two became second-nature to the story. I really cannot say enough GREAT things about this book.
In fact, as I was reading, I purposefully limited myself to 30-40 pages at a time so I could truly soak it all in and remember the details. I knew that if I was not careful, I would fly through this one and perhaps miss something important, something I would want to remember, and I wanted to focus on spending time with Agnes and the other characters. PLUS the story was so atmospheric that I wanted to spend as much time as possible lingering in the pages.
If you're one of the people that has been considering this book or maybe you are on-the-fence about reading it, just GO AHEAD AND GRAB IT. Do it. Take the plunge BUT! when you do, make sure you enjoy the heck out of it.
**************************************************************
You already know when you begin the story that Agnes, the main character, has been condemned to public execution for the murder of someone else – but you don't really know all of the details of the story. The author goes to great lengths to release these details, though – first, you learn of the public's opinion and their idea of what happened at Agnes' hands and why she was found guilty. Then, ever-so-slowly, readers find out the actual details of what happened: the relationship Agnes had with the deceased, the events leading up to the death, what literally occurred, and how Agnes really feels about it.
Agnes is – WOW – one of the most memorable characters I've read in a long time. I'm not sure that I liked her 100% but I absolutely loved her. She felt so very human and real to me that it was almost creepy, but I loved that (I mean that in a completely positive way, I promise). In the beginning of the story, Agnes is in a prison and the conditions are just horrible. Within only a few pages, the picture I had in my mind of Agnes was one that I loved, despite being quite pitiful – she was filthy, I mean filthy, and quiet. In my mind, Agnes had erected these invisible walls around herself so as not to give any of herself away to anyone – I really feel like she didn't want anyone to know her heart. Perhaps she had tried that before and it didn't work very well? Perhaps it only hurt to feel things? Agnes occasionally allowed thoughts – the emotional kind – to creep in and when they did, THEY BROKE MY HEART. These are some of the times that my heart broke for Agnes but just as quickly as my heart broke, Agnes would throw her walls back up and become as stone-faced and quiet as she had been before…almost like she didn't just leak an emotion, almost like she never had emotions at all. All of this, you see, I felt about Agnes at the BEGINNING of the story…and then she was moved to a farm in Northern Ireland to serve the remainder of her sentence. It is at this farm that she slowly became a little comfortable because life afforded her more comforts: instead of being in a crowded and stinking cell, Agnes was in what we would consider sort of a primitive house-arrest. Agnes slowly began to let her guard down for a while each day. And then longer. And then longer. But always, no matter what, the date of execution sat in the background, looming like a giant black cloud…
As Agnes reached the farm where she would be held before her execution, she at first had to deal with the harsh stares and judgment from the family she was living with and working for, as well as the community around her…but AAAHHHH how wonderful it was to be outside in the breeze and work in the grass and take a bath and eat food! Even confinement among the judgmental family was like heaven when compared to being in the unlivable conditions of the prison. Agnes became content at the farm, going about her duties, and little by little the family began to see inside of Agnes – they began to wonder about her, about her heart. Perhaps Agnes won them over, or at least a few of them? Perhaps there is more to the story than everyone has been told?
(This is so smart, you see, because as the characters are won over by Agnes – as she opens up a little bit and reveals more and more of herself and her story, we as readers only grow to love her more. We become more connected to her, as some of the people around her do, which makes that execution date that looms overhead weigh heavily on us too…brilliant, I say, and also painful.)
Aside from the amazing Agnes, there are other really wonderful characters – I absolutely loved the family she came to live with. All of the members of the family seemed to have differing opinions about Agnes and her fate and how guilty she must really and truly be – it is interesting to read their opinions shift different ways, and how they inspired the neighbors' opinions to maybe, possibly shift as well. And Agnes has a preacher that comes to see her – Toti. He is responsible for her soul, in a way – he is responsible for making sure she is repentant of her crimes – but it is quite possible that he learns more from Agnes than she learns from him.
The landscape of this story is brilliant. The story feels like I know the setting to be – cold, dark at times, windy. It felt like the colors on the book cover and also gray and cloudy. It felt like wool and the smell of freshly-plowed fields and hay. I am amazed at the talent behind this debut story and I would love to sit down with this author over tea or coffee and just TALK WITH HER ABOUT IT. When I was nearing the end, I felt myself mourning the end…and when I finished the book, I texted a friend that I felt a loss that it was over.
What you have to understand is that when I love a story like I loved this one, my own words cannot do it justice because all I do is bumble them and mumble them and garble them. I do not feel qualified enough to do this story justice. This is a truly spectacular fiction account that is inspired by a real-life event, and that made it sit heavy in my heart – but truthfully, I think I would have loved it equally had it been an entirely made-up story with nothing real about it at all.
I recommend Burial Rites by Hannah Kent to fans of historical fiction because it truly is amazing and wonderful. I would love to hear it as an audiobook re-read – I can imagine it would be beautifully read. I think that it is a great place to start for readers that are a bit on the newer side of historical fiction (like myself) because the story stands so well on its own that you pretty much forget that it is historical fiction and you find yourself immersed in it and a part of it and you feel like you know Agnes and these characters. I have my eye on this author, Hannah Kent, because WOW I really want to see what else she has in that lovely mind of hers.
Brilliant and moving and lovely, this book. I just can't believe how much I love it and I want everyone to read it. Not necessarily because I loved it so much but because it is THAT GREAT.
**************************************************************
Burial Rites will appeal to fans of:
Adult Fiction/Historical Fiction
Great Secondary Characters
Great Setting: Iceland
Some Mystery
Burial Rites by Hannah Kent
is currently available for purchase.
**************************************************************
Here is one of my BEST OF books for this year!
Have you read this one yet?
WILL YOU PLEASE READ IT?


And how much do you love that cover?
So, so pretty and captivating.