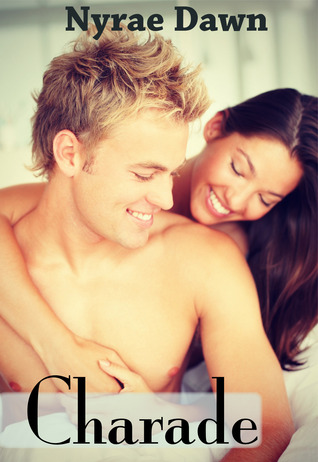 Charade by Nyrae Dawn
Series: Games #1
Publish Date: October 22, 2012
344 Pages
Source: book – purchased from Amazon for Kindle, Audiobook – purchased from Audible
Find It: Goodreads / Amazon / B&N


Nineteen-year-old Cheyenne tries to portray the perfect life to mask the memories of her past. Walking in on her boyfriend with another woman her freshman year in college threatens that picture of perfection.

Twenty-one-year-old Colt never wanted college and never expected to amount to anything, but when his mom's dying wish is for him to get his degree, he has no choice but to pretend it's what he wants too.

Cheyenne needs a fake boyfriend to get back at her ex and Colt needs cash to take care of his mom, so they strike a deal that helps them both. But what if Cheyenne's past isn't what she thought? Soon they're trading one charade for another—losing themselves in each other to forget about their pain. The more they play their game, the more it becomes the only thing they have that feels real.

Both Cheyenne and Colt know life is never easy, but neither of them expect the tragedy that threatens to end their charade and rip them apart forever. -(summary from Goodreads)



Charade by Nyrae Dawn


My Thoughts: Lately I've been having a marvelous time with the audiobooks that Audible has had on sale for super-cheap. I bought this one recently for $1.99 after having already purchased this book for my Kindle and you guys, that is the kind of sale that I like! Although I do not normally like to listen to audiobooks for my first-reads, I can't argue with a purchase like that and I'm finding that with the contemporary books, I do not have as much trouble keeping up with the audiobook on the first read.


Anyway, Charade by Nyrae Dawn is a book that I've heard mentioned over and over in the reading world among fans of new adult and people seem to really like it. I've had it sitting on my Kindle for a long time, just waiting for me but I never paid it that much attention until I grabbed this audiobook and then I received the second book for review. No time like the present, right?


*****************************************************************
As we meet Cheyenne, she is devastated because she's just found her boyfriend, Gregory, cheating on her. Cheyenne is one of those girls that has had a tough life – her mother struggled with addictions and issues with men, often brushing her daughter aside and leaving her in dangerous situations alone from the time she was very young. Cheyenne now lives with her aunt and uncle, who provide a loving environment for her and have tried to step in and be parents where her mother failed. One of Cheyenne's biggest issues comes from the fact that she never understood why her mother abandoned her years ago – just left her and never came back. Although she loves her aunt and uncle and is grateful for everything they've done for her, she can never shake that feeling of being unlovable and unwanted. Having Gregory betray her like he has done only adds to everything.
When we meet Cole, he is reeling from grief as he watches his mother lose her battle with cancer. She is getting closer and closer to dying every day, and it becomes harder and harder for Cole to see her like that. He hates going to class every day and only attends because her wish for him is to get an education. He works hard to try and give her a comfortable end of life, but he is barely able to afford the things that she needs, let alone things that would make life easier for her. Cole turns to a party lifestyle of alcohol and women to forget the struggles of life – it doesn't take everything away for long, but every minute of freedom from the weight of his burdens helps.
Both Cheyenne and Cole are dealing with some super tough things while also trying to maintain student status. They do not know each other. After a brief encounter at a local coffee shop, Cheyenne makes a proposal to Cole that is really tough for him to refuse: she wants a fake boyfriend, one that will make Gregory jealous, and she's willing to pay him well for his time. It'll only be for a few weeks, and it'll only be pretend. Cole doesn't want to do it, but he needs the money. He initially refuses, but he later sees how awful Gregory treats Cheyenne and accepts the deal, hoping to help her out and also earn the money. Neither of them realize that their "deal" will become less and less of a deal and more and more of a relationship with each passing day.
*****************************************************************
Charade by Nyrae Dawn is not the most original of the new adult books that I've read but it is pretty good. The two main characters had some flaws but were likable. The story was predictable but entertaining and enjoyable. And I will certainly continue with the series.
I have a few issues with both Cheyenne and Cole. First of all, Cheyenne is a little bit dramatic and her words and her story line is repetitive. She seemed to be looking for trouble, which is something that I often don't even mind in a book, but it was really obvious with this character. It's true that it made for a good story in this book – the point of this story, actually – but there were several instances that Cheyenne just handled poorly and I wrinkled my nose up and actually shook my head at her. I understand that she had a pretty crappy upbringing, but a lot of people do and it doesn't excuse bad behavior plus she has a great life now so CHEYENNE: get it together and stop acting like a child. And Cole – I really liked Cole. My heart went out to Cole for what he was going through because I've been through some of his circumstances (not the illegal ones, mind you, because yes, he had some unsavory activities). Even so, Cole could act stupid too. Just, stubborn and selfish in his thinking with a foul mouth. Lots of people have to deal with the things that Cole has to deal with too, and it doesn't excuse bad behavior or selfishness. So I guess Cheyenne and Cole were a lot alike, or written a lot alike in their ways.
I realize that sounds like I didn't like the book but don't get me wrong: I did! I enjoyed this story. It was a simple story and easy to read/listen to. These two characters were not complicated at all, were not complex at all, were not hard to understand at all. They just acted like children and need to grow up a bit. Thankfully (and unfortunately at the same time), toward the end of the book both Cheyenne and Cole are kind of forced to grow up so I suppose you could say there is a wee bit of character growth.
For all of their flaws, though, they balanced each other out really well. And I think that they needed each other. They understood each other, which was really great. Cheyenne obviously had trust issues, but for some reason she began to trust Cole. And Cole eventually began to trust Cheyenne as well. And with the trust, their walls came down, they began to kind of fall for each other, which is when their "deal" became to crumble a bit. Both decided they didn't want to play their little game anymore when they realized that they could be the one to help the other through the trials of life that they each were facing. This, I think, is way bigger and better than the summary of the book suggests, and it ends up being a really great story when it is all said and done because some really big things happen and both characters come out on the other side intact and stronger because of it.
So ultimately I think Charade is a pretty good book. And I would recommend it to people, certainly. It is not my favorite in the new adult category. It was a bit predictable and cliche (except for some of the parts at the ending). But it was an easy, quick read and I do like that a lot. I have the next book on hand, which is a companion focusing on Cole's friend Adrian, and I will be starting it soon. I recommend Charade by Nyrae Dawn to fans of New Adult Contemporary Romance and fans of books that have a college setting.
Audiobook Notes:
The audiobook format of Charade by Nyrae Dawn
is published by
Audible, Inc.
and is 7 hours, 41 minutes, Unabridged. It is narrated by Macy Sterling and as far as I can tell, this may be her first experience with narrating audiobooks (I may be wrong but cannot find any other audiobooks credited to this voice actor). I found her reading to sound very dramatic in the delivery, but to be honest – that's the way these characters talked almost the entire way through the story, so it was something that I got used to fairly quickly. I would recommend this audiobook for fans of the new adult category, particularly for this price, which was $1.99 (at Audible, IF you've previously purchased the Kindle book) at the time of my purchase and at the time this blog post went live.
******************************************************************
Charade will appeal to fans of:


New Adult Contemporary Romance
with issues.
Romance: Slowly developing. No triangle. Swoons!
Charade by Nyrae Dawn
is currently available for purchase.
******************************************************************
Have you read Charade yet?
What did you think?