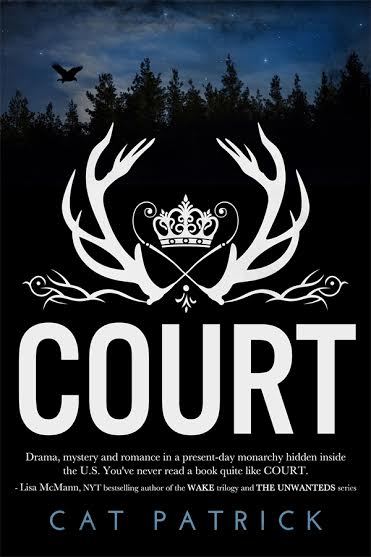 Court by Cat Patrick
Publish Date: October 23, 2014
277 Pages
Source: Author – Thank you!
Find it here: Goodreads / Amazon
For more than 300 years, a secret monarchy has survived and thrived within the borders of the US, hiding in plain sight as the state known as Wyoming. But when the king is shot and his seventeen-year-old son, Haakon McHale, is told he will take the throne, becoming the eleventh ruler of the Kingdom of Eurus, the community that's survived for centuries is pushed to the limit. Told through four perspectives, Court transplants us to a world that looks like ours, but isn't. Gwendolyn Rose, daughter of the Duke of Coal, is grudgingly betrothed to Haakon — and just wants a way out. Alexander Oxendine, son of the Duke of Wind and Haakon's lifelong best friend, already grapples with internal struggles when he's assigned to guard Haakon after the king dies. And commoner Mary Doyle finds whispers in the woods that may solve — or destroy — everything, depending on your bloodline.
Money. Love. Power. Community. What's your motivation? (Goodreads)
My Thoughts: Okay WOW, Court by Cat Patrick was a book that took a little bit of time to lay out but by the time I got to the end, I was blown away by the big reveal. I didn't see it coming in a million years! The only way I can really get my thoughts out in an organized way on this one is to just list a few of them:
1. Backstory. In the late 1600's, two men created a kingdom way out in America's unknown west because they wanted to create their own version of paradise. Their kingdom mixed of the best parts of England with Native cultures. One man came over from England with his daughters after his wife died from the Great Plague but found that the Puritan culture here was not suitable for his girls: he did not like the extreme submissiveness and he wanted higher education for his girls; this was not allowed. He also did not agree with the extreme religious beliefs in the area. The co-founder of the kingdom was married to a Native, and found that there were hardships associated with this intermarriage. The two men wanted a place to live in harmony and freedom, and established their kingdom but wished for it to be hidden in plain sight.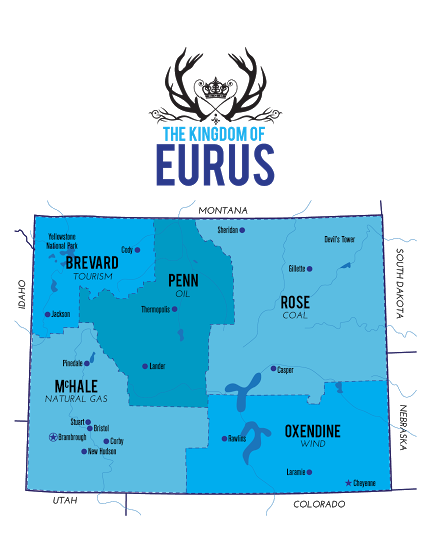 2. The World. Inside of what is known as the state of Wyoming exists The Realm. This is actually a Kingdom, complete with a ruling Monarchy, and has its own rules and laws that go back for generations. They take their government and codes very seriously. For example, when the Tenth King is killed, the law states that the oldest child of the King shall take the throne (the Crown is inherited by way of blood, not marriage), which is how Haakon is to become King at the age of 17, rather than his mother. These rules are similar to England's!
The area outside of Wyoming is called The Democracy. There are some very interesting things going on with how traffic is monitored between the Realm and The Democracy – also with trade, the census, and some secret government programs. The politics mesh well with this world.
3. Main Characters:
Haakon-James Haakon McHale III. 17-year-old Eleventh King of Eurus, after the murder of his father. Haakon is freaking out a little because he knows that he isn't ready to be king. A recovering alcoholic, he still struggles with wanting to drink when he gets stress and OH GUESS WHAT NEW STRESS HE'S JUST ACQUIRED? A new kingdom! Also been told that he is to be married to his betrothed in order to look "more mature" to the people. Not thrilled about that one either because he is currently involved with someone that he actually likes.
Gwen-Gwendolyn Rose is to be married to Haakon two years sooner than expected due to the recent passing of his father, which means she is about to be Queen! Gwen knows that she isn't ready for that role AND she isn't ready for marriage. Plus she is currently involved with someone she actually likes. Gwen secretly feels suffocated by life inside of the Realm and often sneaks outside into the Democracy where she participates on a Roller Derby team. If found out, she faces some super stiff punishments, particularly given her station in the kingdom.
Alexander-Alexander Oxendine is a member of the Court as he is the son of a Duke, but he is also Haakon's best friend. Assigned to be the King's protector, he isn't performing well at this right now…because he is involved in a few things of his own. Alexander is in the middle of a big, life-changing "finding-himself, coming-of-age" issue that is happening at the worst possible time as it coincides with his Court duties. ALSO Alexander is being manipulated by other members of the Court, which stands to really destroy his life if he doesn't Do. Something. About. It.

Mary-MARY IS SUCH A WILD CARD! Mary is a high school student living in a poor-ish, less desirable area of the kingdom. Very smart. Raised by her father only. Early in the book, Mary is approached by a stranger and asked to trade information: info about her mother for other certain specific info. She has no idea why this guy wants this information, but what has Mary got to lose? She's never known her mother and has always wanted to! She has NO IDEA what she's involved in and what she has set in motion. NO IDEA. *It takes a while to figure out what Mary's role is in the story, but once I did, I was pretty impressed with how much of a big deal little ole' Mary is.*
4. Structure. The story is told through the four points-of-view I've outlined above. This may seem daunting but it isn't really. These four people are very different in personality and it is easy to tell who is speaking at the time.
5. Politics. Tons of Court politics. Backstabbing. Manipulation. Lies. ALSO PEOPLE DIE.
4. Romance. Even through Haakon and Gwen are betrothed and have a date set to wed in public, they both have relationships that they enjoy and don't wish to end. This is a HUGE deal and a big driving force in the book, although it isn't AT ALL the only driving force in the book.
5. Coming-of-Age. At least two of the characters have massive coming-of-age moments. HUGE.
6. Ending. WOW, what a twist! I have no idea at this point if this is to be a series or not, but I'd love to see what happens next if there is another book. HOWEVER, if this is a standalone, I feel comfortable with the ending. My mouth was hanging open and I wanted to high-five the character that blew everyone's mind.
***********************************************************************
IN SUMMARY: Court by Cat Patrick started slowly but built up well as I was reading until it ended with a BANG! that I never saw coming. I attribute the four POV's to the slow start because it takes some time to build the world and lay the story when it is done this way, but that ending was hella worth it.
I became wrapped up in the political happenings as they were unfolded one by one. The manipulation? The lies? The secret projects going on? I also was interested in how all of this was affecting Haakon, as he was trying hard to hold himself together in the face of MASSIVE stress and no knowledge of how to manage his new position. Will he be able to stick with his alcohol and drug recovery? How will this affect his friendships and other relationships? I was very wrapped up in the romance aspect of this story because HELLO how would I feel if I was seventeen and suddenly not only in charge of a kingdom but also forced into marriage?
Speaking of this kingdom, Haakon finds out that his kingdom is doing some pretty underhanded things and that some of his Court is manipulating him into some things that are a little on the shady side. What will he do about this? Should he keep going with this or not? Everything, everything, everything makes him want to pick up the bottle again and also perhaps a few pills, which is NOT GOOD. Where is his friend when he needs help? OH YEAH, he's dealing with a big thing of his own! No one knows who to trust in this story; there are friendships made and destroyed, and lives are built and lost…all in the wake of one death. Oh, by the way, JUST WHY was the king murdered again? That kind of blew my mind. WOW, that ending, that ending you guys.
If you want a story that comes of as part-contemporary and part-other things with political intrigue, betrayal, twists and turns, and an ending that is like WHOA, you just might enjoy Court by Cat Patrick. I had no idea what to expect when I began this book but I was pleasantly surprised and I secretly kind of wish for another book so I can find out what happens next.
***********************************************************************
Court will appeal to fans of:
Mash-Up: Contemporary, Fantasy
Romance: Hard to say if this is a triangle situation, but I'm gonna say no.
(Will be happy to discuss with anyone!)
Great world: A hidden kingdom monarchy inside of Wyoming, US
Great characterization, both main and secondary cast.
Court by Cat Patrick
is currently available for purchase.
***********************************************************************
Does this book sound interesting to you?
I liked it!
STAY TUNED! The Court Blog Tour stops by tomorrow!
You could win a SIGNED SET of ALL of Cat Patrick's books!
(4 books in all!)
Be sure to stop back by!