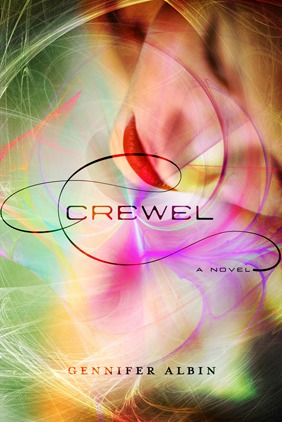 Crewel by Gennifer Albin
Series: Crewel World #1
Publish Date: October 16, 2012
368 Pages
Source: Book – Publisher for Review,
Audiobook – Library via Overdrive
Find It: Goodreads / Amazon / B&N


Sixteen-year-old Adelice Lewys has always been special. When her parents discover her gift—the ability to weave the very fabric of reality—they train her to hide it. For good reason, they don't want her to become a Spinster — one of the elite, beautiful, and deadly women who determine what people eat, where they live, how many children they have, and even when they die.

Thrust into the opulent Western Coventry, Adelice will be tried, tested and tempted as she navigates the deadly politics at play behind its walls. Now caught in a web of lies and forbidden romance, she must unravel the sinister truth behind her own unspeakable power. Her world is hanging by a thread, and Adelice, alone, can decide to save it — or destroy it. -(summary excerpt from Goodreads)



Crewel by Gennifer Albin


My Thoughts: I've had Crewel on my shelves for the longest time but I've waited to read it because I've heard there's an "awful cliffhanger" at the end – I get completely freaked out by cliffhangers. Now that I am fortunate enough to have a copy of the second book in the series, I decided to finally give this one a go. I wasn't very far into the book before I realized that this book reminded me of another book/series that I love a ton, and then it kept reminding me of these books over and over and over again. Is this a bad thing? No, I don't think so. But I did enjoy Crewel and I certainly plan to continue with the series.


As the book opens, Adelice Lewys is having dinner with her family and the mood is pretty somber even though they're trying to keep it light and happy. Adelice has just undergone the required 'testing' and as much as she tried to fail the test at the urging of her parents (they've spent her whole life secretly teaching her how to fail), she's not sure that she's been successful at this. Before the night is over, they've come for her – Adelice will become a Spinster – and she is to say goodbye to her father, her mother, and her sister. Except…they all try to escape via underground tunnels that Adelice never even knew existed at the urging of her parents. Adelice is confused – this is basically the first time she has realized that her parents planned to escape should this scenario arise. She has no idea why they would go to such great lengths to keep her from becoming a Spinster. She watched while her father was captured and she has no idea of the whereabouts of her mother and her sister – did they escape successfully? All she knows is that she is without her family, she is being drugged, and she's being taken away from the only home she's ever known. Oh yes, and there is a body bag just over there, and she's feeling oh-so-happy now and a little confused. Who's in that body bag again? Adelice can't remember…Yes, the first chapter is riveting.


Adelice is special, you see. Where most Spinsters can weave and change reality with their looms – meaning they can manipulate life, essentially – she has the almost unheard of and extremely rare talent of being able to weave without a loom plus she can weave time. This makes her so very valuable to their world, Arras, and to The Guild, which is the governing body (of males, mind you).


Spinsters are revered throughout Arras – they wear the finest clothes and eat the finest foods. They are held in high esteem because of what they can do. There are so many young girls that dream of being chosen to hold that title. Once Adelice is forced into this position and sees first-hand exactly what Spinsters are capable of – the good and the bad, which is hauntingly bad – it's a job that she does not want. She can't fathom and does not want the responsibilities that are placed before her – things such as when people life and when they die, carrying out punishments that are assigned by The Guild, things like that. Once she's on the inside, things slowly become clear to her, like why her parents were carefully and silently opposed to her becoming a Spinster in the first place, and Adelice wants out.



*************************************************************
The cover of Crewel by Gennifer Albin is so very beautiful that one cannot help but want to pick up the book once you've seen it. And the idea of the story sounds really interesting – weaving your reality, your food, even your yard and all that you can see and hear with thread – it sounds very interesting to read about. However, when you dive into the story, Crewel is basically a bunch of really cool details placed on top of a dystopian foundation that we've sort of read before. I asked before, is this a bad thing? Again, I don't really necessarily think so because I love dystopian books, but that's something you'll have to decide for yourselves. I happen to really love this type of book and it didn't bother me too much because I thought the detailing and the world-building were really fantastic. My biggest issue with Crewel is that I kept catching what I considered were similarities between this book and the series that I mentioned earlier which stuck out to me and were a little obvious. In this circumstance, this was not a dealbreaker for me.
The thing about Adelice Lewys is that because she is special and has unique abilities, she stands out, and when a person stands out – no matter what type of book or even in real life – they're a target for bullies. So Adelice has people bullying her in this book. I mean, they're pretty mean. Some of them give me the creeps and some of them are just flat-out bullies. But Adelice takes everything in stride and handles everything well. It's almost like she knows and understands that all of her actions have consequences and reactions, so she (for the most part) thinks twice before she acts. I like her because, yes, she makes mistakes and even better, she is vulnerable to her emotions and her desires. However, she also stands firm in her beliefs and convictions and doesn't back away from what she feels like she needs to do just because it may be difficult or risky. Adelice isn't the biggest, baddest kick-butt female out there, but I certainly respect her at this point for what she is – and what she is is a very big deal in this world.
There are two other characters that I enjoyed very much aside from Adelice. Not surprisingly, they were both boys. Potential love interests? I don't know, possibly probably? There is Erik and there is Jost. Erik is assigned to work for Maela, another Spinster and one of the people who seem to live to make Adelice miserable. Erik spends part of the book also assigned to guarding Adelice. Because of the tension and jealousy already in place on Maela's end, you can imagine how much more things become strained once Adelice and Erik strike up a friendship-relationship that may-be/may-not-be turning into more than a friendship. Adelice doesn't even have the chance to explore this further before Erik is reassigned, undoubtedly because Maela feels threatened. (When Maela feels any negative feelings toward anyone, bad things tend to happen to them, which makes Adelice concerned for Erik.)
Adelice also has found a friend in Jost, who does not enjoy any prestige at all. Instead, he works a regular working-class job, but he is content with that. Jost has his reasons for this, you see, and while Adelice doesn't quite understand this at first, things become more clear to her where Jost is concerned as the book progresses. I have to admit that Jost is my favorite between the two fellows, and possibly my favorite character in the book. He has an interesting backstory that is revealed in pieces, and I couldn't help but fall for him and for the life that was woven for him by the Spinsters before Adelice was even in the picture. Jost's life is no longer the same, however, and when Adelice finds out what all he has been through, it's like this huge turning point for her – the catalyst that causes Adelice to begin to stand up harder and better and more for the things that she believes in, the things that are right.
What happens toward the end of the book with Adelice, Erik, and my pal Jost – the craziness that takes place – was my favorite part of the entire book and was what solidified that I will absolutely be continuing with this series. It was a turning point, I think (maybe?), in this series. And when the book ended on sort of an abrupt note, I was like WHAT WOW OH BOY.
I think I over-prepared myself for the cliffhanger that waited for me at the end of the book – it was definitely not as bad as I thought it would be. I would've been fine, I think, to read the book sooner. But it
is
a doozy, you guys, and changes EVERYTHING so be warned. I'm really excited to dive back into the series and see what the heck happens and how these three are going to get themselves out of the situation they're in – or at the very least, see what they're going to do with the situation that they've sort of fallen into.
Audiobook Notes:
The audiobook format of Crewel by Gennifer Albin
is published by
AudioGO
and is 9 hours, 14 minutes, Unabridged. It is narrated by Amanda Dolan who did a fantastic job with the reading of all of the voices in the book. Dolan has a clear, crisp voice that was easy to understand and did a wonderful job portraying all of the emotions that each character had. I would not hesitate to listen to another of Dolan's audiobooks in the future.
Crewel is a somewhat predictable but enjoyable beginning to a dystopian series that I am excited to be reading. It is not without flaws and while there is room for improvement, I am enjoying the details and the characters, and I love love love the world that Gennifer Albin has created. I recommend Crewel by Gennifer Albin to readers that enjoy dystopian and science fiction stories, stories with super-mean villains, strong/interesting female leads, and fans of The Giver Quartet.
*******************************************************
Crewel will appeal to fans of:

YA Dystopian/Science Fiction
Strong yet flawed female main character.
Romance: Not allowed by this governing body, but there is a hint of forbidden romance and a possible love triangle to come. Maybe? Possibly.
Slight Cliffhanger

Crewel by Ginnifer Albin
is currently available for purchase
**
I received a review copy from the publisher in exchange for an honest opinion and review. I received no compensation for my thoughts. Thank you
Farrar, Straus and Giroux BYR
!
*******************************************************
Have you read CREWEL?
What are your thoughts on it?
I'm late to the party.