Day of the Dead
by
Nicci French
Series:
Frieda Klein #8
Published by
William Morrow
on July 24, 2018
Pages:
416
Source:
the publisher
Buy from Amazon
|
Buy from Barnes & Noble
|
Buy from Book Depository
Goodreads
Now the final book in this extraordinary series is here. And it's an ending you'll never forget.

A decade ago, psychologist Frieda Klein was sucked into the orbit of Dean Reeve — a killer able to impersonate almost anyone, a man who can disappear without a trace, a psychopath obsessed with Frieda herself.

In the years since, Frieda has worked with — and sometimes against — the London police in solving their most baffling cases. But now she's in hiding, driven to isolation by Reeve. When a series of murders announces his return, Frieda must emerge from the shadows to confront her nemesis. And it's a showdown she might not survive.

This gripping cat-and-mouse thriller pits one of the most fascinating characters in contemporary fiction against an enemy like none other. Smart, sophisticated, and spellbinding, it's a novel to leave you breathless.
I received this book for free from the publisher in exchange for an honest review. This does not affect my opinion of the book or the content of my review.
REVIEW:
I did something unusual this time and started a series with the final book first, which is super out-of-character for me but it really worked here. Day of the Dead is the last book in the Frieda Klein series by Nicci French, and I loved it. Going into this series, I had heard plenty of great things about it and about Frieda Klein herself, but I was a little bit nervous about not having that built-in relationship with her that many of the long-time series readers already had. However I think in this instance, going in as a newbie was really cool because I was probably able to see Frieda unlike some of the other readers, plus I loved the character that I met.
In the beginning of this book, Frieda is deep in hiding and nobody knows where she is. As I read a little into the story, I learned that she did this to protect the people close to her because of a psychopath named Dean Reeve. Reeve apparently has a history of hurting or killing people associated with Frieda, and at some point before this book began, she decided that she didn't want to risk anyone else losing their life because of her. Apparently Dean Reeve has been taunting her for years (and in several books before this one).
Also at the beginning of this story, we meet Lola Hayes, a college student who is working on her dissertation, which is supposed to feature Frieda and her career. As the story unfolds, Lola's path becomes more entwined with Frieda's, and they both become mixed up in Dean's big master plan.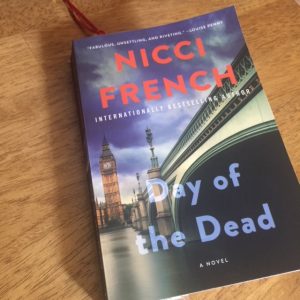 I wasn't sure if this eighth book would be okay as a standalone or if I should read the previous books first. I almost never skip series books, but I liked the way that this one sounded and decided to go ahead and take the plunge and hope for the best. It read perfectly well as a standalone, I think. Sure there are references to things that have happened before this book and many of the characters seem to be from books prior, but I didn't feel like there were any holes to this story or anything like that. If anything at all, I wished desperately that I had the complete series on hand, because now I'm very intrigued with past things that happened between Frieda and Dean and I would love to know how their completely-unhealthy-yet-fascinating relationship unfolded.
It took a while of settling into this story before I even met Frieda – something like 70 or 80 pages, if I remember correctly. HOWEVER, once she is on the pages, she is a true force. I really liked her a lot. She is no-nonsense, tough, and so, so smart – but she isn't rude or condescending. She struck me immediately as the type of person that knew exactly what she was talking about in an instant and didn't really have time for small talk or idle chit-chat because she's always on the lookout and on the go, and Dean Reeve is at least indirectly responsible for this, for her being on-guard all the time. With people suddenly starting to die in really strange ways, things are reminiscent of Dean Reeve, but only (it seems) to Frieda. I loved reading her thoughts while she pieced things together. I think this gave me a little bit of a peek into how things may have been in the prior books and how crazy a ride this series must have been for Frieda.
I can't say that I feel as connected to the complete cast of characters as some of the rest of the readers — I just haven't had a longstanding relationship with them yet. But I find Frieda's friends and family charming and I completely love the way they are loyal to her and the way they respect her privacy and want her to come home safely. I enjoyed the relationship between Frieda and Lola immensely, although it seems like this may be the only (?) book where the two will be associated since this is apparently the last Frieda Klein book. I wonder if there is a Lola spinoff in the works for the future? I have no idea, but I would be interested in reading it.
The pages turned so fast in this story. It was such an easy read for me. I loved the suspense and the short chapters. They pulled me right into the story. The ending was dramatic, and I hate that it has ended since I've just gotten started BUT I'm eager to go back and figure out what the beef has been between Frieda and Dean for so long. Why did Dean start picking on her anyway? Did I miss something? I'm so curious to go back and start at the beginning.
I loved this one and I think other readers will too, even if they're like me and they are new to the series.