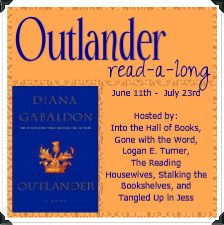 Welcome to The End of the Outlander Read-Along!

These are Asheley's Questions from Chapters 36-41.
YOU GUYS. I can't believe this is over. I've grown fond of Jamie and Claire and this big blue book. I'm gonna miss it.
***********************************
Week Six: The End!
1. Jamie has the worst case of seasickness. Do you get seasickness or motion sickness? If not, is there something that makes your stomach a bit queasy?
OH YES, ewww. I get nasty, horrible, awful motion sickness. And I get carsick sometimes if I don't ride in the front seat or if the driver isn't a great driver (lots of curves = yuck if I'm not driving!). It's gross. I don't know how I'd have managed what Jamie had to go through. And before anyone asks, no, I've never been on a cruise before…
ALSO: Facial wounds and eye stuff makes me queasy. Nasty. NASTY. Completely unrelated to the book. But you asked. If you want to gross me out, show me a cut-up face. Or an eyeball. *gags*
2. How did you handle reading the details of Jamie's torture at the hands of Randall? Did you blame Jamie for anything that happened during the encounter with the captain? If you were Claire, how do you think you would have taken hearing about the abuse from your husband? What did you think of Claire's methods to get Jamie to start healing psychologically from his wounds from Randall (when she filled his room with opium and simulated another attack by the captain)?
I was absolutely shocked at how NOT WELL I handled all the issues with Jamie last week. I barely made it through! This week I decided I'd read in small doses, which helped a lot. I also knew he'd been through some rough stuff, so I expected there may be some rough stuff still. Does that make sense? ALTHOUGH – it was still VERY ROUGH. (Y'all, I just don't know why I reacted this way. YES, it is awful. But I never ever have such a strong reaction to books. I'm totally weirded out by myself. Anyway…)
For me to blame Jamie would be sort of cruel, I think. But I do wish he'd have fought back a little bit. Part of the reason I have loved him so hard is because he's been such a fighter at times. I can respect his reasons for not fighting, but I don't really understand them. If he was going to die anyway, and it was only Jamie and Randall, what did he have to lose?
Claire did well to be able to hear about everything and to let Jamie keep talking without losing control. If she'd have made a big fuss, that would've probably turned the attention onto herself and her need to be comforted rather than his need to get everything off of his chest. So I commend her for *gasp* MAKING A GOOD CHOICE and letting him talk. WAY TO GO, CLAIRE! Also, I don't know that I would have ever thought to do what Claire did to heal Jamie's wounds – I guess that was her last hope, her last idea. It was brilliant and marvelous, and I think it was awesome and a little crazy. I didn't know what was going to happen when Jamie woke up. How scary! But it worked well, thank goodness. WAY TO GO AGAIN, CLAIRE! *gasps again*
I have to credit Claire where she is due. My opinion of her changed a lot in the last section of the reading. She redeemed herself greatly. I never hated her or anything, but I did feel that she made a series of bad decisions throughout the book. This last week – she really came through for her husband, and I can totally respect that.
3.
From this cover, which of the above elements of Outlander were you most looking forward to? Which did you enjoy most while reading? Which did you enjoy least while reading? Which did you just not care about? Any of these do you wish there were more of? Less of
?
"Within these pages of OUTLANDER, you will find it all…history, warfare, medicine, sex, violence, spirituality, honor, betrayal, vengeance, hope and despair, relationships, the building and destruction of families and societies, time travel, moral ambiguity, swords, herbs, horses, gambling (with cards, dice, and lives), voyages or daring, journeys of both body and soul…you know, the usual stuff of literature."
I didn't read this quote beforehand, but if I would have, I'd have most looked forward to the medicine, history, sex, violence, and OF COURSE swords. Honestly, I didn't really know that much about the book going into it except for time travel, so reading this would've given me a ton more insight into the book than I had!
I've said a thousand times, and I'll say it a final time: my favorite part has been Claire's nursing. I had absolutely no idea the medicine was such a big part of this book. I have no idea if it is a big deal in the rest of the series or not, but I have LOVED it in this book. In fact, it was the first thing I loved about the book. (OF COURSE I have loved Jamie too. STILL DO.) I could have done with less of the descriptions of the families – I don't remember ANY of them, and didn't at all during the story – who was married to who, who was the mother of which brother, which side of the family which character was on…I remembered NONE of it. Seriously. Also, I didn't care for Lollybroch, although I realize that it is a big part of the story. It was boring!! to me.
4. Share with us your overall thoughts of Outlander by Diana Gabaldon. Your favorite quotes, scenes, and/or your favorite words that had you searching for a dictionary. If you haven't been marking your favorite quotes/passages, you can find your favorite Outlander quotes on Goodreads.
I really loved Outlander – like, a lot. More than I expected to! I was a little nervous going into it because historical fiction just isn't my thing. But reading along with everyone has been fun, especially with a Twitter hashtag. I've connected with some new readers that I like a lot and will keep up with, and I am super happy that I made it through the book. I would've kept staring at this beast of a book without everyone else reading along with me. (And with all of the odd language and tough parts, I would have probably put the book down and not picked it back up without the support of you guys.)

Oh gracious, yes, I've been keeping up with scenes and quotes! But I cannot pick and choose several favorites, even for this question. Just know that I loved the wedding scene and Chapter 15. I loved when Claire took care of Jamie at the very beginning and at the very end. But I think my favorite part is when he told her his name!
I turned to Jamie in sudden panic. "I can't marry you!I don't even know your last name!"
He looked down at me and cocked a ruddy eyebrow. "Oh. It's Fraser. James Alexander Malcolm MacKenzie Fraser." He pronounced it formally, each name slow and distinct.
Have mercy. Names, y'all. Love 'em.
5.
Are you gonna continue with the series or are you done after Outlander? For those of us who are new readers of the series, any predictions? Do you think participating in the read-along helped or hindered your experience with the story? For those of you who have already read Outlander and the books beyond, how much did you enjoy (or not enjoy) this re-read?
I'll continue with this series, for sure. But I'm not ready to start on the next book just yet. Some of the stuff from last week and this week was rough for me, and now that I have my sweet, precious Jamie back all nice and healthy, I want to keep him that way for a little while before I dive back into Scottish battles and being upset at Claire again. I want to bask in the ending of this one and enjoy it. (Also, I rarely read books in a series back-to-back. Only very occasionally. I'm weird.)
Reading Outlander as part of a group only enhanced this book for me. I love reading along with people and talking about books; it's just really the best part of reading and something I love so much. What made this fun was that some of us were newbies and some of us were re-readers. Such a great mix! Everyone was so patient with one another and supportive and I thought this was an awesome format to read such a large, chunky book.
Do I have any predictions? No way. I have NO IDEA what's in store for us. I kind of like it that way, actually. I would have NEVER predicted any of what Outlander threw at us. I'm nervous about Frank and Randall, but we'll just have to see!
BONUS #1: Take the Outlander Quiz on Goodreads and tell us how you did!
Oh my gracious, there is no way I'm taking the Outlander Quiz. Y'all, I do horribly at those things. I am a poor participant for this question. BOO ON ME!
BONUS #2: Claire is able to visit the library at The Abbey. Share with us pictures or a description of your own personal drawing of your dream library. Feel free to share more than one. Some of you may even have a Pinterest board full of inspiration, please share!
I LOVED that Claire got to visit a library – we were talking near the beginning of this book about the LACK of books way back then, and now she's visiting a library! I chuckled when I read this part!
I always think anyone who has a home library is really lucky. I got two new bookshelves recently and it felt like Christmas to me, but I would not go anywhere near calling my book collection a library. Anytime I think of a home library, though, the pictures from Neil Gaiman's home library from the internet pop into my head. Here's one. It stands to reason that a cool guy would have a cool home library, OF COURSE. I personally don't need all of those books, but they look great in Neil's house.
I do not have a Pinterest board for inspiration. I have never been on Pinterest. 🙂
You are all SO awesome.
Thank you so much for participating with me!
I have the sads because this is over!