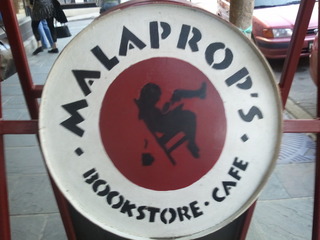 I had the chance to have an awesome sit-down and chill-out chat with Lish McBride, Ann Aguirre, and Elizabeth Fama before the event began. We talked of great and many things such as the wonders of audiobooks vs. print books and the awesomeness of public libraries.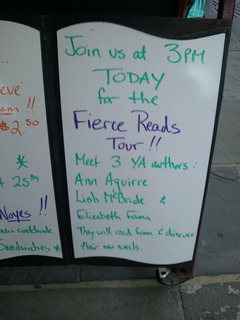 Lish McBride shared that she is an avid reader. She reads print and listens to audiobooks all the time. Ann Aguirre has never actually listened to an audiobook before. Elizabeth Fama really likes audio and wants to listen more because in doing so, she can actually read more. I was personally curious about whether or not authors have a preference about readers choosing to read their books in print or via audio; Lish mentioned that it truly did not matter to her because at least people are reading the stories – however, audiobooks remind her of cover songs – when musicians sing other musicians' songs – it is another artist (in this case, a narrator) interpreting their words in his or her own way. (This is something I had never thought about before!)

We also talked about libraries and how these authors love to see copies of their books in public libraries. It makes them so happy to know that their book is being checked out over and over and over. Elizabeth Fama made the comment about how cool it is to see that the copies are well-worn, which means that they have been checked out and used quite a bit. The others agreed with this. (Another something I had never thought about before…)

********************************************************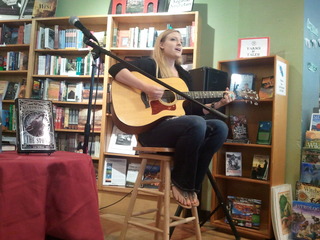 Jessica Drake opened the event by singing the Fierce Reads theme song "Turn the Page" – which you can download for free HERE.

Then each author read a passage from her book:
Lish McBride reads from Necromancing the Stone. She read a funny passage and was hilarious as a reader. I'd listen to her read the entire book to me in a heartbeat.

Necromancing the Stone is the follow-up to McBride's award-winning Hold Me Closer, Necromancer.
Elizabeth Fama read the prologue from Monstrous Beauty. It was perfectly quiet while she was reading and I think she could have kept going and no one would have stopped her.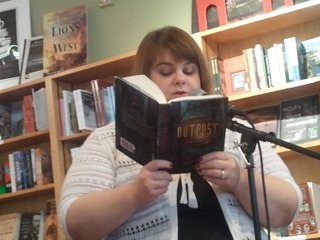 Ann Aguirre reads an action sequence from Outpost, complete with perfect voices for the characters. I was on the edge of my seat.

Outpost is the follow-up to Aguirre's Enclave, from the Razorland Series.
After the authors read from their books, there was time for a few audience questions. I loved this part of the event the most because it is when I was able to see the personalities of each author play off of one another. They kept me laughing.

On their favorite and least favorite things about being on tour:
Lish McBride mentioned that she loved all of the awesome book stores she had been able to visit but she did not love the early wake-up calls to travel to the next city (I can't say I blame her!). Ann Aguirre loved meeting readers and talking with them but she did not love the lack of sleep that was required for a tour like this one. Elizabeth Fama loved the professional development she gained while being on tour with the other talented authors – she says she learned so much! She said it was torturous to be in all of the wonderful, new places for short times, but not be able to explore them.

On what made these ladies want to be writers:
Lish McBride has known she wanted to write for as far back as she can remember. Well, first she wanted to be a vet – until she realized exactly what they do and sometimes their work involves unpleasant needles. Since that time, she's always wanted to write. Ann Aguirre has always known. When she was a young girl, she won a school contest in which part of the prize was seeing Shel Silverstein read from his book Where the Sidewalk Ends. (NO. WAY.) Elizabeth Fama started and finished her schooling headed toward a career in biology/pre-med – but she secretly wrote a novel while she was also writing her dissertation. When she finished her novel and her dissertation, she decided that her heart was actually in being a writer, and that is where it lies today. (Interestingly, her stories have lots of science and biology in them. I love that.)

On what makes their writing dark fantasy vs. the regular high school romance-type stuff:
Lish McBride states that she writes what she knows – she grew up with brothers, so she wrote her male main character and his personality easily. She loves to read all types of books, though. Ann Aguirre says writing dark stories is a mental illness but it is much cheaper than therapy! Elizabeth Fama says that her book is a dark fantasy story because her children played a large role in designing it and putting the story together.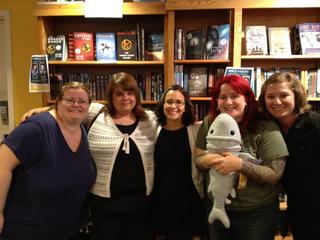 Beth Revis, Ann Aguirre, Elizabeth Fama, Lish McBride, ME!
As if meeting the awesome Fierce Reads authors wasn't enough, guess who else showed up to be in the audience during this event? Beth Revis. YOU GUYS. I can't even. The only thing better than sitting and talking to three authors for a little while is sitting down and talking with four. Y'all she is SO NICE and funny and WOW.
********************************************************
With Elizabeth Fama!

I had the best time meeting these fabulous ladies and hearing them read from their books. They were so very welcoming to me as a reader and as a blogger. Thank you to Elizabeth Fama, Lish McBride, and Ann Aguirre for being so welcoming to me and for taking the time to talk to me before the event. You are all so awesome.
Thank you to Malaprops Bookstore in Asheville, NC for hosting such great events like this for the public.
Thank you Macmillan Kids Publishing & Fierce Reads for being awesome all the time, for publishing fantastic YA books, and for sending these authors on tour.
********************************************************
GIVEAWAY!
AND NOW…Thanks to the generosity
of Fierce Reads and Macmillan Publishing,
I am able to offer some SIGNED books to three lucky people!

so I'm making this giveaway a little different.

This GIVEAWAY is open WORLDWIDE.
There will be three winners:

One person will win
Monstrous Beauty by Elizabeth Fama, SIGNED.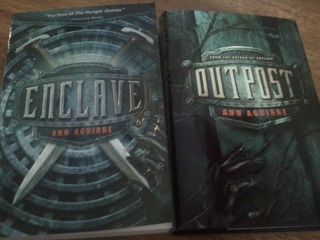 One person will win
Enclave & Outpost by Ann Aguirre, SIGNED.
One person will win
Hold Me Closer, Necromancer &
Necromancing the Stone
by Lish McBride, SIGNED.
This GIVEAWAY is open WORLDWIDE
and will run through midnight Saturday October 6, 2012.
Winner #1 will get first choice.
Winner #2 will get second choice.
Winner #3 will get third choice.
Good luck!