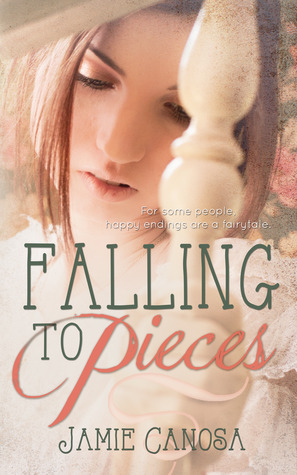 Falling To Pieces by Jamie Canosa
Series: Pieces #1
Publish Date: April 16, 2014
277 Pages
Source: Author for Review – Thank you!
Find it on: Goodreads / Amazon

Suffering the bitter tongues of her alcoholic mother and cruel boyfriend, Jade struggles just to look at herself in the mirror. She hates her life, her insecurities, her ineptitudes, but most of all . . . Jade hates herself. She wants nothing more than to disappear, and everyone seems happy to let her. Until Kiernan Parks moves back into town.

Jade's been crushing on him ever since kindergarten, when his family moved away. But now he's back, and looking better than ever.

Hiding is a way of life for Jade, but Kiernan insists on uncovering the real girl he's sees trapped inside her. On drawing her out of her shell, and showing her that she is someone worthy of love.

Together, they fight back the darkness she's living in. But when they finally step into the light, will the secret Kiernan's been trying to keep buried destroy Jade, once and for all?

For some people, happy endings are a fairytale. -(from Goodreads)


Falling To Pieces by Jamie Canosa

My Thoughts: I have loved every single thing I've read by Author Jamie Canosa. Falling To Pieces is no exception. She writes great contemporary fiction with issues that are gripping and heart-wrenching, and I always easily fall in love with her characters (every time) and become easily attached to them and to their stories. Each time I find out she has another contemporary book in the works, I get really excited, which is exactly what happened with this book. I was absolutely thrilled to get the chance to read it and loved that it was true to the author's style, which I love. Again, I found myself emotional over her characters and their issues and the events surrounding them, and I loved what these characters had going on together.



*************************************************************
Jade is a young high schooler, the daughter of single mother that happens to be an alcoholic. Jade spends more of her time taking care of her mother, it seems, than as a functioning student. She has an almost non-existent social life, barely floating through high school on the coattails of her scumbag boyfriend who happens to be a big-shot football player. Doug treats her like a doormat and Jade lets him, knowing that if she didn't have Doug to "protect" her, the rest of the student body would eat her alive. The truth is that Jade has had a big-time crush on this one boy – Kiernan – since he showed her kindness back on the playground when they were something like five years old…but then he moved away. Jade has always kept him in the back of her mind through everything as a happy memory, BUT THEN ONE DAY HE SHOWS UP, RIGHT BACK IN HER CLASS. Kiernan is back in her life.
Jade couldn't be more excited. And nervous. And unsure of what to do. Because she has a boyfriend, you see. Besides, why would the super-handsome Kiernan even remember a brief exchange on the playground from YEARS ago? Surely he wouldn't. And he certainly wouldn't care about someone like Jade. No way.
One of the many things Kiernan does have going for him is that he is kind. And he sees Jade as she is. There is a chance meeting uptown in the grocery store in which Kiernan witnesses Jade's mother treating her absolutely horridly – Kiernan steps in to show her kindness even when he does not have to. Jade is dismayed that Kiernan obviously doesn't remember her and yet simultaneously uplifted that he even noticed her and stepped in to kinda-sorta defend her. For a few minutes, she feels seen. Not invisible. From that point, Kiernan begins to pop up here and there, defending Jade against Doug and his ridiculously offensive public treatment of her, offering her rides home when she is forced to walk as a means of punishment by her mother and by Doug, and just flat-out being a really nice guy. Over time, an easy friendship develops as Kiernan begins to show Jade that she is indeed somebody worth something, someone worth loving, somebody worth value – despite what her mother tells her every single day. With the Kiernan's encouragement, Jade has the courage to break up with Doug because of his inexcusable treatment of her – when he retailiates in a very public and very hateful way, Kiernan is there by Jade's side throughout the entire thing, offering her encouragement to keep her head up and stay strong.
Naturally feelings progress – it is very sweet and what I, as a reader, hoped to happen. I rooted for these two from the moment Kiernan popped up on the pages. I never liked Doug – of course – and I did not like Jade's mother either. They were awful and responsible for Jade's total lack of self-esteem. BUT! there is a point in the book when things begin to happen that foreshadow something lurking on the horizon – and I began to wonder if this something had to do with Kiernan…I began to speculate about WHAT THIS COULD BE. By this point, I WAS SO EMOTIONALLY ATTACHED TO KIERNAN and JADE and the two of them together, and I was a littler nervous! I loved what Jade was working to overcome and I loved her growth because of the time and attention Kiernan was giving her, and how with him – they were greater than then sum of their parts, if you know what I mean. I loved their relationship and, like I said, I was nervous.
AND OH MAN. Oh, Jamie Canosa. Oh, my heart.
I kind of loved it. But oh man.
*************************************************************
Author Jamie Canosa has a tendency to take my heart and squeeze it in so many different ways. I love the way she lays out her stories – I always fall hard for her characters with loads of sympathy or empathy or emotion and always compassion. I always find myself pulling for them SO HARD and wanting the best for them in the very best ways. These characters that she writes are typically young people that have big obstacles to overcome, and I love that they are put in situations that are typically not situations that I am faced with or familiar with, but that I can easily imagine are very realistic – I find this makes her books very readable. I usually love the male and female protagonists for the character growth, and love that she chooses their portrayals carefully and realistically. And I love that these are issues-based characters, as I've mentioned above.
This book, Falling To Pieces, includes the ending of endings that had me ALL EMOTIONAL. Oh, Jamie Canosa, this book. I'd love it very much if you would just write more in a hurry so I can keep going because my heart, my heart. But I can be patient. I can. As soon as I possibly can. Because I loved this story to pieces.
Author Jamie Canosa is a great go-to author for great contemporary, you guys. I've loved her stories so hard. I recommend Falling To Pieces to fans of YA/NA Contemporary with issues and readers that love becoming emotionally involved with characters. This is one author that is basically instant-read status for me as in terms of contemporary and OH MY HEART. OH. MY. HEART.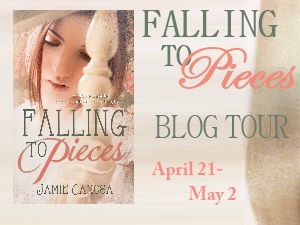 *************************************************************
Jamie Canosa is a full time author of YA literature, which she absolutely loves. When she's not writing or spending time with her family, she can usually be found with her nose in a book. She currently resides in Ravena, NY with her wonderful husband and three crazy kids . . . plus the dog, the bird and the rabbit.
*************************************************************