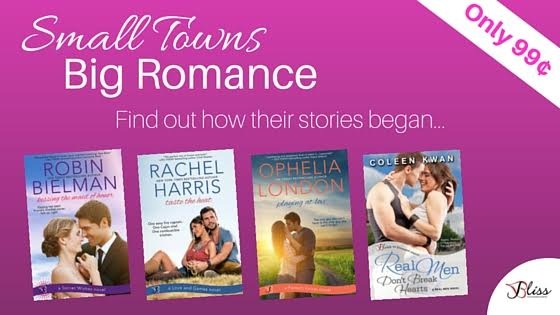 Bliss 1st in Series Sale!
Four of Bliss's popular series are complete and now we can pick up the first book in each series for just 99¢! So fill up your eReader and prepare to fall in love with these small town romances for a steal of a price.
Included are:
From best friend's brothers to sexy firemen and much, much more
we have something for everyone!
Sela Sullivan is resolved to be the best maid of honor ever, even if it means tolerating the best man. Insufferable, too-handsome Luke Watters is not only the guy who humiliated her at a kissing booth in high school, but he also happens to be her best friend's older brother. Positive he's the same arrogant jock, Sela vows to focus on her duties and steer clear of the frustrating—and frustratingly tempting—Luke.
As a world-renowned extreme-sports photographer, Luke is used to undertaking life-risking adventures. But risking his heart for the beautiful Sela Sullivan, who clearly still hates him for his rejection all those years ago? He didn't see that coming. Sela inspires a passion he's never known, and the more time they spend together, the more he craves her. But can he prove to the maid of honor he's become a man of honor?
Get your copy today!
Only 99¢!
********************************************************************************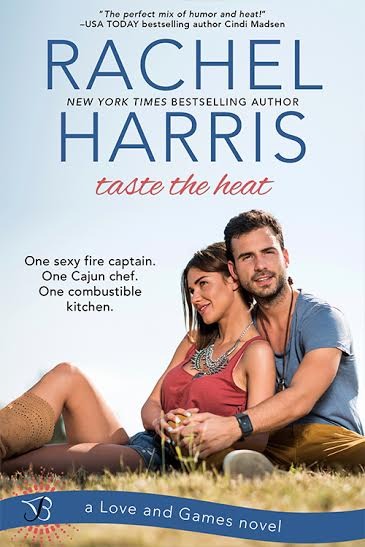 When chef Colby Robicheaux returned home to New Orleans to save her family restaurant, the last person she expected to reconnect with was her brother's best friend and her childhood crush. As tempting as a sugar-coated beignet, Jason is one dish she doesn't want to taste. Colby is counting down the days till she can leave the place where her distrust of love and commitment originated and go back to Vegas.


Fire captain Jason Landry isn't looking for love, either. He knows he should focus on finding the perfect mother for his daughter, but when he first sees Colby, all grown up and gorgeous, he can't help but be drawn to her. And when she suggests a no-strings-attached fling, Jason doesn't want to say no.


As their relationship grows more intense, Colby finds that Jason isn't as easy to leave behind as she thought. Could turning up the heat on something real be worth the possibility of getting burned?






Get your copy today!
Only 99¢!
********************************************************************************
Show choir teacher Tess Johansson loves three things: music, her job, and sharing that passion with her students. But when a school budget crisis forces funding to be pulled from either the sports or music programs, she finds herself going head to head with Jack, the gorgeous new football coach who broke her heart fifteen years ago.


Jack Marshall wants two things: to be closer to his young daughter and to make his mark as a football coach. Taking the new job, with the promise that he'd have time to build a solid team, gave him both. But now he must win the season with a group of boys who aren't anywhere near ready or he'll lose everything he's worked so hard for. Being pitted against Tess, the summer love he never forgot, is like being fourth and long with only seconds on the clock.


On opposing sides of a fierce battle and with everything at stake, Tess and Jack find themselves torn between doing what it takes to win and doing what it takes to be together.



Get your copy today!
Only 99¢!
********************************************************************************
Ally Griffin is horrified to learn her new landlord is none other than the infuriating playboy Nate Hardy—the man whose wiles she just knows got her jilted at the altar six years ago. Add to it that her ex-fiancé Seth is showing up in her hometown of Burronga, Australia, to marry his beautiful new bride…for real this time. But the kicker?


Everybody's treating Ally as though she's still heartbroken. She's just fine, thank you very much, but could The Jilter have the decency not to hire her sister as his florist?


Nate Hardy is tired of his high-flying city career and bachelor lifestyle and is looking for something more real. The last thing he needs is to find himself undeniably attracted to Ally, the woman with whom he never saw eye-to-eye. But is he even capable of what Ally wants and deserves?


As Ally tries to pull her life out of the rut it's fallen in, she doesn't count on Nate stirring up her emotions. A short-term fling with the resident bad boy is practically irresistible, but only if she can guard her heart…





Get your copy today!
Only 99¢!
********************************************************************************
I LOVE the Love and Games Series by Rachel Harris.
I own all of those and have read them all – they're 5-star reads!
I just bought the rest of these to add them to my collection —
I'm ALWAYS looking for fun romances.
Small-town romances are my favorite!