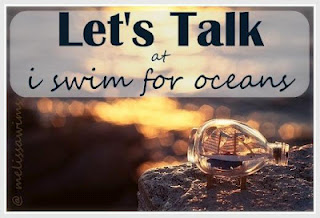 Click
here
to see
Let's Talk
!


I'm so excited that Melissa at i swim for oceans likes discussion posts because sometimes I get chatty and have things to say. Melissa has opened her Let's Talk event up to the rest of us and I'm excited to be a part of it. Thanks, Melissa!


This week's question:
What books have you read because of
the recommendations of book bloggers?
Well, a ton actually. But let me share a few…
I'm currently reading this beauty at the recommendation of
April
from
Good Books and Good Wine
.
I am
so in love
with this book that I feel
physical things
in my heart
while I'm listening to it & reading it.
Yep, you saw right: I'm listening via audio AND reading along in print.
Y'all I have it bad for Kvothe.
I could drive up north and have a drink or four with April for this one.
I will love Pat Rothfuss forever &
I can't coherently talk about Nick Podehl, the audio reader, without g
oing into complete fangirl status. This recommend was legit, April!
(at 28 hours and 662 pages, this book is a chunkster that I've been enjoying for a long time as audio takes me a while to get thru – which is why I think I love it so much – because I'm SO INVESTED)
Before 2012, I practically NEVER read YA Contemporary. NEVER. But I did enjoy reading award-winning books. This book was recommended to me by Ashley from Basically Amazing Books and I ended up winning it in a contest from Jacinda from The Reading Housewives. I read it as part of an awards challenge but it was a tiny taste of contemporary for me as well. Ashley made me PROMISE not to give up on it – because it's confusing. I'm glad I stuck it out. It WAS confusing at first, but I read it in one day and it is just an AMAZING book. I understood immediately why Marchetta's fans are so loyal. Her writing is beautiful and delicious and perfect.
(I'm reading more YA Contemporary in 2012, you guys. I am. No worries.)
This is a book that I discussed back and forth with April from Sim~Sational~Books where she reinforced that I would absolutely love it. She was so right! I sat down one day to read just a chapter or two of this book to get a feel for it before running some errands – sitting on the edge of the couch, keys in hand, not even comfortable because I was about to leave the house – and ended up never even putting my Kindle down until the book was over! I actually never even scooted all the way back on the couch. I read the entire book at one sitting, even re-reading some parts. I COULD NOT STOP, you guys! I couldn't make myself! This is one of my favorites this year, easily.
********************************************
I've read other titles after seeing gushing & raving by lots o' bloggers:
I'm also currently reading a box full of contemporary titles
that were not only recommended to me but loaned to me
Best Recommendation Of All, EVER: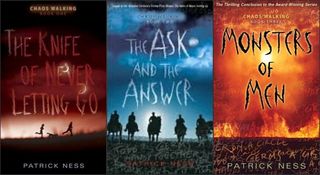 Chaos Walking Trilogy by Patrick Ness
Thank you Lisa from Lisa Is Busy Nerding!
I am somehow changed after reading these.
You guys have heard it before – just how much I love these books.
Solid Recommend from a great blogger friend.
********************************************
What books have YOU read because of
book bloggers?
Did you love them?
Not love them?
I LOVE recommendations!
Do you have any for me??