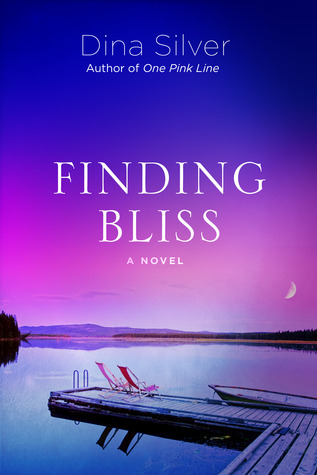 Finding Bliss by Dina Silver
Published by Amazon Publishing
Publish Date: July 16, 2013
285 Pages
Source: Publisher for Review – Thank you!
Find It: Goodreads / Amazon / B&N


Chloe Carlyle has always longed for the perfect family.

Growing up with an alcoholic single mother, she has seen her share of heartbreak and disappointment, and is striving to build a new legacy for herself. After graduating from college, she takes a job working as a summer girl for the Reeds––a wealthy, accomplished family that personifies her American dream. Her summer takes an unexpected turn when the Reeds' eldest son Tyler, the star quarterback for Notre Dame, shows up and turns her life upside down.

An ambitious young woman with a wry sense of humor, Chloe never imagined herself as the type to succumb to the looks and charms of the hometown hero, but she falls hard for Tyler, and is devastated when they part ways at the end of the summer. As she heads off to law school, Chloe tries to convince herself this was just a fling, but she can't quite get over him. It's not until Tyler contacts her out of the blue late one winter night that everything changes.

After doing everything in her power to build the perfect life, Chloe soon learns that there are things beyond her control. She must draw on inner reserves of strength as her life takes unpredictable—and sometimes heartbreaking—twists and turns, and she finds herself faced with decisions she never thought she'd have to make. Poignant, heartfelt, and emotional, Finding Bliss is a reminder that you don't have to live a fairytale life in order to have a happy ending. –(summary from Goodreads)



Finding Bliss by Dina Silver


My Thoughts: I was attracted to reading Finding Bliss by Dina Silver because of the lovely cover and the
realistic and catchy summary. I wasn't disappointed.


Chloe Carlyle has always had to work thru school, having a little of a tougher life than some are used to due to some problems with her mother. She finds a good job as the nanny of the very affluent Reed Family during the summer before she goes to attend law school. She is to take care of the family's younger children and finds this job to be worthwhile and it pays well. She loves the children and quickly falls into a rhythm, enjoying her time with them. When Chloe realizes that she sort-of knows their older brother Tyler, she kind-of develops a crush. Then when the two meet – because you know their paths have to cross – she quickly falls for him. As the family (plus Chloe) is spending time at their summer house at the lake, Chloe and Tyler become closer and consider themselves pretty good friends. They are sad when they have to part for college – Chloe to focus on her law career and Tyler to focus on his football career – but vow to stay connected and actually do. Eventually the two end up together, of course, followed by marriage and all that comes with it.


Now, let's back up a second – Chloe has a super-great friend all throughout school that I just loved. His name was Cam and he was pretty much her study buddy, her friend, and her neighbor. It was pretty obvious to me that Cam had big eyes for Chloe, and while I think she sort of of knew this, she kind of glazed over it without much thought because she was so in love with Tyler. Cam took everything in stride, never overstepping his bounds, but always being a good gentleman. Great friendship, great character. I loved him.

Now back to Chloe and Tyler – as the two are working on building their careers, they also decide that they want to progress in their family life – and with this comes some problems and some big, tough decisions to make together. This is where the reading became a little more on the serious side at times, and my heart just went out to these two. After a long while of enduring some difficult times, the two finally catch a break…or do they?


(Seriously, I thought I could exhale for a minute and then WHAT! But that's how life is, ya know?)



***********************************************
Chloe is a bit of a walking fireball after thinking she's caught her big break…and then her world comes crashing down and she becomes an even bigger fireball. While the circumstances of the book were at times a little tough to read, I still enjoyed the story very much because I felt like it could be very true to life and that Chloe was a very realistic character. She reacted in the best ways possible all throughout her life, up until this crazy point, and even then – she tried to make the best decisions she could. However, it was obvious from the start that Chloe was not to be messed with and I liked that about her. She was very strong.
And Tyler – I just don't know what to say about this guy. He is one of those characters that totally has you wrapped up in the beginning, thinking you're swooning for the kisses and hugs, and then OH MY GRACIOUS WHAT IS HE DOING. Tyler had a tendency to be a little bit of a wild card here and there throughout the story. To be honest, I felt like as a reader I could see this much better than Chloe ever could because she was so blinded by her love for him. In the end, though, while Tyler was likely sorry for his mistakes and acted in truly remorseful ways, I appreciated the way Chloe handled him and felt like it – again – was handled realistically in terms of real life versus how a story will sometimes turn just to make things sound okay.
Let's don't forget our friend Cam! Cam is one of those character presences that sort of comes and goes throughout this story – never really leaving the story but coming back at just the right time. Where, in the beginning, I liked Cam because he was an awesome friend (even though I felt sad for his unrequited feelings), the further toward the end of the story I got, I loved Cam more and more for just being himself. Again, this is something I felt could be totally realistic in real life and I loved it so much.
This story, Finding Bliss, is one that I could absolutely see myself knowing about or hearing about in real life, about someone I know from the community or from church or wherever. I could know a real-life Chloe. She is that realistic to me. This type of situation – one like hers – happens periodically or even more often than that, I'd be willing to bet, so it was interesting to read something that didn't feel cliched or troped or hyped up or just too unreal for words. I felt like I was just plopped down into a real-life story or perhaps one of those great movies that we all love to watch from time to time. It was wonderful to see an already-strong Chloe transform throughout the book, throughout the various stages of her life – and I honestly like the place in which she ended up. I think the ending is fitting the book, the story, and the characters.
Ultimately, this book wasn't the super-happiest book to read the entire time, and it wasn't the easiest all the way through, but it was really a great story and I'm so glad I had the pleasure of reading it. It had a great ending. I would recommend it to fans of New Adult Contemporary Romance and Adult Contemporary Romance (as the age of the characters does progress somewhat).
Sidenote: I immediately purchased Dina Silver's
One Pink Line
in both Kindle format and Audible audiobook after finishing this one and have already read it as well. Full thoughts on that one to come soon! (I rarely immediately purchase an author's book within minutes after finishing another one – I usually think about it a little bit first but this one was a given based on how realistic I found this story and how much I liked it.)
******************************************************************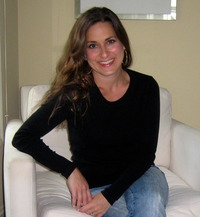 A graduate of Purdue University, Dina Silver has spent the past fifteen years feeding her red
wine habit by working as a copywriter in the advertising industry. In addition to writing ad copy,
she formed Dinas Ideas (dinasideas.com), a greeting card company, in 2003. Dina serves as
the sole writer and designer for the business and has penned over 300 greeting cards since its
inception.
******************************************************************
Finding Bliss will appeal to fans of:


New Adult/Adult Contemporary Romance
with issues.
Romance: Crush turned into relationship.
No triangle.
Finding Bliss by Dina Silver
is currently available for purchase.
******************************************************************
And now for the Giveaway!
Author Dina Silver
is offering (1)
Kindle Paperwhite
(1)
FINDING
BLISS
ebook and (1)

FINDING

BLISS

Paperback
Open Worldwide. Ends July 31, 2013.
No purchase necessary. Must be 13 years of age and older to enter unless stated 18 + years of age. Must reside in countries able to receive eBooks via email. The retail value of the items is $131.57
USD. The number of eligible entries received determines the odds of winning. Winners will be selected after

July 31
, 2013 r
andomly by Rafflecopter. Entries will be reviewed for accuracy. Participating blogs and AToMR Tours are not liable for purchasing, shipping or emailing the items, winner not receiving the items, or lost items shipped/emailed. This sweepstakes is sponsored by the author and items will be provided via email or shipped by the author. If the items are not claimed via email within 24 hours of receiving notification the item will be forfeited with no winner or an alternate winner may be selected at AToMR Tours discretion with email verification by

July 31, 2013
. Any taxes associated will be paid by the author unless otherwise stated. AToMR Tours has the right to obtain and publicize the winners name and likeness. Void where prohibited by law
.