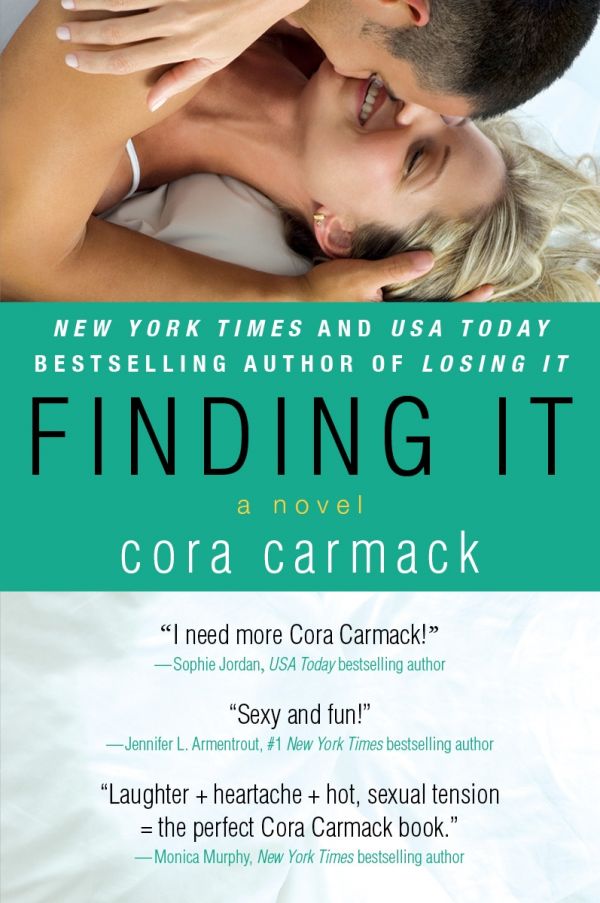 Finding It by Cora Carmack
Series: Losing It #3
Published by William Morrow
Publish Date: October 15, 2013
304 Pages
Source: Publisher
Find it here: Goodreads / Amazon / B&N


Sometimes you have to lose yourself to find where you truly belong…

Most girls would kill to spend months traveling around Europe after college graduation with no responsibility, no parents, and no-limit credit cards. Kelsey Summers is no exception. She's having the time of her life . . . or that's what she keeps telling herself.

It's a lonely business trying to find out who you are, especially when you're afraid you won't like what you discover. No amount of drinking or dancing can chase away Kelsey's loneliness, but maybe Jackson Hunt can. After a few chance meetings, he convinces her to take a journey of adventure instead of alcohol. With each new city and experience, Kelsey's mind becomes a little clearer and her heart a little less hers. Jackson helps her unravel her own dreams and desires. But the more she learns about herself, the more Kelsey realizes how little she knows about Jackson. (from Goodreads)



Finding It by Cora Carmack
My Thoughts: You guys, it was only TWO DAYS AGO that I melodramatically professed my love for Faking It and the characters within. Such a great book, that one. Oh, I always get so bookishly stressed out about continuing a series because I'm so afraid I'm cheating on my favorite characters and what-if-I-don't-like-the-new-characters-as-much? I'm such a weirdo about this, and I OWN IT, but I can say that with this series, I just need to give that mess up. No more, and it starts now.



I LOVED Finding It. Just like I LOVED Faking It.
It's okay to have two favorites, right? YES. Yes, it is.
**************************************************************
Finding It is the story of Kelsey Summers and her travels around Europe. She has appeared in books past but she's graduated now, and she's off traipsing around Europe partly to 1) find herself 2) make her parents angry and 3) shed some of the demons she's been carrying for a good portion of her life. Kelsey had high hopes that this trip would make her feel alive, would broaden her horizens, would help her experience life like she's never experienced it before – but in reality she's pretty much done the same things she would've done back in the States, just on an entirely new continent. Kelsey's been partying hard since she arrived in Europe and doesn't plan to stop. It doesn't dull the pain of her past, but HEY at least it feels good for a little while.
While traveling she sees a burning hunk of a man, and by burning hunk, I mean this guy is gorgeous. He's toned – ex-military – and his name is Hunt. HIS NAME IS HUNT. (Where does Cora Carmack come up with these names, seriously? Good gracious.) Anyway, she's wildly attracted to him when she sees him at a bar, and he seems to be attracted to her as well…but he is a bit standoffish. Not in a rude way, but Kelsey isn't used to being turned down! Hunt doesn't even take her up on her advances. Hmm, odd.
It turns out that Kelsey and Hunt run into each other on several occasions, and Kelsey's attraction just intensifies. Could it be because he is playing the hard-to-get game? (That's how it feels to Kelsey!) Maybe. I mean, she really wants this guy. Lucky for Kelsey, Hunt is in the right place at the right time when someone slips something into one of her drinks – he rescues her, never taking advantage of her, and takes care of her. They meet once again after, and from there – the two are basically attached at the hip.
There is this nagging thing that bothers Kelsey, though…WHY ON EARTH DOESN'T HE WANT HER? I mean, she practically begs him for kisses and she isn't ugly. So what gives? Hunt always has this tortured look on his face when she brings this topic up – it's obvious that he does want her, but something is stopping him. So Hunt makes her a deal: Kelsey came to Europe looking for an adventure, and so far she hasn't had very much of one. If she gives him one week – one week to show her adventure – maybe, just maybe she might get that kiss.
**************************************************************
Okay so I told you already that I loved this book and I mean it. Finding It is yet another example of Author Cora Carmack's quick humor, snappy dialogue, and fun characters. There's also depth to the story to go along with this slow-burn romance that had me hanging on every single word. Plus HELLO, TRAVEL. For everyone that loves the travel stories, you can say hello to a ton of different European places in this book and they are all FUN.
I mentioned earlier that Kelsey has just graduated, so that puts her in a different place in life than some of the other characters in the previous books. Don't worry, though, being graduated doesn't mean that she doesn't live life to the fullest – or try to, at least. This trip hasn't exactly been living life to the fullest, so just when Kelsey thinks she's about to pack it up and go home, she meets Hunt and decides to stay. THIS is when things start to get interesting – for Kelsey and for us, the readers. See, this is when Kelsey also starts to live her life. Remember, Hunt promised her an adventure and that's what he brought to the table – things like bungee jumping, hiking thru unknown villages, pretending to be married, things like that. Kelsey begins to open up and feel things – BUT! when you open up to feel all of life's wonderful things, unfortunately life's ugly things are allowed in as well. Kelsey begins to re-live some of the not-so-lovely things from her past, and she freaks out a time or two. LUCKY FOR HER, Hunt is there and he knows what it is like to have a rough past, to face tough things…
Hunt is ex-military. After serving time in Afghanistan, he's seen some pretty horrible stuff. When he came home, he had some trouble as a result of what he suffered, but he's beyond that now. SO…he can recognize it when Kelsey begins to freak out and lose herself, and he is able to talk her down and help her out. WHAT A GUY, this one. He isn't perfect by any means – he's still carrying around some of his pains from the military and he even has some secrets that are bound to come out – but he is falling for Kelsey and that means that he, too, needs to face his past and work through his issues.
Kelsey and Hunt have this really odd, really interesting, absolutely sizzling push/pull relationship that is both frustrating and rewarding to read. It's one of the most satisfying romances that I've read in a long time because I had to work so hard at it! (I'm not even kidding!) These two were on and off like a light switch, and I was almost trying to talk them together through the book – GET IT TOGETHER, YOU TWO! – because I knew that if they could just make it work, the payoff would be so utterly amazing.
Finding It by Cora Carmack is proof that this series just continues to get better. I loved this book – every word. I'm pretty sure I said something very similar about Faking It, and I meant that too. These last two books have been stellar – really great stories for fans of new adult contemporary romances, and I highly recommend them. I also recommend Finding It to fans of books that include travel, because there is so much of it in these pages, and each place is described so well. Author Cora Carmack is solid; she knows how to write New Adult Contemporary Romance, you guys – and this series is solid. It just keeps getting better. I'm ready to read Seeking Her, the next in the series from Hunt's point-of-view. I'm a GONER for a male point-of-view, and I've already told you all that Hunt is awesome. As soon as I can read this one, I'll be grabby-handed for it.
While I think it's best and most fun to go ahead and start at the beginning of any series, I think you can pick this one up and read it without having read the others first. I think that would be okay!
**************************************************************
Finding It will appeal to fans of:
Romance: Slowly developing. No triangle.
Finding It by Cora Carmack
is currently available for purchase.
A copy of this book was provided by the publisher for me to read and review on this blog. My thoughts and opinions are mine and mine alone, and I received no compensation for them! Thank you William Morrow!
**************************************************************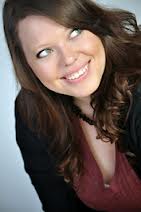 Cora Carmack is a twenty-something writer who likes to write about twenty-something characters. She's done a multitude of things in her life– boring jobs (like working retail), Fun jobs (like working in a theatre), stressful jobs (like teaching), and dream jobs (like writing). She enjoys placing her characters in the most awkward situations possible, and then trying to help them get a boyfriend out of it. Awkward people need love, too. Her first book,LOSING IT, is a New York Times and USA Today bestseller.
**************************************************************