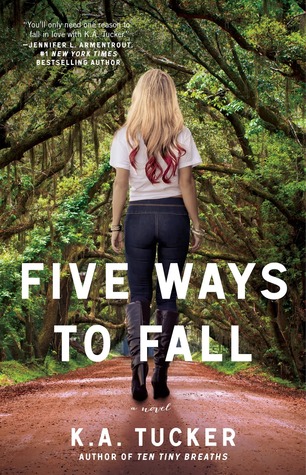 Five Ways To Fall by K.A. Tucker
Series: Ten Tiny Breaths #4
Publish Date: June 24, 2014
Published by Atria Books
Source: Publisher
Find It: Goodreads / Amazon / B&N
Purple-haired, sharp-tongued Reese MacKay knows all about making the wrong choice; she's made plenty of them in her twenty-odd-years. So when her impulsive, short-lived marriage ends in heartbreak, she decides it's time for a change. She moves to Miami with the intention of hitting reset on her irresponsible life, and she does quite well…aside from an epically humiliating one-night stand in Cancun with a hot blond bouncer named Ben. Thank God she can get on a plane and leave
that
mistake behind her.
Football scholarship and frat parties with hot chicks? Part of charmer Ben Morris's plan. Blown knee that kills any hope of a professional football career?
So
not part of the plan. Luckily Ben has brains to go with his knockout looks and magnetism. After three long years of balancing law school with his job as a bouncer at Penny's Palace, he's ready to lead a more mature life—until his first day of work, when he finds himself in the office of that crazy, hot chick he met in Cancun. The one he hasn't stopped thinking about.
If Ben truly were a smart guy, he'd stay clear of Reese. She's the boss's stepdaughter and it's been made very clear that office romances are grounds for dismissal. Plus, rumor has it she's trouble. The only problem is, he likes trouble, especially when it's so good-looking…
(from Goodreads)
Five Ways To Fall
by K.A. Tucker
My Thoughts: Coming to the end of a series is such a bittersweet thing for me. I HAVE ABSOLUTELY LOVED EVERY SECOND OF READING AND RE-READING THIS SERIES. But I understand that it has to end sometimes and that's okay.
Speaking of endings, Five Ways To Fall is a great way to end this series because it gives a voice and a story to one of my favorites characters from the previous books, Ben. Ben is a lovable fixture that hovers in the background – we know him as well-developed, but always in the secondary cast as a staff member at Penny's, the bar that has employed more than one character. I've loved the way that Ben always was humorous enough to offset whatever was going on at the time, and I've hoped that I would be able to know more about him.
You guys, I love Ben. I really do. He not only is just as great in the role of "main character" as he is when he part of the secondary cast, but he brings a great back story and WONDERFUL family along with him.
*********************************************************************
Before we talk about Ben, let's talk about Reese, the gal that graces the cover. Reese is a bit of a firecracker. She's a little bit wild and a lot smart. At the beginning of the story, she has gotten herself into some trouble – she's doused the walls of her ex-husband's apartment with red paint…because not only did she find him cheating on her, but he let the woman move in and take over the place before Reese had the chance to remove her own belongings. How rude! So she did what any scourned and hurt woman would do – she REACTED before the thought, she ended up at the police station, and she ended up calling her stepfather to come and help her out with her little problem with the local police. A lawyer, her stepfather Jack ends up helping her by offering her a deal: if Reese will get her act together and become a licensed paralegal, she has a job waiting for her at his Law Office. A few months later, that's exactly where she finds herself. BUT! The weekend before she is to begin her new career, Reese heads down to Cancun for a little celebration. While she's there, she meets Ben.
Ben is attracted to Reese immediately when he sees her at the bar in Cancun. Sure, he's only looking for a good time – the same for her – so neither bother to find out where the other lives. When he takes her back to his room, NOTHING ends up happening the way it is "supposed" to and they both chalk it up as a disaster…but Ben thinks about this gal when his trip is over. He tries to find her and can't (because she gave him a fake name). Newly graduated from law school, imagine his surprise when he finds that the great job he just landed is at the law firm that Reese's stepfather owns!
There are awkward moments, sure. There is so much fun and humor in this story. I don't want to spoil what happened in Cancun, because it REALLY IS FUNNY. And then it is really sort of funny how these two try to navigate working together in a professional environment when they had met under such casual circumstances, and then parted in such embarrassing ways without exchanging contact information. The two never expected their fling-that-wasn't-really-a-fling to morph into a professional relationship, then a friendship, then anything more** than that, BUT IT DID. And you guys, just like always, I LOVED reading how it unfolded. There are, of course, bumps along the way for both of these main characters, but they had to lean on each other and their friends to navigate through. And they did. AND WOW IT WAS SO GOOD.
**Oh, yeah, office policy states that there are no office romances allowed. So much fun, this one!
*********************************************************************
I always love a strong, fiesty heroine that is flawed. Reese is and she knows it, and she owns it. At the beginning of the book, Reese is at a kind-of "rock bottom" state, having found her husband cheating – and she has had to call her stepfather to bail her out and help her which, as an adult, can be kind of humiliating. The thing is that she realized THIS was her time to deal with her immaturity issues and clean her self up a little bit. When stepfather Jack offered her the deal that he did, Reese realized that it was a great opportunity to move forward in life, and she took it. The great thing about her is that she never changed who she was as a person – she still loved classic rock music, guitars, old trucks, and things like that. She didn't change anything about herself on the inside because she gained an education and a career, and I loved that.
Reese did act a little crazy and impulsive during her vacation in Cancun, which is when she met Ben (so hilarious) – she never thought she'd see him again! It is so funny how the two ended up not only crossing paths again, but working so closely together. She was forced to deal with the embarrassment of how she left Ben in Cancun, and thankfully Ben's fantastic sense of humor made it a great read and much easier for her to deal with (although I'm sure she would have loved for him to NOT make fun of her, because HE DID). Ben brought to the law firm a sense of humor that none of the other employees had, and I think that once the initial shock of working with him wore off a little bit, his presence in the office actually made Reese like her job even more. It was fantastic that the two ended up working together. It sounds too good to be true in the beginning, but it really works out and is quite humorous and romantic.
More than that, though, I loved their back stories. Both Reese and Ben have some issues within their families that have left them with things that they need to deal with – things that keep them from committing to relationships, trust issues, that sort of thing. Reese has had more than one set of parents; Ben's one set of parents are dysfunctional. The two help each other navigate these issues really well – they bounce their troubles off of one another and understand the hurts and pains that come along with having not-so-perfect parents and how that can result in relationship issues. It's great to read how they work through things, helping each other in such a healthy way. The two spend a large portion in denial that they have feelings for one another because they don't really know or understand what a healthy relationship is or looks like, but in truth THEY ALREADY HAVE ONE. It's lovely when they realize this and have to admit to themselves and one another what "those feelings" that they're feelings really are. This relationship is not one that overcomes some giant obstacle and eventually the two get back together – these two have a really great coming-together and I LOVED IT.
ALSO! It is no secret that I love stories that are heavy on sibling and family relationships, and this one is. I love books that have a great setting, and Five Ways To Fall has a great setting in Ben's mother's orange groves. I loved the way that some of the characters from the previous books were mentioned and a few even graced the pages. In my mind, as I was reading, I was trying to pick out which character would be the focus of the next book (AND I DID), but even so, I think that this is a fantastic ending to what I consider one of my favorite series. I just love, love, loved it.
Five Ways To Fall, I think, could be read just fine as a standalone even though there is mention of previous characters, but I loved experiencing it after having read the previous books. I do believe that either way would work just fine.
I recommend Five Ways To Fall by K.A. Tucker to readers that enjoy New Adult Contemporary Romance, great settings, and books with really fantastic family and sibling relationships. There is great comic relief in this book because of the main character, Ben, and his personality and honestly, I couldn't imagine a better character for K.A. Tucker to end this series with. There is a novella scheduled for release later this year to tie-in with this series, but it will be as a prequel to Ten Tiny Breaths.
I'm telling you guys, I will miss hearing new stories from these characters. I feel like I have gotten to know them and that I have been following them like they're distant cousins or something. That may sound really weird, but as a reader, when you really connect with a series and love it to pieces like I have loved this one, ENDINGS ARE SO TOUGH! But I am excited for this author and I can't wait to see what is next for her, and I am thrilled to have these books on my shelves so I can re-read them in the years to come.
*********************************************************************
Five Ways To Fall will appeal to fans of:

New Adult Contemporary Romance
with Issue
Romance: Slowly developing.
Five Ways To Fall
by K.A. Tucker
is currently available for purchase.
*I received a copy of this book from the publisher via NetGalley in exchange for my honest thoughts and opinions. I received no compensation for my review. Thank you Atria!
*********************************************************************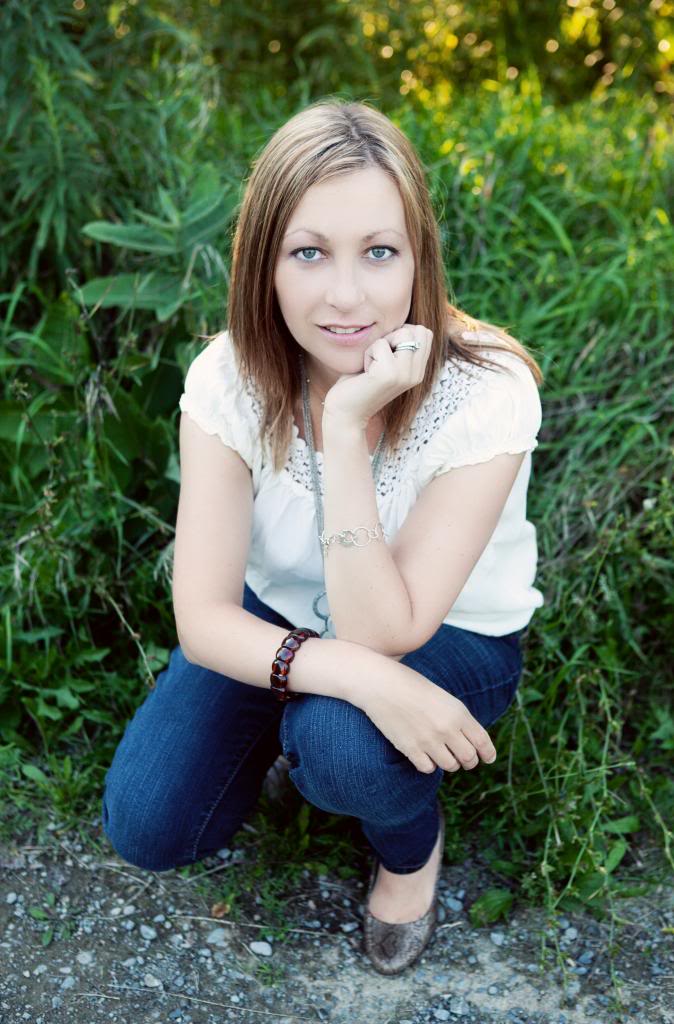 Born in small-town Ontario, Kathleen published her first book at the age of six with the help of her elementary school librarian and a box of crayons. She is a voracious reader and the farthest thing from a genre-snob, loving everything from High Fantasy to Chick Lit. Kathleen currently resides in a quaint small town outside of Toronto with her husband, two beautiful girls, and an exhausting brood of four-legged creatures.
*********************************************************************
Big Giveaway Below!

**Open Worldwide!**