Forever by Karen Ann Hopkins
Series: Temptation #3
Published by HarlequinTeen
Publish Date: January 28, 2014
336 Pages
Source: Publisher for Review
Find it here: Goodreads / Amazon / B&N / Indiebound
All I want is my happily-ever-after.

That's all I've wanted since meeting Noah Miller.

From the day we met, the world has tried to keep Noah and me from being together, but now that I'm carrying his child, no one will be able to tear us apart. Or so I hope. But Noah and I have made some mistakes along the way, and the consequences are impacting the people we love. Worse, there's a storm on the horizon, and it's sure to cause serious devastation.

If we can get through this, we'll finally be Rose and Noah; a family, forever.But first we have to survive the road ahead. And happily-ever-after is a long way off. (from Goodreads)



This is the final book in the Temptation Series.
I have done my very best to keep this review as spoiler-free as possible
with the exception of the information that is included in the book summary
which is noted above.
You have been warned!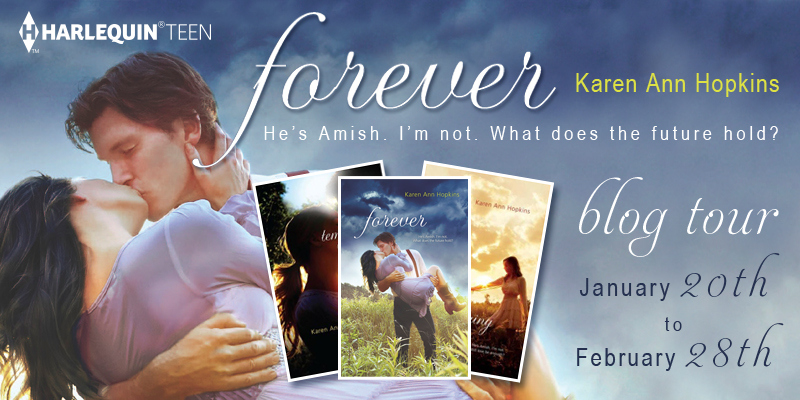 Forever by Karen Ann Hopkins


My Thoughts: If you are a regular reader of this blog, you know that it isn't often that I read books-in-a-series back-to-back but last year I read the first two books in Karen Ann Hopkins Temptation Series in quick succession. I quickly fell in love with the stories main characters, Rose and Noah, and I was invested enough that I wanted to see what would become of these two lovebirds and their forbidden romance.



(You can read my thoughts on
Temptation
HERE
.)
(You can read my thoughts on
Belonging
HERE
.)
It isn't a stretch to say that I've been waiting eagerly and with anticipation for the release of Forever – I desperately have felt a need to know what would happen with these two and with the rest of their friends and family. I am so excited to have finally had a chance to read the final installment in this series and I have to admit, I devoured it. I love young adult contemporary fiction and this book was so much fun for me.
********************************************************
Okay so in quick review, Rose is a "regular" English girl that happens to fall for Noah, an Amish boy. They live near one another and begin a relationship that is real and true, but forbidden by the Amish culture because Rose is not Amish. In previous installments, the two have gone back and forth trying to decide how they can be together in the future (as they are both young still) but the overall question has always been Will Rose turn Amish to be with Noah? OR Will Noah turn his back on his Amish community and turn English to be with Rose? It is obvious throughout the first two books that it is possible that either choice could prove disastrous for the two because somebody is giving up everything for the person that they love. But that is one of the points of this series, isn't it? And that is why I found it so deliciously wonderful and easy to read.
This series is really quite unlike any other that I've read before in that the forbidden romance between Rose and Noah is because of cultural and religious reasons of the Amish vs. English persuasion. I have mentioned in previous reviews in this series how much I enjoyed reading this because I was able to learn quite a bit in the process without the book being preachy about Amish vs. non-Amish or anything of that sort. I love the way the author was able to weave in the bits and pieces of the Amish culture into the story so they were enmeshed and organic to the story without feeling forced. While the cultural issue was always a pretty large part of the story, I feel like it always took a back seat to the romance between Rose and Noah – I love that.
Forever, to me, is much more action-packed – it was filled with more things for this couple to face. I mean, the two have already faced enough that would have had many less-committed couples calling it quits already, but Rose and Noah soldiered on, convinced that their love could endure anything. AND! This time, the things and events that crept up and tried to get in the way of Rose and Noah being together also had various ways of affecting many of the people they loved. Not only was the unplanned pregnancy (mentioned in the summary above) a large part of the story, but there was some other HUGE things that popped up as well that affected both Rose and Noah as well as pretty much everyone else in the book. There were several occasions that I found myself holding my breath through intense scenes and then rather emotional during some of the more trying times in the lives of these characters.
It was a very compelling read and a very interesting story. I thought it was a really great ending to the series. I would easily recommend Forever by Karen Ann Hopkins, and the series as a whole, to fans of YA Contemporary Romance and fans of solid, strong romances. I'm interested in seeing what is next for this author, particularly since I've enjoyed this entire series so very much.
********************************************************
Temptation will appeal to fans of:
YA Contemporary with Romance
Romance: Romance already established.
Alternating/Multiple POV.
Great, fun secondary characters.
Temptation by Karen Ann Hopkins
is currently available for purchase.
I received a copy of this book from the publisher to read and share my thoughts on this blog. All of the above thoughts and opinions are mine and mine alone! Thank you so much HarlequinTeen!
********************************************************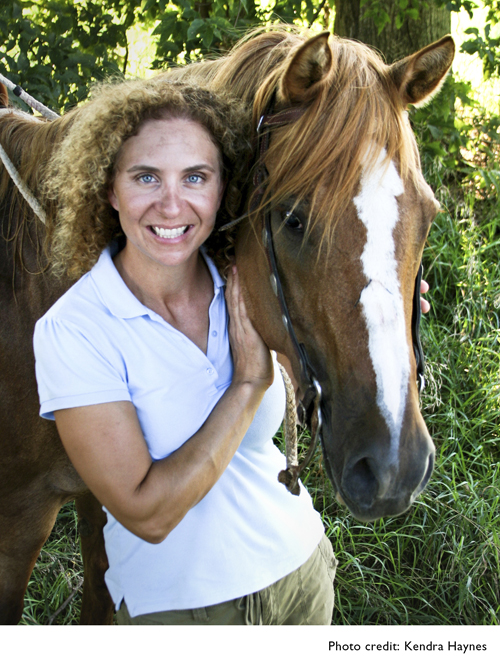 A native of New York State, Karen Ann Hopkins now lives with her family on a farm in northern Kentucky, where her neighbors in all directions are members of a strict Amish community. Her unique perspective became the inspiration for the story of star-crossed lovers Rose and Noah. When she's not homeschooling her kids, giving riding lessons or tending to a menagerie of horses, goats, peacocks, chickens, ducks, rabbits, dogs and cats, she is dreaming up her next romantic novel.
********************************************************
********************************************************