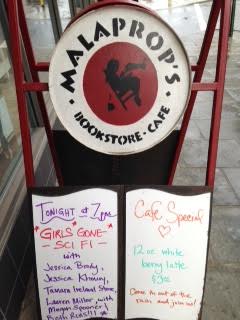 For a fan of young adult sci-fi, this was a fantastic line-up. These authors all have published work that incorporates strong female main characters and also a little bit of romance. Their books show that these heroines can fall in love and also save the world at the same time!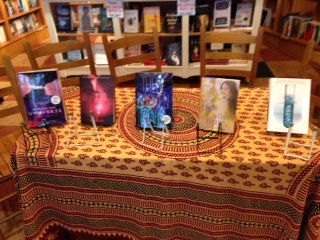 The authors spent a few minutes describing their books, including the science-fiction elements. It was clear to me that while they all had that common thread of sci-fi running throughout, they are all quite different. Represented within this group is a murder mystery set in space, a teen that wakes up with amnesia and no clue why she is the subject of a thrilling and dangerous manhunt, a girl that is a renewable resource that is wanted as a source of power for her city, a romance that incorporates time travel, a group of scientists that create a genetically perfect human in order to create a perfect species, and a younger version of the main character that makes decisions affecting the main character in present day. This does not represent all of the authors' published and upcoming books but serves to give you a sense of how broad the sci-fi category can be, and also that gals can write it up just as well as the guys can.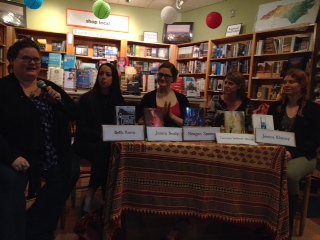 After describing their books, the authors played a couple of games: they read non-spoiler scenes from random pages and they asked trivia questions for the audience to answer – some people walked away with some great prizes including BOOKS and SWAG! And of course, there was a great Q&A session.



Of the Unremembered Trilogy, Jessica Brody reminds us that we should read the books in the order that they were written. In other words, despite the novella being called Undiscovered (Unremembered #0.5), we shouldn't read it as a prequel to the series because IT IS NOT.

When asked about their favorite parts of the #GirlsGoneSciFi Tour, Jessica Khoury states that she has loved introducing Jessica Brody and Tamara Ireland Stone to "the South" (YAY!) while Tamara Ireland Stone has enjoyed the dinners and talking with the other writers, because this time is valuable.

When asked if it is better to have one or more main characters, Meagan Spooner replied that different stories require different structures – for example, These Broken Stars was written as a dual point-of-view structure while her previously-published book Skylark was written with one main character. Jessica Khoury adds that in her opinion, writing more than one main character is much harder – her first book, Origin, has one POV, while her second book, Vitro, has three POV's. Beth Revis chimed in that in her newest work, she has four POV's and that if she gets bored with one, she just switches to writing another!

Jessica Brody and Meagan Spooner have never written a male POV.
.@JessicaBrody got the idea for her Unremembered Trilogy from a newspaper article. She couldn't stop asking "What if…?" #GirlsGoneSciFi
— Asheley Tart (@BookwormAsheley) March 29, 2014
Re: violence in books, @jkbibliophile believes that characters that commit violence do not always equal strong characters. #GirlsGoneSciFi
— Asheley Tart (@BookwormAsheley) March 29, 2014
TIME BETWEEN US & TIME AFTER TIME by @tamaraistone comprise a duology – the 1st from Anna's POV, the 2nd from Bennett's POV #GirlsGoneSciFi
— Asheley Tart (@BookwormAsheley) March 29, 2014
Did you know ORIGIN and VITRO by @jkbibliophile take place simultaneously? Companion series FTW! #GirlsGoneSciFi
— Asheley Tart (@BookwormAsheley) March 29, 2014
I had the privilege of meeting with these authors alone for a few minutes before this event began and first, let me tell you – THEY INTRODUCED ME TO CREPES. Where have these little pieces of heaven been all of my life? It was a glorious snack, lemon-y and delicious, and I have craved another one since that first one. Thank you, ladies!


During our discussion, I had the opportunity to discuss several things that I personally love about books and the industry with these authors – things I normally don't get perspective on when I talk back and forth with my reading friends. I discussed audiobooks, book covers, reading books from the library vs. buying books, things like that. It is always nice to have candid talk from people on the "other side" of the industry since I am so fascinated with it, and I loved hearing what they had to say. Without getting too personal:
More than one of these authors enjoy audiobooks regularly, but not all of them do! Most do not enjoy hearing their own books via audiobook, and not every author gets the opportunity to "choose" their narrator (although sometimes they are asked for their preferences). — As an audiobook lover myself, this part of the discussion made me geek out quite a bit.

What I heard from this group of authors is pretty consistent with what I typically hear from most other authors about not having very much "control" over their book covers – HOWEVER, this group of ladies all seemed very happy with their covers, even the covers that had been changed a time or two. I agree, this group of books has great covers. (You all know how I feel about book covers.) Jessica Khoury noted that she was particularly happy with her covers as she felt they had appeal across both genders, and I agree. (I happen to know more than one male YA reader and while I *DO NOT* feel they would disregard these books at all based on their covers, they might choose to read several of them on an electronic device or via audiobook based on the cover.)

THIS IS A BIG ONE! Each of these authors stated and restated that they do not, do not, do not care whether readers are reading their books from a purchase or a library, as long as they are legally purchased somehow and not illegally downloaded. I agree with this 100%. Piracy stinks, you guys. So none of us have to worry about approaching authors with our tails tucked between our legs when we have read books that we have checked out from the library!

We talked about love triangles and insta-love, but you know what? I'm not even getting into any of that. We all have our opinions and we all deserve to own them. It was super fun to discuss my own thoughts with authors, though! Loved that.
SCI-FI SELFIE with @MeaganSpooner @bethrevis @JessicaBrody @jkbibliophile @tamaraistone #GirlsGoneSciFi #OscarStyle pic.twitter.com/KiqJNK3yrm
— Asheley Tart (@BookwormAsheley) March 30, 2014


You guys, I can't even tell you how much it warms my heart to even ATTEND an author event — much less to have a chance to have a nice chat with a group of warm and gracious hosts like these. I am forever fans of these ladies and cannot wait to share with you all the wonderful, signed goodies that they left with me to give to one lucky person!





Thanks to the generosity of these authors
I am able to offer the following signed books
to ONE LUCKY PERSON!
(US Only) * (Ends 6/20)
A COUPLE OF THE HAPPY TIMES FROM MY TRIP:
"Headed to #GirlsGoneSciFi at Malaprops Bookstore! Jessica Brody, Jessica Khoury, Lauren Miller, Tamara Ireland Stone w/Beth Revis & Meagan Spooner! WHAT!! I know. — It's 332 miles to Asheville. We've got a full tank of gas, half a pack of gum, it's rainy, and we're wearing sunglasses." – via Instagram
I had my first crepe tonight. It was amazing.
— Asheley Tart (@BookwormAsheley) March 30, 2014