YOU GUYS!
I have a real treat for you today!
If you've been reading my blog lately, you may have noticed
I want to share a guest post from
none other than
ANTONY JOHN
that has my heart all aflutter!
You guys may know him from his Contemporary YA books
but did you know he has a FANTASY coming out this Fall?
AND it is set in Coastal NC? Right here, on NC's own Outer Banks??
THAT makes this Southern heart go pitter-patter, you guys!
So I emailed Antony John and asked him if he would share a little bit about
why he chose the incredible Outer Banks of NC as a setting
for his upcoming departure from contemporary YA, Elemental.
********************************************************************************
In 1996, I moved to the States for grad school; specifically, Durham, NC, where I did a Ph.D. at Duke. School may have been the lure, but I quickly discovered that North Carolina was the most beautiful place I'd ever been. I lived there until 2002, then spent 2003 teaching at the University of South Carolina in Columbia. By the time I moved to Seattle in 2003, I had developed a fascination with the Carolinas that will never go away.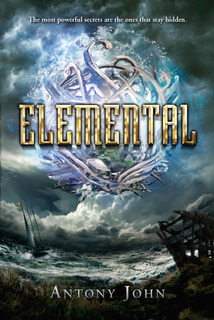 In particular, I wanted to set a book there—one in which the awesome beauty of the land and the dramatic weather patterns would be thematic, not just illustrative. Several years later, I got my chance when my editor at Dial expressed interest in a fantasy trilogy I'd proposed, called ELEMENTAL. The first novel is set on the Outer Banks. Here's why I chose that setting . . .


One of the hardest—if not the hardest—element of writing a fantasy novel is worldbuilding. And to me, an integral part of that is setting. These are my earliest brainstorming notes for ELEMENTAL:
Elements: Teens can control elements – must make this dynamic and cool.

Setting: OBX – Roanoke / Hatteras. Nautical history; shipwrecks; lighthouses; Lost Colony; hurricanes etc etc
Notice which of those lines is longer? Yup, the one about setting.


See, to me, the Outer Banks are a somewhat mystical place. On most coasts, you stare out at a (presumably) wide expanse of ocean. But on Hatteras Island, you stare out at the Atlantic (to the east) and the Roanoke Sound (to the west). On cloudy days, the sound itself can appear almost like an ocean, so that you feel as though you're standing on the last strip of earth on an otherwise watery planet. (Okay, so that's a little whimsical, but if you've been there, you'll know what I mean.)


Ocean to the east, Sound to the west
But there's more to it than that. For all their popularity as a tourist destination, the Outer Banks are just remote enough to have withstood some of the horrific overdevelopment suffered by other coastal areas. Go off-season, and it's not impossible to imagine the area as it must have appeared to John White and his colonists when they established their ill-fated colony in 1587. It is, in other words, a timeless place.


Hurricane Irene hammered
NC's Outer Banks on
August 27, 2011
It's also a place where kayaks can seemingly disappear into maze-like waterways, and land becomes marsh in a single step. The region has its own ecosystem. Because the terrain is constantly in flux (hurricanes, in particular, can invalidate maps overnight), the area is perfect for a fantasy novel. Need to adjust the landscape? No problem. Need to recreate the look of the island? Again, no problem. Nature does it all the time.


Every fantasy novel has a hook, or some aspect that drives our imagination. On the surface, my hook is that the teens can manipulate the elements—earth, water, wind, and fire. But in deciding how they control the elements, and to what end, I thought very hard about the Outer Banks, and what it would be like to grow up in a tiny, remote colony, untouched by the rest of human kind. I realized that someone with the element of water would have less use for creating a tsunami than for reading the shifting tides, and the predicting the impact of storm swells. Those who grow up on small islands have a unique relationship with land and water, I believe, and this book gave me the chance to incorporate fantastical elements within a setting that is both striking, and yet recognizably real world.


Of course, I take some creative license. You won't find mention of Pamlico Sound, just Roanoke Sound, because I didn't want to confuse readers. I've tried to simplify geography a little, so that readers aren't forced to consistently refer to a map. But my hope is that as people read the book, they'll be transported to a place that feels both awe-inspiring and familiar . . . and maybe even be inspired to visit!
********************************************************************************
Antony John was born in England and raised on a balanced diet of fish and chips, obscure British comedies, and ABBA's Greatest Hits. In a fit of teenage rebellion, he decided to pursue a career in classical music, culminating in a BA from Oxford University and a PhD from Duke University. Along the way, he worked as an ice cream seller on a freezing English beach, a tour guide in the Netherlands, a chauffeur in Switzerland, a barista in Seattle, and a university professor. Writing by night, he spends his days as a stay-at-home dad—the only job that allows him to wear his favorite pair of sweatpants all the time. He lives in St. Louis with his family.




********************************************************************************
Antony John has very generously offered
one very lucky reader a

Signed ARC of Elemental

.
To Enter the
GIVEAWAY
for the
Please makes sure to leave a comment here and/or on
Richard's blog to thank Antony John for stopping by!