Today I'm excited to be giving away a
SIGNED copy of Genevieve Graham's
SOUND OF THE HEART!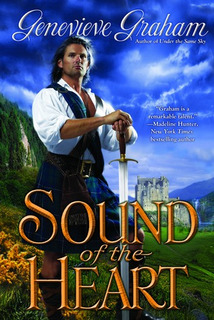 Dougal MacDonnell, a fierce warrior from the Highlands of Scotland, is able to hear the thoughts of other men and dream how the future will unfold. Devastated by the loss of his family during the Battle of Culloden in 1746, he fosters a deep hatred for the English. But when Glenna, the love of his life and a Scottish outlaw, is captured and shipped overseas, Dougal is forced to join an English army made of vanquished Scots. Now fighting on the side of his sworn enemies, he embarks on a journey that will take him across the seas to the colonies. There he will risk everything for the chance to find his true love.
–(summary from Goodreads)

I've read both of Genevieve Graham's books and I am super excited to read the next book, which will be coming out in 2013. These were the first Highlander stories that I ever read and I became a fast fan of Graham's work. One of the things I love about these books is that even though they feature some of the same characters, you can read them in either order. The covers are beautiful (Hello there, Dougal!) and the stories are incredible. I adore these characters and I love the settings just as much. Did I mention that I'm excited about the next book?
"Listen to your heart"
*******************************************************

GIVEAWAY!
I am offering one SIGNED copy of
SOUND OF THE HEART courtesy of
Author Genevieve Graham!
(US/Canada Only) * (Contest Ends 9/27)
a Rafflecopter giveaway

*******************************************************
Read my thoughts on Under the Same Sky HERE.
Read my thoughts on Sound of the Heart HERE.