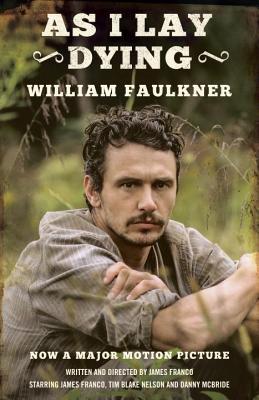 As I Lay Dying
is Faulkner's harrowing account of the Bundren family's odyssey across the Mississippi countryside to bury Addie, their wife and mother. Told in turns by each of the family members—including Addie herself—the novel ranges in mood from dark comedy to the deepest pathos.
I wish I could say that William Faulkner has been a favorite of mine for a long, long time but alas, I cannot. The truth is simple and silly: when I saw that James Franco's As I Lay Dying was streaming on Netflix, I knew it was finally time for me to read the book. I had wanted to for a long time anyway and what better time than now, with the movie so easily accessible thru Netflix? I checked it out of the library and fell in love. L-O-V-E,
love
.
I love Southern American literature.
THE BOOK: Addie, the matriarch of the family, is dying when the book opens. She has made her family promise to bury her a few miles away, in another town, when she does. Well, she dies and OFF THEY GO. The problem is that Addie dies around the time a massive summer rainstorm floods a nearby river, and they have to cross it. By horse-drawn wagon. Oh, and the bridges are all washed out. Everything that can possibly go wrong DOES. Actually more goes wrong than you could ever imagine.
The Bundren family is…just…WOW. They're so dysfunctional. I think they love one another but I'm not sure that they like each other very much. None in the bunch seems very capable of making good choices and they're all keeping secrets from one another. They're barely hanging on by the time the novel starts; this trip to bury Addie is what may finally break them as a family.
The Bundren family is that family to everyone that knows them. THAT family. The one they shake their heads over.
Structurally, the book is told in several points of view, in very short chapters. The language can be a little tough to understand at times because of the dialect (but also because one or two of the characters seem to be losing their minds a little bit). I absolutely love this Deep-South, bare-bones, "mountain-people" story; this poor family that can't seem to get anything right. Some of the things that they do just made my mouth hang open. I want to read this book again! I want to buy it and read it until the cover is worn to pieces.
THE MOVIE: I am a huge fan of James Franco, so he was obviously the big draw for me. He wrote the screenplay and directed the film PLUS he plays Darl Bundren, one of the sons of Addie and Anse. Three things I love about this movie:
1. The way the movie is filmed is different and interesting. It shows two points-of-view with two camera angles in certain places, which is kind of consistent with the multiple narrators in the book. (I'm not a movie critic so I do not know the technical terms for this, but I thought it was awesome because it represented the book very well.)
2. The actors and costumes and setting were so believable for the Bundren family and the poor in the American South in the early 1900's.
3. Logan Marshall-Green as Jewel Bundren and Tim Blake-Nelson as Anse Bundren are INCREDIBLE.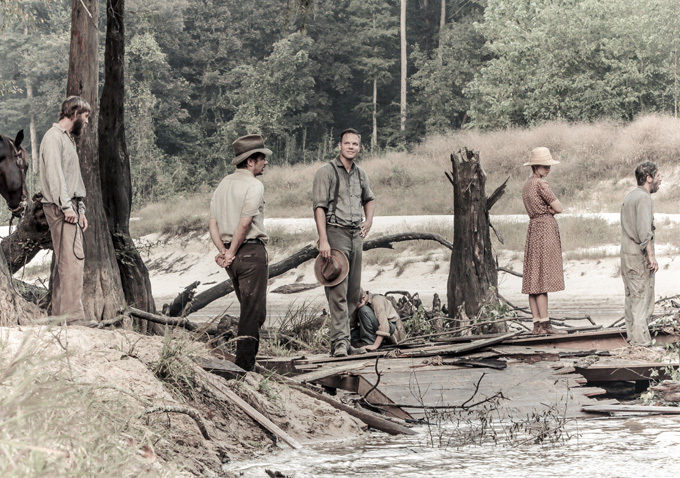 Jewel Bundren, far left; Anse Bundren, far right
Source
I've read that some people call William Faulker pretentious because of his books, and okay, whatever. I absolutely loved this book. It wormed itself so deeply into my heart because of the time period and the setting, to be honest, because I am such a fan of books and stories similar to this. The Bundren family, Anse Bundren in particular… well, I'm not sure if they don't know any better part of the time or if they are just pathetic. But I loved the story of this journey.


As for reading the book first, I prefer doing that…but if it comes down to someone just not wanting to read this book at all, I hope consideration is at least given to this movie. People tend to love or not love Franco's movies; I usually really like them. This is definitely one of my favorites. I thought it was a great adaptation.
Have you read any classics lately?
Have you read anything by William Faulkner?