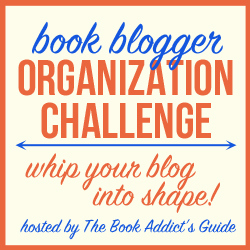 Click HERE for challenge details
When I first noticed that the 2015 Book Blogger Organization Challenge was an actual thing, I thought it was one of the best ideas out there. I always struggle with keeping my blog up-to-date on every. thing. because I'm not as organized as I probably could be, and that's only partly because I usually don't know about the coolest apps and gadgets until someone else brings them to my attention. In fact, at the same time I found out about this challenge, I found about Wunderlist, and began using it immediately. (I still haven't begun to use it to its full potential, though, but I'm totally working on it!)
SEE, that's why I'm signing up for this challenge. Basically.
Why are you doing this, Ash?
The 2015 Book Blogger Organization Challenge caught my eye because it is an organized way to…well, get organized. It seems super laid-back, which I need. The host, Brittany from The Book Addict's Guide, is so encouraging and helpful about it already — and it hasn't even started yet. You guys, I love this blog so much, but I always feel like I want to have little mini-organization sessions to make improvements. Time is always working against me, though! PLUS I tend to get side-tracked easily. This challenge seems like a great way for me to catch up on some of the things on my mental to-do list. (Because I don't have an actual to-do list. I'm not that organized. Yet.) Also, I'm not exactly "up" on tech-things and computer-things, but I'm hoping that lumping myself in with a group of like-minded people will give me an upper-hand in case I need to shout out for help or advice or opinions.
What are the rules?
There are basically no rules. Brittany has come up with guidelines to help us all stay organized, which I think is really awesome because it makes it feel less stressful for me. In fact, this Intro Post that I'm writing right now isn't even required — I just wanted to spread the word about this challenge/event so more people know about it. We can all help each other, and I'm thankful that Brittany has taken the lead in getting things going! Here are Brittany's words about RULES:
I put rules in quotes because really, there are no "rules" to follow. This is titled as a challenge, but it's more of a way to consistently keep organized. The guidelines are simply this: follow the month's theme and work on what you can. Not everyone will need each bullet point. Some people will think of more things to add under the theme…Work on anything related within the given month. There is no "failing" in this challenge. If you've done anything to work on your blog, you're a success!

The Blog Organization Challenge will run from January 1st to June 30th. If all goes well, we'll start all over in July (blog maintenance is constant!) and even add more things to work on because I know I won't think of everything as we go along.
Participants can join in at any time! It's never too late to join. I have a linky for sign-ups below (no sign-up post is required but feel free to spread the word that you're joining in!) and do whatever you can each month. Everyone is bound to have a busier day/week/month so just do what you can when you can! And don't forget to grab the button!
Feel free to make your own "mini-challenges"! I won't be officially hosting any mini-challenges but if you have a discussion, how-to, or mini-challenge (past, present, or future), send me the link and I'll include it in appropriate month's post!
Want to chat about it on social media? Use the hashtag #BlogOrganization! Find a buddy, grab some ideas, get motivation, ask questions… Sky's the limit!
***********************************************************************
So what does the challenge schedule look like?
This is what Brittany has come up with for everyone so far! I think it's awesome.
Want to see what the upcoming months have in store? Here's a general outline of what we'll be focusing on each month!

JANUARY: Reading challenges & resolutions

Picking challenges, making resolutions, scheduling, forming plans, picking reading/blogging buddies,

FEBRUARY: Blog maintenance

Updating old reviews, pages, layouts, features/memes, contact info

Clean up images, broken links

SEOs

MARCH: Social Media + Review Ooutlets

Update social media accounts: bios, who you follow, delete old accounts you won't use, resolve to use some accounts more

Organize Goodreads shelves: duplicate copies, version of books, creating shelves, removing shelves

Cross-posting

APRIL: Graphics, HTML, CSS, Plug-ins

Update graphics for posts/memes/events, update button, update header

Learn Photoshop/Gimp/PicMonkey

Brush up or try to learn simple HTML and CSS (for layouts, fonts, etc). Take this month to delve into the scary world of coding! (Or at least teach yourself one new thing!)

MAY: Book clean-up + spring cleaning!

Culling shelves, giveaways, donations, giving back borrowed books

Reading books you were given as gifts, ARC catch up

Rearranging shelves, updating Goodreads again, giving back borrowed books

More cross-posting & cleaning up GR shelves

JUNE: Freebie

Recapping what you've organized, focus on biggest area of need, review TBR list
I'll be perfectly honest and tell you that I can't look at the list as a whole just yet because it is a little overwhelming for me — this is nobody's fault but my own. This also means that the lines of this challenge may get a little blurry and I may end up working on some of May's list (for example) throughout the entire six months. THIS IS OKAY. This. Is. Okay. This challenge is not difficult and it will be fantastic for me, my blog, and my organizational skills as a whole. I hereby declare it!
***********************************************************************


Brittany broke January's schedule down for us! Remember these are Brittany's words, not mine. I do not take credit for this list!
JANUARY'S THEME: Reading challenges, scheduling, & resolutions
Planning 2015 challenges

Research which 2015 challenges you'd like to take part in. See below for some ones that I've found and if you know of any more, leave them in the comments!

Pick a few specific books to read each month. I know some people mood readers and can't PLAN which books to read (totally me) but last year I picked a few ARCs that I wanted to read in a specific month (or books for other challenges/read alongs, etc) and then I was able to read them within that month but any time I was in the mood for them instead of "read by X" date (which usually made me NOT want to read them).

Schedule challenge intro posts!

Picking 2015 resolutions

Think about what you want to do with your blog in the year to come. (Or even the next few months) Do you have a "big picture"? Anything specific you've been meaning to do? (Add a new feature? Finally switch to self-hosted? Add a co-blogger? Try new genres?)

Make a list and pin it up somewhere you'll see pretty often (fridge, office, wall, etc) so it won't fall by the wayside.

Make a Goodreads shelf! Have some books you know you want to read in 2015? Make a list on Goodreads (or a physical list) with new or older reads that you want to read this year.

Schedule resolution post!

Find a buddy!

Work better with motivation? Find a blog maintenance buddy & work on things at the same time!

Need someone to help you through some reads? Been meaning to read some big books but are intimidated by them? Grab a friend to do an informal read along!

Make plans to read and write!

Not everyone does well planning ahead or writing things down with a specific schedule… but if you're one of those people (or want to try) now's the time to look for a nice planner. Treat yourself with a nice one and maybe even fun pens or stickers to help keep you motivated to keep track and also stay on track! Pen and paper not your style? Trying using Google Calendars or Wunderlist! (Also super easy to move things around!)

Are you someone like me who has a limited amount of time to read or write? Try to pick a day/time to work on blog things or to read. Make a plan so your parents/sig other/friends will know you're busy and you can schedule around it.
***********************************************************************
You can go HERE for a big list of even more 2015 challenges just waiting for more participants!
You can also go HERE to sign up to participate in the Book Blogger Organization Challenge. Sounds like a great idea!
I'm really nervous about being able to keep up with this one, you guys. But I'm going to do my best!
Are you participating in
The Book Blogger Organization Challenge?