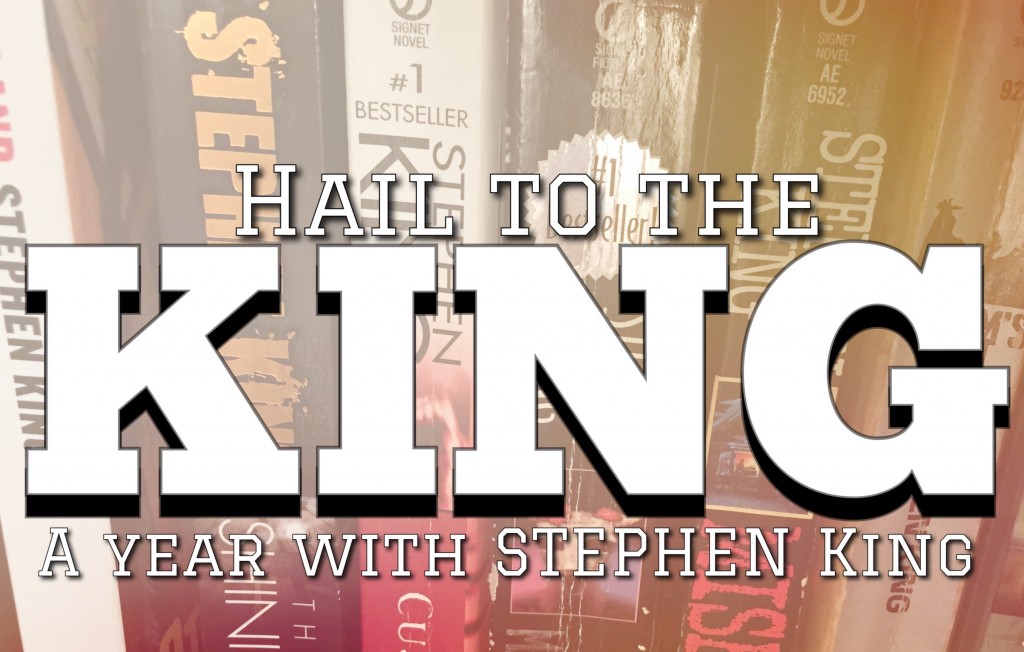 Click HERE for challenge details
Confession: I've never read anything by Stephen King before.

Truth: Horror is not my favorite thing. I know Mr. King writes other types of books, but when I look at the size of most of them, I kind of think Nahhh, and then keep browsing for something else. More than one person has recommended more than one of his books to me throughout the past few years, and still I HAVE NOT picked these books up. More significantly, my guy Michael always tells me I need to read
something by him. He names book after book after book, absolutely SURE that I'll like them.
Stephen King duck fan faces?

Oh my.

I laughed out loud when I came across the 2015 Hail To The King Challenge, hosted by Cass at Books With Cass and Leah at The Pretty Good Gatsby — I laughed because with a challenge like this, Cass and Leah have given me NO EXCUSES to keep brushing Stephen King and his books aside, especially when I've got a guy here at the house that so desperately wants me to give them a try. (King is his favorite, you see.) I stared at my computer screen for a while, heart pounding, because I KNEW I had to sign up.
Why are you doing this, Ash? The 2015 Hail To the King will expose me to Stephen King for the FIRST TIME and hopefully make the husband proud. I'm not one of those die-hard fans that wants to re-read or read more King, you guys. I'm a complete and total newbie. This challenge is ready-made for me. <gulp>


What are the rules? According to Cass and Leah, here are the rules:
Sign up at the bottom of [this] post.
Answer the questions listed…in your own Intro Post that lets us know you're IN and your goals
READ, READ, READ!
Have fun! Post reviews of any Stephen King you read because for giveaways, that will earn you POINTS!

Take part in the Check In Posts! [6 total] That will also help you for giveaways, and for keeping track to see if you've LEVELED UP!
What are these questions they ask, hmmmm?
1. What got you into Stephen King?

I can't say that I'm 'into' Stephen King since I've never read any of this books, but maybe that will change over the course of this year — who knows!?
2. How long have you been a fan? Or are you a newbie?

That also means that I'm not yet a fan, total newbie here, but my husband is a MASSIVE fan, as are some of my great real-life friends and great reading friends. This will be fun for me whether I love the books or not. I'm excited (and nervous)!
3. First King book you read? [or plan to!] Did you like it?

The first book that I *plan* to read is The Long Walk in both print + audiobook formats. It looks creepy but completely intriguing. Totally plan to blog about it, so I'll share my thoughts with the world.
4. Level you're aiming to achieve!

I'm shooting for the Scaredy Cat level, 1-3 books, because I'm a total King noob. If I happen to go above and beyond 1-3, I'll be handing out high-fives and announcing it to the world on social media with the #hailtotheking hashtag.
Scaredy Cat:

1-3 Novels or Short Stories
Need a Night Light:

4-7 Novels or Short Stories
No Monsters Under MY Bed:

8-11 Novels or Short Stories
Daredevil:

12-15 Novels or Short Stories
If you're interested in participating in Hail To The King, you can Sign Up HERE. Wish me luck! The last time I participated in an event because I was curious about it, I ended up LOVING it (it was an event for Contemporary YA and now I LOOOVE YA Contemps). Maybe I'll be a huge fan after this year!
Do you enjoy Stephen King's books?
Are you participating in the
Hail To the King Challenge?