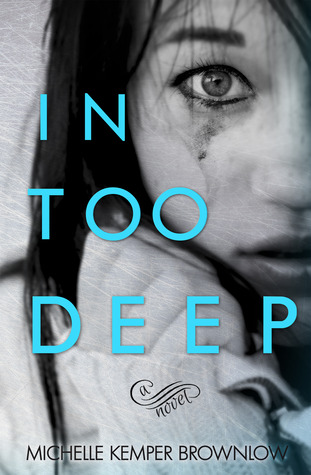 In Too Deep
by Michelle Kemper Brownlow
Publish Date: June 6, 2013
Published by Sapphire Star Publishing
Source: Author for review – Thank you!
Find It: Goodreads / Amazon / B&N


Gracie has just finished her freshman year of college in Memphis when she takes a job at a local pizza joint in her home town of McKenzie, Tennessee. She is the epitome of innocence when she meets Noah. Noah is unabashedly handsome, intriguingly reckless and just cocky enough to be sexy. Gracie's instincts tell her to stay far away from him and based on the stories she hears from her co-workers he leaves broken hearts in his wake. But still, she can't explain her fascination with him.

Noah puts aside his bad boy ways when what he thought was a summer crush has him unexpectedly falling in love. But soon after Gracie transfers to UT Knoxville to be with Noah, their unexpected love becomes riddled with anger, deceit and humiliation.

Jake, Noah's former roommate and Gracie's best friend, can no longer be a bystander. Gracie's world falls out from beneath her and when she breaks she turns to Jake for strength. As Jake talks her through a decision she's not yet strong enough to make, together they uncover a truth so ugly neither of them is prepared for its fallout. Will Jake pull her to the surface or is Gracie Jordan finally In Too Deep? (from Goodreads)



In Too Deep by Michelle Kemper Brownlow


My Thoughts: In Too Deep is a book that deals with psychologically abusive relationships. This one was tough for me, friends. Hello, trigger warning! BUT I found it realistic and true whether you read it and like the protagonist or not. Period. I am so grateful that I took the time to read this one and I'm hoping that some of you will pick this one up too, whether it is because you're interested in the story or perhaps because you're interested in this type of psychological abuse, because it is real and it does exist.



*********************************************************************
Gracie finds herself attracted to a boy at work – Noah. Gracie has heard through the grapevine that Noah is a womanizing jerk, so she feels prepared to resist him, but GOOD GRACIOUS, she wasn't expecting for him to be so good-looking. Fast forward and eventually, Gracie realizes that she's falling for him and you know what? Noah doesn't seem to be as bad as everyone makes him out to be! He's sweet to her, super-kind to her, and he makes her feel pretty good about herself. At first, she's reluctant to be with him because of his reputation, but Noah is persistent and tells her things that make her feel like a million bucks. Gracie justifies her actions and the actions of Noah. And then she does it again. And again. And again…
(Well, hello there, codependence!)
Now please understand that Gracie left her boyfriend for Noah. Such a great guy. Stable. Comfortable. GOOD. Gracie had been with him for two whole years before she just jumped ship to be with Noah! WHAT?! I know, I know. (Y'all can't see me shaking my head – see, I personally can see what's happening here a mile away. I CAN SEE THESE SIGNS AND I'M SCARED FOR HER. I digress.) The thing about Noah is that he has this wonderfully sensitive side that no one gets to see except for Gracie, which is one of the reasons she left Joel to begin with – that side is the one she fell in love with. (Can ANYONE see where I'm going with this? Anyone?)
Friends, Noah brings this really interesting thing into Gracie's life that Joel didn't: he is a very un-cautious guy, dangerous-acting, like a rebel. Gracie finds this so very exciting, this non-safe thing. Girls love their bad boys, right? Gracie just loves him to pieces, falls so hard. Fast forward again: they eventually go off to college and things take a weird, bad, nasty turn. And this is where things get ugly and hard for me.
Noah has this old pattern, see, the one people tried to warn her about – womanizing, stuff like that. This is the side she never saw. She only saw and fell in love with 'sensitive Noah.' Well, at college, he goes a little crazy, becoming his old self again, and Gracie doesn't really know what to do with that. Gracie tries to talk to Noah, tries to reason with him, tries to stand up for herself – but don't you know that boy can sweet-talk her into believing anything he says? And then she feels stupid. GRACIE TRIES TO STAND UP FOR HERSELF, YOU GUYS. She wants to end things, over and over, but somehow this guy just pulls her back in. Over and over. THIS, guys, this is probably where the photo on the cover comes from – that helpless and hopeless feeling that Gracie feels when this happens, because she knows that she's being suckered.
Is it just me, or do we see this over and over in real life? Don't we?
YES. Yes, we do.
Okay, so enough about the awful guy. ENTER JAKE, the good guy. Jake is Gracie's friend. This guy is GOOD. He is good, you guys. He is just so unlike Noah. With kind words and love, Jake is supportive of Gracie – not judging, just BEING. He is there for her, just being her friend. This guy picks up the pieces and puts Gracie back together when Noah tears her apart, and he understands that she tries to get away. There is so much that I love about the relationship between Jake and Gracie, and this is just compounded by the fact that it is a guy-girl friendship AND WE ALL KNOW HOW I FEEL ABOUT THESE GUY/GIRL FRIENDSHIPS.
So what ends up happening? Hmmm. Well we can all speculate, can't we?
*********************************************************************
In Too Deep by Michelle Kemper Brownlow has taken a story and tackled it in a way that was tough for me to read but also kind of cathartic for me, which was really interesting. Where other readers and reviewers might just be reading for enjoyment, I feel like I'm breaking my personal reading mold and reading for something else entirely.
In Too Deep resonates deeply with me because I feel like I can absolutely understand Gracie as a character. Interestingly enough, while she upset me a few times and frustrated me more than a few times, I still felt so much compassion for her and understood probably better than most where this girl was coming from. I know people like both Noah and like Jake out in the world and I think that the trio of characters in this book, at least from my experience, is written very well. So well, in fact, that I read it with my breath caught in my throat at times and clutching my Kindle, and sometimes having to stop and take a few breaths and just settle down, Asheley, this isn't real. I am thankful for this.
Gracie's story is one that many will pass off as annoying. Why did she behave this way? Why didn't she just stand up for herself? Why this, why that? Well, there are several reasons. But the truth is that this is just one girl's story, and let's all just read it that way, okay? Gracie got caught up in a relationship that wasn't a very healthy one. She was experiencing some psychological abuse and you guys, that's really hard to get out from under. These abusers can sweet talk, they can take your words and twist them and turn them right back on you, and they can also make you forget that you ever wanted to leave them. So let's cut Gracie some slack even if she makes us feel frustrated. RATHER, let's take the chance on this book to understand what someone in this situation may be going through. I love Gracie even though I wanted differently for her, better choices. I wanted to reach through the book and MAKE better choices for her.
And Jake, oh sweet good grief Jake. All I have to say about him is this: THERE IS NOTHING LIKE A GOOD GUY FRIEND. When you find one, hold onto him with all of your heart. They are different than gal friends, people. Girls can be the best, but a guy can understand things that girls will never, and there is a different kind of/lack of judgment. Jake was wonderful and by far the relationship between Jake and Gracie was my favorite part of this book. For me, these scenes were my exhales.
In Too Deep by Michelle Kempler Brownlow was a great book. I enjoyed it a ton but that isn't to say that it didn't strike something within me that made it a little on the tough side to read. BUT to the author, I will say thank you for this one. I will be revisiting it as a non-review re-read because I want to do this whole thing over again. So precious was this time for me, so cathartic.
I recommend In Too Deep by Michelle Kempler Brownlow for fans of YA/NA Contemporary Romance with issues and books that have a college setting. I have to put a trigger warning on this one for anyone that might be experiencing pschologically abusive relationships, but I will say that you know what? Reading this one can possibly be a healing and cathartic experience if you're in a place to be able to do so. Great book. Thankful for the opportunity to review this one!
*********************************************************************
Michelle Kemper Brownlow has been a storyteller her entire life. Her debut was on the high school cheerleading bus granting requests to re-tell her most embarrassing moments for a gaggle of hysterical squadmates.
Earning her Bachelor's degree from Penn State University in Art Education and then marrying her very own "Jake," she moved to Binghamton, NY where she taught high school. After having two children she quit work and finished her Master's degree in Elementary Education at Binghamton University.
The Brownlow family of four moved to Michelle's hometown of Morgantown, PA while the children were still quite young. A few years after moving, her family grew by one when they welcomed a baby into their home through the gift of adoption. The family still resides in PA, just miles from where that high school cheer bus was parked.
Michelle has been an artist for as long as she can remember, always choosing pencils and crayons over toys and puzzles. As a freelance illustrator, her simple characters play the starring roles in numerous emergent reader books published by Reading Reading Books.
"Writing is my way of making sense of the world. When I give my characters life on the pages I write, it frees up space in my mind to welcome in new stories that are begging to be told," says Brownlow.
*********************************************************************
In Too Deep will appeal to fans of:

Young Adult Contemporary Romance
Setting: College
Issues/Trigger Warning: Psychological/Emotional Abuse
In Too Deep
by Michelle Kempler Brownlow
is currently available for purchase.
*********************************************************************
Guys, give this one a shot!