I'm excited that today is my stop on the
Inhale Exhale by Sarah M. Ross Blog Tour!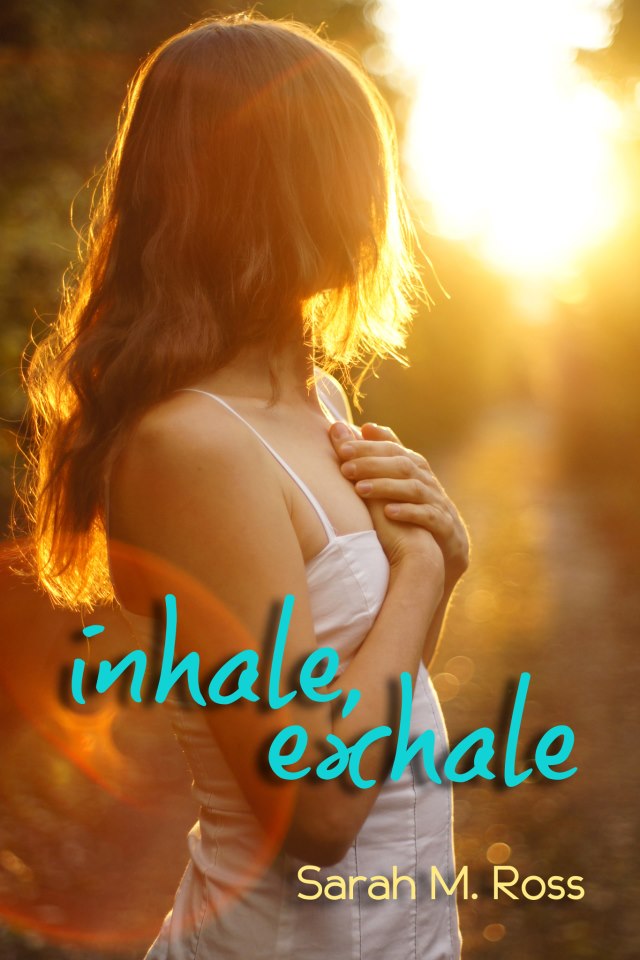 Inhale Exhale by Sarah M. Ross


Publish Date: May 4, 2013




Source: Author for Review –

Thank you!
Jillian had a plan: celebrate the end of her first year of college with an amazing summer full of beaches, barbeques, and bonfires. When her mom insists she needs a summer job, and her boyfriend spends more time with his band than with her, Jillian's plans go down the drain.
Grant had a plan: finish his Masters, get a great job at Google, and get the hell out of Georgia. He might be giving up some of the fun of his youth, but he knows his all work and no play method would be worth it when his dreams came true.
But things never go according to plan.
When temptation brings them together and tragedy tears them apart, Jillian and Grant will be forced to choose: fight for their dreams, or fight for each other.
-(from Goodreads)
********************************************************
I'm thrilled to have Author Sarah M. Ross on the blog today
to answer a few questions for us!
********************************************************
Hi Sarah! Thank you so much for stopping by Into the Hall of Books! I'm so excited to have you here today. I've been doing a little peepin' on your blog and I have a few questions for you!
Thanks so much for having me!!
1. You mention that you like to read your Kindle by the beach with your toes in the sand (me too, me too – you're SO speaking my language!). What's waiting on your Kindle that you can't wait to dive into?
Oh! So many good books that just came out or are coming, my "one-click" finger might get a
cramp! Haha!
One Tiny Secret by Adam Kunz
comes out next week, and I was lucky enough to
get an ARC. Oh—be ready to dive into that one.
2. You're a little bit of a Cover Girl like myself – you love books with nice covers! Are there any great covers catching your eye out there right now? Do you ever choose what you read based on the covers?
3. When you have to choose excerpts for things like the teasers you share on your website and for blog tours and such, how do you choose which excerpts make the cut?
It was actually really hard for me to decide, but basically I thought about what scene would
really make someone want to turn the page to keep reading and find out what happens next.
Once I put it in that mindset, I knew exactly what I was going to pick!
4. You've written several fantasy/paranormal books – your Patronus series and Echo of an Earth
Angel – but what made you want to take the leap into New Adult Contemporary Romance? Do you think Contemporary Romance was easier or harder to write than your previous books?
Last summer my best friend came to visit, and we were at the beach talking for hours. She
said something about how she met her husband, and somehow hearing the story again, the
characters of Jillian and Grant were born in my head. At the time, I was trying to finish writing
Avenge
, so I didn't start working on it right away, but the characters wouldn't go away. In fact,
they got stronger. By the release of
Avenge
, I knew I had to write
Inhale Exhale
next.
Writing Contemporary (for me) is much harder. I'm comfortable writing paranormal, it's easy
for me and I don't have to struggle. Writing
Inhale Exhale
really pushed me as a writer, which I
think was a good thing because it opened me up to new possibilities.
5. Some favorite books you've read lately – GO!
6. Can you tell us about INHALE EXHALE in 15 words or less?
Story about growing up, accepting change, and finding (real) love. (I did it in 10!!)
Thank you again for stopping by Into the Hall of Books!
Thanks again for having me!! I hope you and all your readers enjoy Jillian and Grant's story in
Inhale Exhale!!!
********************************************************
Sarah Ross started her obsession with reading at an early age, getting in trouble for sneaking BabySitter Club and Nancy Drew books into math class in elementary school. She would read any fiction book she could get her hands on. Sarah knew it was an addiction when instead of grounding her from TV or music, her mom would take away her books as punishment (The Horror!). Her love of all things paranormal was inspired by her good friend Laurie, who convinced Sarah that books with vampires, witches, and all things shifter were amazing. After a little reluctance, she gave it a shot with the Sookie Stackhouse books, realized she was right, and the rest was history.
Sarah grew up in Pittsburgh, graduated from The University of Pittsburgh with a degree in English, and taught 8th graders to love reading as much as she does for several years. She will always be a proud member of the Steelers Nation, but couldn't take the cold and moved her frozen tush to Florida where she now lives with her family and two cats. You will find Sarah now with her trusty Kindle in hand and toes in the sand!
********************************************************
And now for the Giveaway!
Author Sarah M. Ross
is offering
a
SIGNED COPY OF INHALE EXHALE,
a "Grant" Cupcake t-shirt, and
a swag bag
for one winner!
This contest is open to US and Canada Only. Ends May 21.