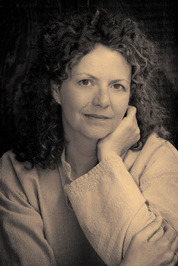 Author Karen Schreck
is on the blog today
to answer a few questions for us!
Hi Karen! Thanks so much for stopping by today!
1. In reading the summary for While He Was Away, it seems pretty obvious that this book is about love, relationships, and war. What made you decide to write a young adult novel tackling this topic?

When I was a teen, I definitely thought about love, relationships, and war. Most particularly, I thought about love because I fell in and out of it; I thought about relationships because as I defined myself, my relationships shifted; and I thought about war because my father fought in WWII. He loved telling me his war stories almost as much as I loved hearing them. And (this event profoundly impacted my writing of While He Was Away) . . . right before my mother died she told me that she'd been married before at age 18, to a childhood sweetheart who died a hero in WWII. My mom died when I was 14, and I often wondered about the little glimpse she gave me into her own teenage years. Her experience was a mystery to me that I tried to touch upon in the writing of this novel.
And, too: I think teens today are constantly thinking about love, relationships, and, given our presence in Iraq and Afghanistan, war. And don't many long distance relationship demand a certain fighting spirit?
2. There is another plot line in the book: Penna wants to search for a grandmother that she has never known while her mother struggles to come to terms with Penna's decision. What inspired THIS plot line?
Penna's grandmother's name is Justine—and Justine's voice is actually the first voice I clearly heard when I started writing While He Was Away. That's because, as I stated above, Justine is a kind of stand-in for my own mother. I'm not saying Justine IS my mother . . . she's a fictional character. But the loss she experienced was part of my mother's life, and I wanted to understand that experience more deeply. Writing always helps me make sense of life.
3. Can you tell us a little bit about how you came up with Penna and David as characters…their personalities, likes, dislikes, etc?
I knew from early on that Penna's given name would be Penelope (though I didn't think she would want to be called that by anyone but her mom). She, like Penelope in The Odyssey, and like her grandmother Justine, is that classic figure: the woman left behind when her man goes off on an adventure or to war. Our literature is filled with women like that (stories often told by men). I wanted to get behind that experience. In terms of character, I wanted Penelope to have a complicated past and to have a passion (her art) which would be cause conflict with her mom (since this book has a lot to do with generational stories), and which would cause intense feelings of love and loyalty for David. In terms of David . . . he was a challenge for me since I've never been inclined toward military service. But I did my research, remembered my dad's conviction about his own service, and . . . I had a huge breakthrough when I decided he should be a part of a family built through adoption. My own family was created that way. I loved him fully then.
4. Art plays a huge role in While He Was Away. Is this something that you borrowed from your own life or from someone in your family? Are there any little pieces of these characters that you took from yourself or your family?
Many of my closest friends are visual artists. My husband is a visual artist—a photographer. (Here! Check out his website! gregschreck.com). I'm a wannabe visual artist. There's nothing I'd rather do than go to an art museum or a gallery with someone I love. I find looking at art and talking about it is such an intimate, life-giving experience. I also like the idea of characters as outsiders—and you kind of have to be an outsider in our culture to reflect upon and create visual images (especially since we're so bombarded with them; we're so often passive before them). And . . . I love that a sensitive guy can also be a soldier. It seemed to go against so many unfortunate stereotypes.
5. While He Was Away is fiction but is certainly relevant to what is happening to some young people these days. Why do you think it is important for young adult readers to read about socially relevant topics like this?
Andy Warhol was a prophet when he said we have about 15 seconds of fame. Only I think now he'd adjust it to about 3 seconds. That's about our attention span for things of cultural importance these days—and I'm not talking the latest news on Lindsey Lohan. I'm talking world events like the Iraq War. We tweet and twitter, we post a new profile. Then our focus shifts, our memories lapse. We move on. True confession: NO ONE IS MORE GUILTY OF THIS THAN I AM. I learned to care deeply about those in Iraq and now Afghanistan by writing about it. I want young people to care, too. Caring, really caring, can yield change.
6. When you decided to become an author, what made you choose to write to a young adult audience?
I wrote my novel Dream Journal because I wanted to write the book that I desperately wanted and needed when I was a teen. It naturally evolved into a YA novel.
7. What would you say to readers to encourage them to read more YA Contemporary books?

YA novels hold all the power of any great read. And they explore this great aspect of the human condition, which (to my mind) is this: if we're truly alive, if we're feeling and thinking, struggling and learning, loving and laughing, we're CHANGING. We're evolving, defining ourselves in new ways. By typically focusing on teens, YA Contemporary books feature characters who are in the heat of this process, refining themselves into something like the gold we're all working to become.
Also YA Contemporary books give us a great perspective on the life we're bumping against every day.And they're awesome.
8. Just for fun, do you listen to music while you write? If you do, what is on your current writing playlist?

I do (unless I'm in a really, really knotty place, and then I need absolute quiet). I find that instrumental music works best for me when I'm in a long writing stint—solo guitar, piano, cello or my favorites.
But if I'm gearing up for a really intense or passionate scene and really trying to get into the character's head, I'll choose something that I think the character would listen to.
Penna listened to a lot of Arcade Fire and Dixie Chicks in my imagination.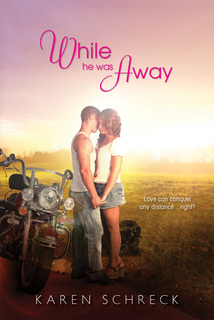 *************************************
Thank you for stopping by for the interview!
I read these answers a dozen times;
they're so thought-provoking –
And now for the Giveaway!

*************************************

GIVEAWAY!
Sourcebooks Fire has generously offered
one copy of
WHILE HE WAS AWAY
to one lucky winner!
(US/Canada Only please!)
Good Luck!