Crissa sniffing her ARC.
On her blog here, she said:
"Paper and ink.
It's what dreams smell like."
Author Crissa-Jean Chappell
is on the blog today
to answer a few questions for us!
Hi Crissa!
Thanks so much for stopping by today!
I LOVED Narc so much. SO. MUCH.
*******************************************


1. For those that might not yet be familiar with NARC, can you tell us a little bit about the book?
Growing up in South Florida, I heard stories about undercover busts in schools. I became fascinated with the idea of someone who is a pretender. When Aaron gets roped into working for the police, he fakes his way into a more popular social scene at his high school. He grows to like this new, more extroverted persona, and he soon discovers that his judgment about others isn't always right.
2. I love the characters in NARC – all of them. Aaron, Morgan, Skully, Finch, Haylie, and the rest of them each are unique and have their own voice and space in the story. Which character is your favorite and why?
The characters are like friends to me. They are often inspired by people in real life. I couldn't pick a favorite. But Aaron shares a lot in common with my high school self (being shy and a bit of a loner). I really wanted to show the hierarchy on campus and the different groups of people in his senior class. Just like Aaron, they are pretending, too. It's a way of survival.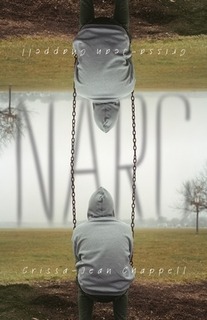 3. The cover for NARC is so interesting to look at. I find myself looking at it for long periods of time. What can you tell us about it?
I'm very fortunate that my editor was open to sharing ideas for the cover (a very rare thing). I emailed a few pictures of covers that matched the tone of my book. I was blown away when I saw the designs that Flux had chosen. In the end, I fell in love with the photo of the lonely boy on the swing, as seen from behind. The double image fits the theme of Aaron's duplicity and his struggle with balancing many disguises.
4. Did you listen to music while you were writing NARC? If you did, what was on your playlist?
Yes, I always listen to music when I write. You can find the NARC playlist here:
http://www.mixpod.com/playlist/89013019

Create a playlist at MixPod.com
While editing the final draft of the book, I listened to a lot of Animal Collective. I especially love Panda Bear and the album, Tomboy. The haunting track, Benfica, was the soundtrack to my revision.
5. When you decided to become an author, what made you decide to write to a YA audience?
In college, I quickly discovered that I wasn't interested in writing about adults and their problems. To me, YA books are the most interesting because they are trying to make sense of the world. Teenagers ask all the hard questions. I think that we often forget to ask these questions. Hopefully, I'll never stop asking.
6. Why do you think it is important for young people to read YA contemporary books with issues like this one?
Contemporary stories give readers a chance to say, "This is someone like me." Or someone you know at school. Or someone you want to meet. I think it's important to keep it real in YA fiction (even if this means traveling into darker places). Books let us know that we're not alone.
It's always a little sad when I finish writing a manuscript. In many ways, it's like saying goodbye to old friends. I often wonder what the characters are doing now. I see Morgan on her duct-taped bike, speeding against the traffic. Skully's rooftop glowing with fireworks. Aaron skating in the rain. I want to tell them to be careful out there, but I know they wouldn't listen.
*************************************************
Crissa-Jean Chappell, thank you so much for stopping by!
Really, I'm so excited so have had emails with you
for the past couple of months.
I really did absolutely love that picture of you sniffing the book!!
You guys, Crissa is so cool and her book is awesome.
*************************************************
Crissa-Jean Chappell & Flux Books
has generously offered
a swag pack
to one lucky winner!
(Open Internationally!)