T

he Moon And The Tide
(Marina's Tales, Book Two)
by Derrolyn Anderson
Self-Published
Publish Date: April 1, 2011
My Source: received from the author for review
Just when things seem to be all figured out, Marina discovers that there's a lot more going on behind the scenes than she ever imagined. When a terrible accident exposes her secret, she discovers that her whole life has been one big lie, and has to cope with more than one kind of betrayal.
A dangerous enemy arrives on the scene, putting her bravery to the test and forcing her to use all of her new-found talents to protect her family. Will good win out over evil? Can love triumph over jealousy? –
(summary from Goodreads.com)
The Moon And The Tide is a really fun sequel to the first book in Marina's Tales, Between The Land And The Sea. The same characters pick up their lives shortly after the first book ends. We still get to read all about Marina and Ethan and their relationship, but this book has a few thrilling highlights thrown in: for example, Marina takes a trip to Greece to visit with her father…she flies to visit him alone and disaster strikes while she is there! On a helicopter ride with her father, the helicopter crashes into the ocean. Marina is able to transform into a mermaid and rescue those on board, but not before photographers grab evidence of her mermaid's tail. Within days, these pictures are all over the internet – Marina and the secret of her mermaid sisters are no longer safe! Marina cuts her trip short, goes back home, and tries to stay safe with Ethan. She still has a hard time fighting the urge to be in the ocean, as close to the marine life and the mermaids as possible…and she does this with her surfing. She becomes riskier and more dangerous as has begins to take to the water at night so she can surf as privately as possible. Before long disaster strikes again – Marina and her mermaid sister Lorelai are kidnapped! It's a race to get Lorelai back into the ocean before she dies…
The Moon And The Tide definitely has more of a thriller component to the first book and it is rather exciting. My heart was beating fast in more than one instance!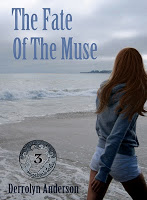 T

he Fate Of The Muse
(Marina's Tales, Book Three)
by Derrolyn Anderson
Self-Published
Publish Date: September 16, 2011
My Source: received from the autho
r for review
Trouble is stalking Marina. She's already escaped the clutches of her formidable foe once, but fate has even more trials in store for her. There are evil plans in the works– plans that threaten both her and her newly found family.
As she struggles to come to grips with her unwanted powers, outside forces threaten to tear Marina and Ethan apart, making her doubt their vision of an idyllic future together. Can first love be true love? –
(summary from Goodreads.com)
By the time I had gotten to Book Three of Marina's Tales, The Fate Of The Muse, I was basically in love with all of the characters. This series has been so much fun to read and this book was certainly no exception!
Marina is still trying to come to grips with her kidnapping and constantly fighting urges to escape to the ocean. She and her friends are busy preparing for the end of high school – prom is coming up, and then graduation. Marina and Ethan have begun to talk about their future together, but they are spending less time together as Ethan is working more and more. Marina admires his work ethic but is dismayed by the decreased time they are spending together.
The Fate Of The Muse
contains more thrilling times but tons more fun times, and we get to know these characters that we have grown to love in a slightly more grown-up, getting-ready-for-life way. There is more singing, fashion, surfing, and a cute little baby mermaid as well! And plenty of romance!
I recommend these books to everyone. They are completely age-appropriate and I believe they will have appeal to everyone from all ages YA to YA-loving adults. I can't be more happy with my first mermaid stories! I know without a doubt that I will seek more out because I've loved my experience with Marina and the other great characters in this series. AND…the best part is that there is a fourth book in this series to be released in a few months! YAY!!!
The Marina's Tales Series will appeal to fans of:
Mermaids
Books about Surfing/the Ocean
YA Romance
Incredible, Fun, Well-Developed Characters
Thrillers
Character-Drive and/or Action-Driven Stories
Suitable for all-ages YA as well as adult readers
The entire Marina's Tales Series by Derrolyn Anderson
**I received review copies from the author in exchange for an honest opinion and review. I received no compensation for my thoughts. Thank you, Derrolyn!
***************************************************************************
Author Derrolyn Anderson
I'm really excited to have Author Derrolyn Anderson stopping by the blog to answer some questions about the Marina's Tales Series.
I read these books recently and loved them; they were my first books about mermaids!
(Read my review of Book One, Between The Land And The Sea
HERE
.)
Thank you so much for stopping by today!
1.
I know you get asked this all time time, but can you tell us a little bit about yourself and about the
Marina's Tales
series?
I have three beautiful daughters (yay-fellow mother of twins!), and checking out their reading material re-acquainted me with my neglected love of books. Reading the series they love, from Harry Potter toTwilight, really opened my eyes to all the wonderful books in the YA genre, and inspired me to try my hand at writing a story of my own.
I decided to set my little tale in Aptos, in the charming seaside neighborhood where my husband and I spent the first ten years of our marriage. There really is a broken down old cement ship at the end of a pier, and the setting just kind of screamed mermaid. It turns out I'm a pantser, and once I got going, the story took on a life of its own – I still have no idea exactly how I'm going to get to the HEA.
2.
The
Marina's Tales
stories are a lot of fantasy and romance with a little bit of suspense thrown in there. I'll admit that I loved reading the romance parts the most…Which part was your favorite to write?
I loved writing the "meet cute" part, imagining those sweet, uncertain moments at the very beginning of falling in love. Remembering all the dancing around each other that happens at the start of a relationship made me nostalgic.
I've been married to my wonderful husband for twenty three years now, so I really had to dig deep!
3.
Marina is easy to love. Besides Marina, who is your favorite character and why?
I have a soft spot in my heart for Cruz, but probably had the most fun writing Shayla's dialogue. I hung around with so many punk kids like her – the only hard part was taking the f-bomb out of every other phrase. I wanted to keep the story relatively clean for my daughter's sake.
4.
Marina loved to paint. Ethan loved nature. Cruz loved fashion. Megan loved to sing. There is a huge subculture of surfing throughout the series…How much of yourself and/or your family did you put into these characters?
Bits and pieces of all sorts of real people blend together into my fictional ones.
There was no shortage of surfer dudes in Aptos, and I actually do have an eccentric and sophisticated aunt who was a glamorous model in "Mad Men" era New York and Paris (unfortunately, she did not marry money!).
My checkered past : Leaving home at an early age, waitressing in all kinds of different restaurants, and having some colorful friends and roommates definitely helps me with character development.
When I finally wised up and dropped back into school, I was an art-major by day and an airport-hotel bartender by night.
Talk about characters!
5.
I'm very excited about a fourth book in the series,
The Turning Tides
…At this point, can you tell us anything about it?
It's still in the works, but I can say that an evil scientist and a giant aquarium will figure into it…
6.
I have intense respect for self-published and indie published authors. What can you tell me about the process of being self-published? Has it been challenging, rewarding, etc? What are the pros vs. cons?
When I finished my first book, I fired off a couple dozen queries to literary agents. I got back one request for a partial, and then… crickets. I was pretty dispirited, but my visionary entrepreneurial husband encouraged me to go ahead and self publish. He believed that the advent of e-readers would change the face of publishing – several years before anyone else even started talking about it.
Amazon, B&N Pubit, and Smashwords make it relatively easy to convert a Word document, and provide lots of free information about formatting.
The best part about self publishing e-books? Nothing is set in stone, and you can go back in and tweak them at any time. Hello second edition = goodbye typos!
The worst part about being an indie… see the next question.
7.
After the publishing comes the marketing! Can you talk a little bit about putting yourself out there as a self-published author? What seems to work best for you?
So far, the only marketing I've done is to query book bloggers for honest reviews. Take a bow, because BOOK BLOGGERS ARE AWESOME!!! I've gotten lots of valuable feedback, much needed encouragement, and some very constructive criticism from you guys.


That said, I'm terrible about social networking, and I'm probably the last person on earth that isn't on Facebook and doesn't Tweet. I have old friends who accuse me of "going hermit". I know they have a point, but I just see it as one more thing to deal with, like getting a new puppy. I can see that this is an area where a publisher might come in handy.
One day I'll probably get with the promotion program, but for now, I'm working on improving my writing chops by finishing this series. I have an idea for a stand-alone thriller, and also a totally different YA series I'd like to start one day soon.
I've been self employed for many years now, so I'm used to flying without a net. My husband and I run a small business out of our garage, and with two high school seniors going off to college this fall, we're pretty much resigned to working the rest of our lives.
On a positive note, my book sales have been slowly climbing, and I'm just about able to cover my monthly chocolate & red wine bill!
What more could a girl want?
8.
What, if anything, have you learned about yourself through the process of writing?
That I'm a serial obsessive. My garden is seriously overgrown right now, I've neglected my painting, and since I've started writing, more than one load of laundry has gone sour in the washing machine.
Wow, Derrolyn! Thank you so much for your time and interview!
I LOVE Cruz too and I think he is a favorite among
other readers as well…
I'm so excited about the next book in Marina's Tales coming out
and I can't wait to read it!
AND…covering that chocolate and wine bill sounds pretty good to me!
Thank you for stopping by and you are welcome here anytime!
***************************************************************************
Now for the GIVEAWAY!
The author has generously provided one set
AND…she has provided
a few extra copies of
Between The Land And The Sea
,
for a couple of readers!
Giveaway Information:
You must be at least 13 years old to enter.

Deadline for entry is

Friday, February 3, 2012

.

This contest is open to

Everyone.

To enter, please fill out this form:
Form removed at conclusion of giveaway!
Winners will be determined using Random.org and notified via email.